TALAT MAHMOOD
A LEGEND IN HIS LIFETIME !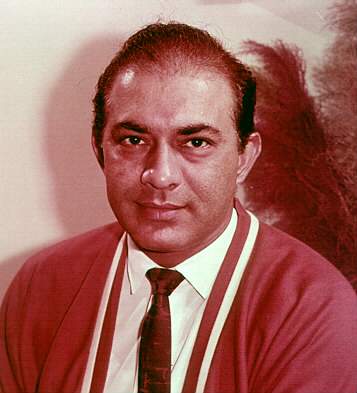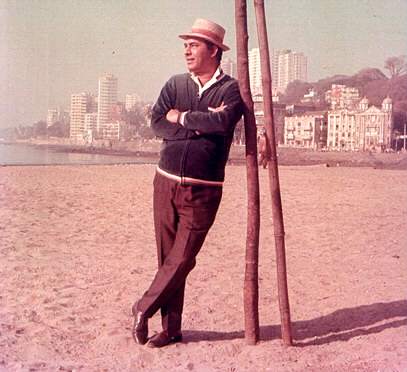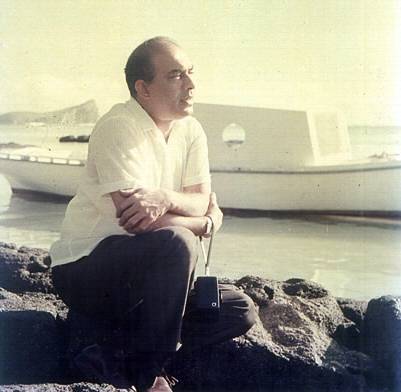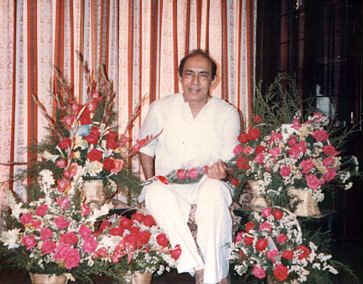 Talat would get hundreds of bouquets, telegrams, letters
and phone calls from the film fraternity, his fans and
friends on his birthday which was on 24th February.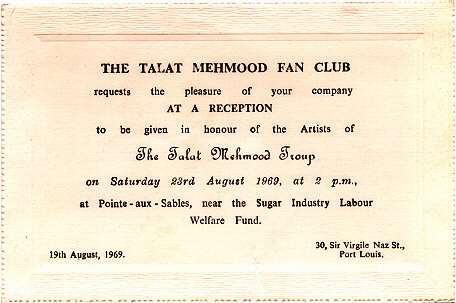 Talat Mahmood had numerous FAN CLUBS all over the World.
This one in Mauritius played host to him during his concert tour there.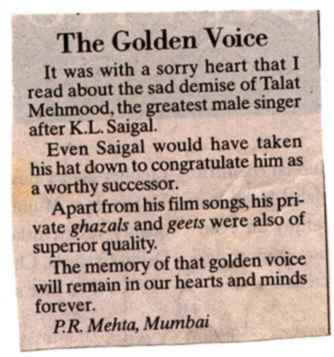 "Talat Mahmood, the greatest male singer
after K.L. Saigal ...... !"
This letter appeared in "Times of India" MAY 21, '98.
It sums up the feeling of all Talat Mahmood fans
the world over !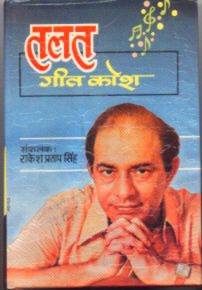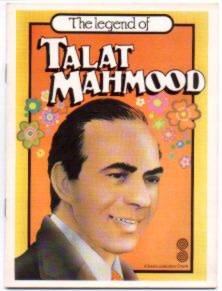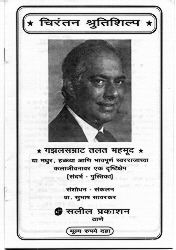 Many books like these have been written by Talat Mahmood fans
on their favorite singer. Mr.Rakesh Pratap Singh of Kanpur (India),
an ardent Talat fan, has painstakingly written 747 songs of
Talat Mahmood in his book 'Talat Geet Kosh' !
---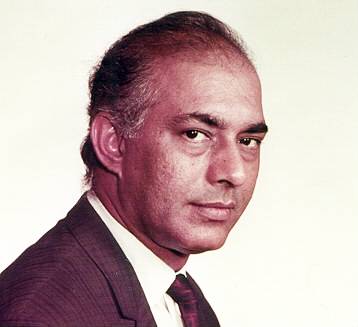 ---

TALAT MAHMOOD SINGS FOR BBC TELEVISION, LONDON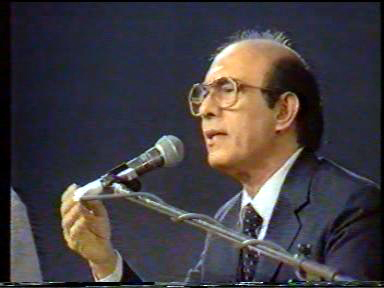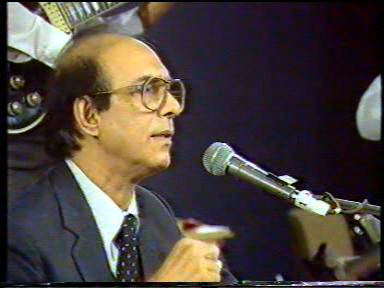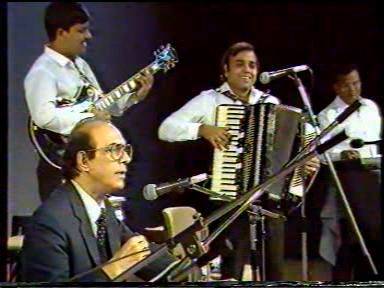 ---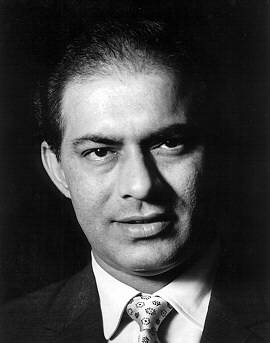 Photographed by Khalid during USA concert tour


Talat photographed by Khalid while relaxing in his beautiful garden
---

A random selection of Talat Mahmood's CD's
---
A random selection of Talat Mahmood's LP's & EP's
---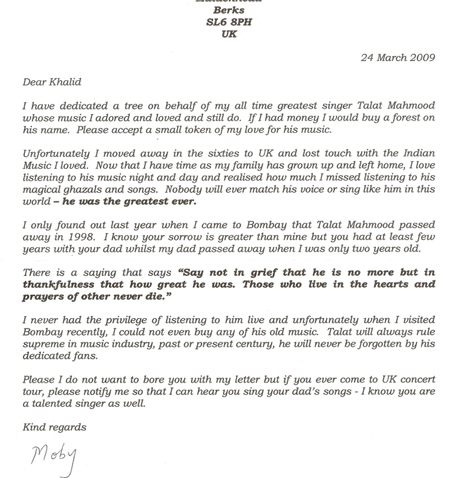 Talat fans care as deeply for him even today. Like Mrs. Moby Shetty
from London who has dedicated a tree in memory of her all time favorite singer!

---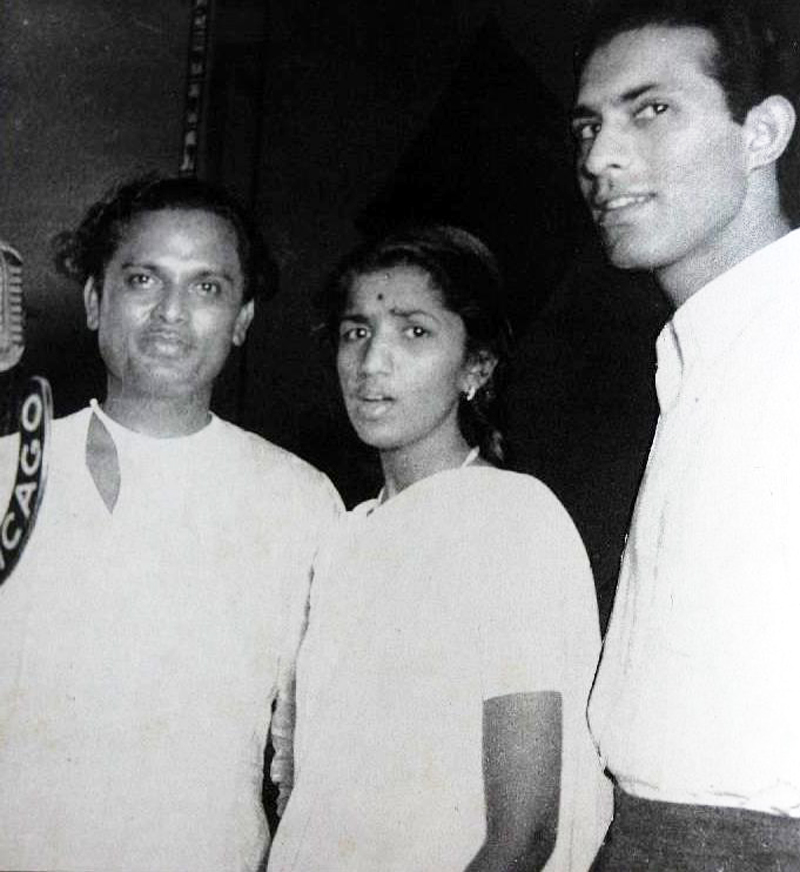 ANIL BISWAS, LATA MANGESHKAR, TALATMAHMOOD
---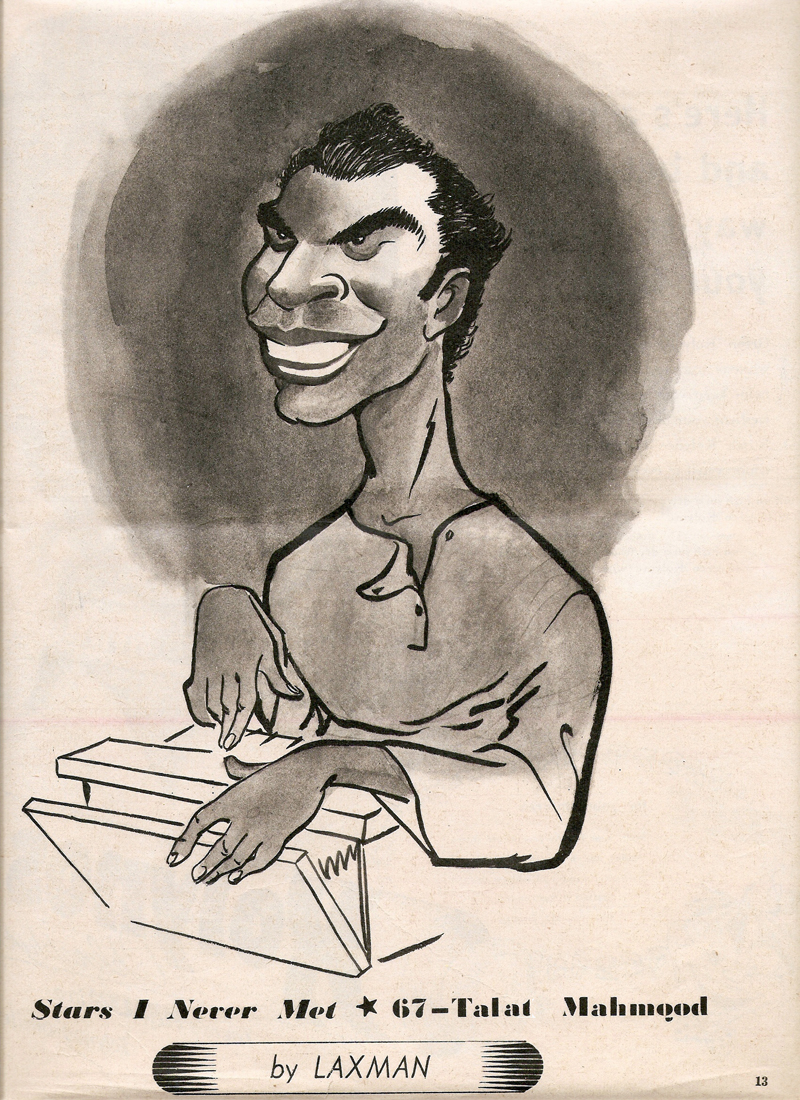 "STARS I NEVER MET" - TALAT MAHMOOD - A LIMITED EDITION COMPILATION BY R.K. LAXMAN !

The legendary cartoonist R. K. Laxman requires no introduction. He is India's best-loved cartoonist - He Said It "The Common Man." Speaks and honoured with Padma Vibhushan & Ramon Magsaysay Award.


---
TALAT MAHMOOD INAUGURATES THE 'CUSTOM & CENTRAL EXCISE RECREATION CLUB, KANPUR' DURING "QAUMI EKTA WEEK" 8TH. DEC. 1989

'Customs & Central Excise, Kanpur' officers and staff waiting to welcome
Talat Mahmood

Fans wait patiently for the arrival of the
great Ghazal King

Talat arrives to welcome of garlands, bouquets and an outpouring of love, affection and respect. Collector, Mr.S.S. Khosla ( on his right ) gently leads Talat though introductions to other top 'Customs & Central Excise' officers

Collector, Mr.S.S. Khosla, a great fan of Talat Mahmood, on whose personal request Talat and his son Khalid came for the inauguration.

Collector, Mr.S.S. Khosla helps Talat plant a tree in the Collectorate's compound

The plaque reads:

8.12.89
PLANTED BY SHRI TALAT MAHMOOD

Talat delights his fans by signing autographs for them

Talat cuts the ribbon inaugurating the
Recreation Club

Khalid, Talat and Collector Mr.S.S. Khosla

Local talent entertains Talat Mahmood at the Recreation Club
---
| | | |
| --- | --- | --- |
| | Drawings and sketches of Talat Mahmood made and lovingly presented to him by his fans ! | |
---
Singer C.H.Atma playfully spooks
Talat with rabbit !

Santoor wizard Shivkumar Sharma and Talat Mahmood share a mutual respect and affection for each other

Singer Bhupinder Singh greets The King

Ghazal singer Pankaj Udhas and his wife are thrilled to have the Shahenshah of Ghazals Talat Mahmood release their latest album.
---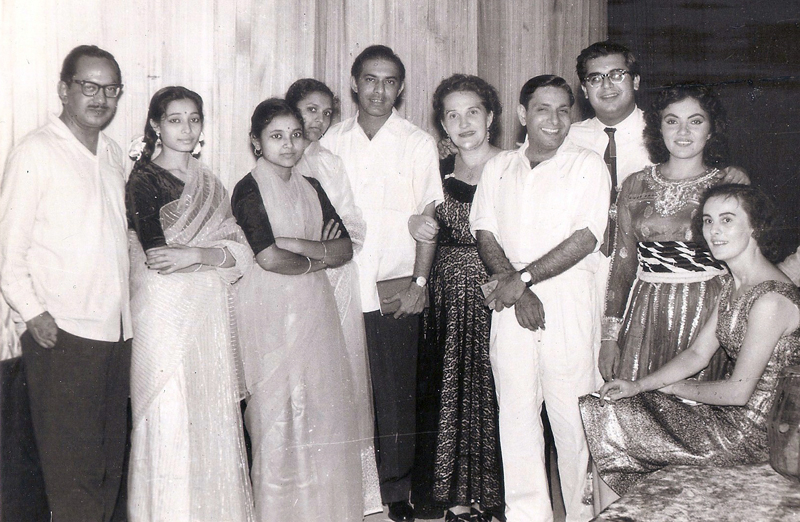 Talat Mahmood (in center) is flanked by Guru Dutt, Geeta Dutt and others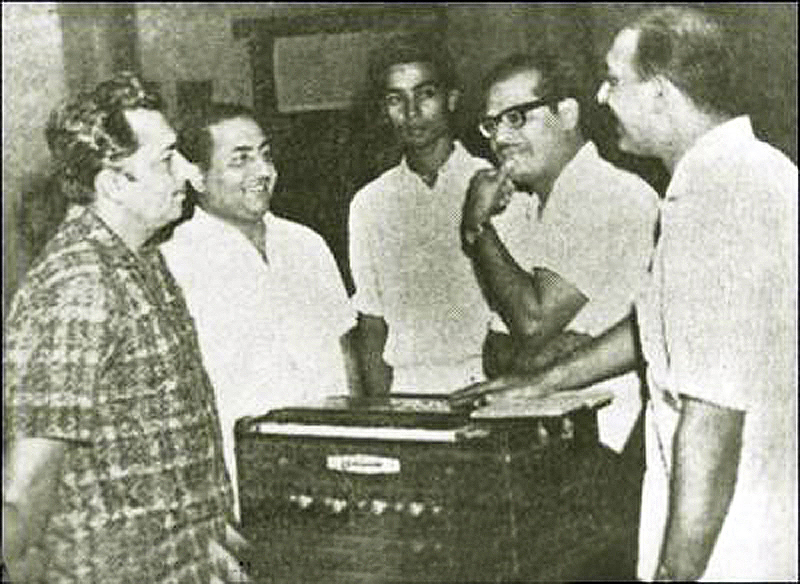 Recording "HAQEEQAT" song: Madan Mohan, Mohd. Rafi, Bhupender Singh, Manna Dey and Talat Mahmood

Manna Dey, Mohd. Rafi and Talat Mahmood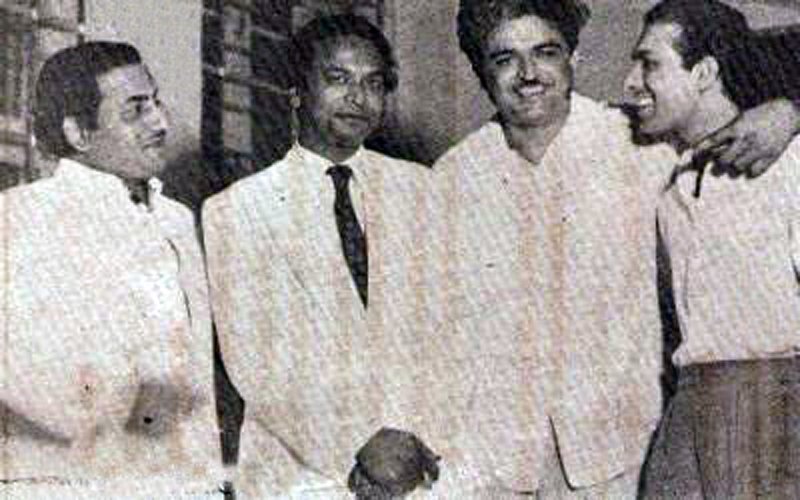 Mohd. Rafi, Naushad,, C Ramchandra, Talat Mahmood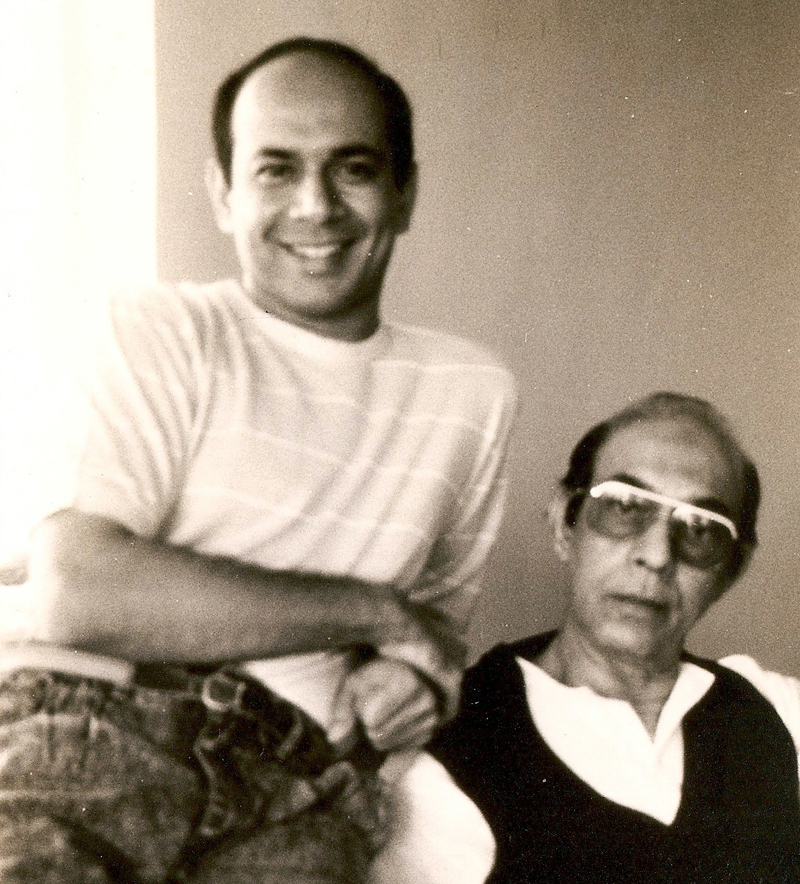 Talat Mahmood with his son Khalid
PHOTO IS CLICKED BY EX_EDITOR OF "FEMINA" SATYA SARAN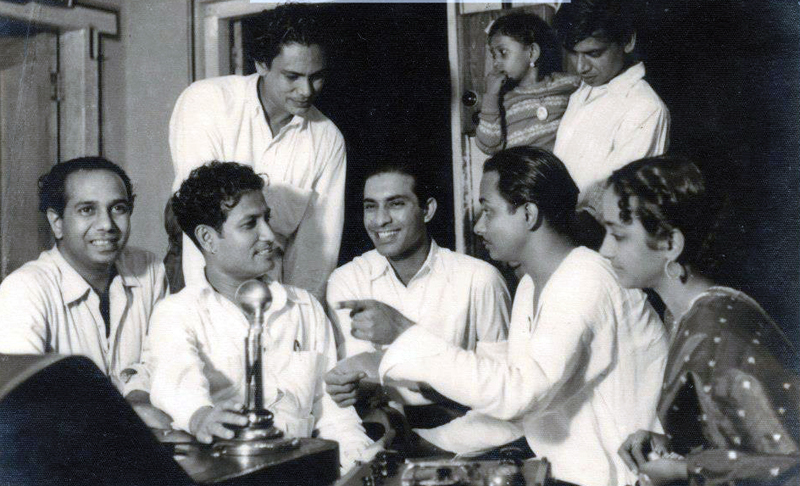 At a recording are Talat Mahmood (centre) and Geeta Dutt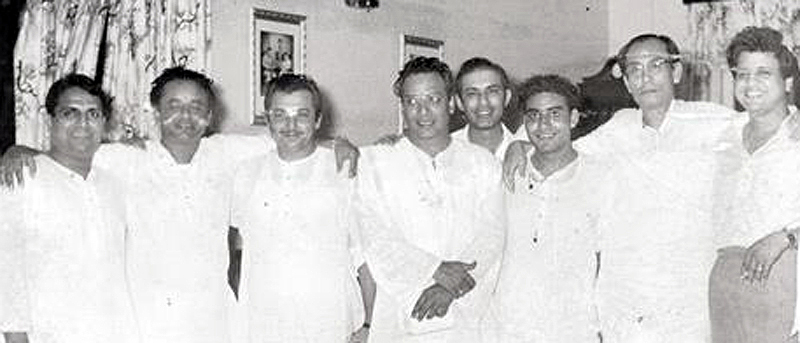 SITAR VIRTUOSO , USTAD VILAYAT KHAN [ centre] with SHANKAR, MADAN MOHAN, TALAT MAHMOOD ,
S.D. BURMAN , JAIKISHAN, and others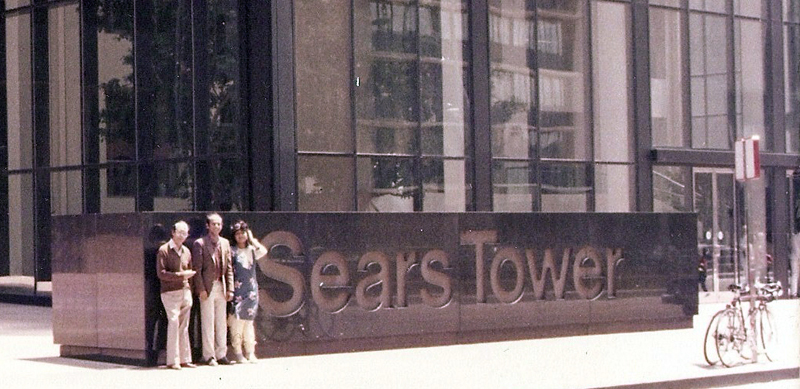 Talat Mahmood with son Khalid and Khalid's wife Isha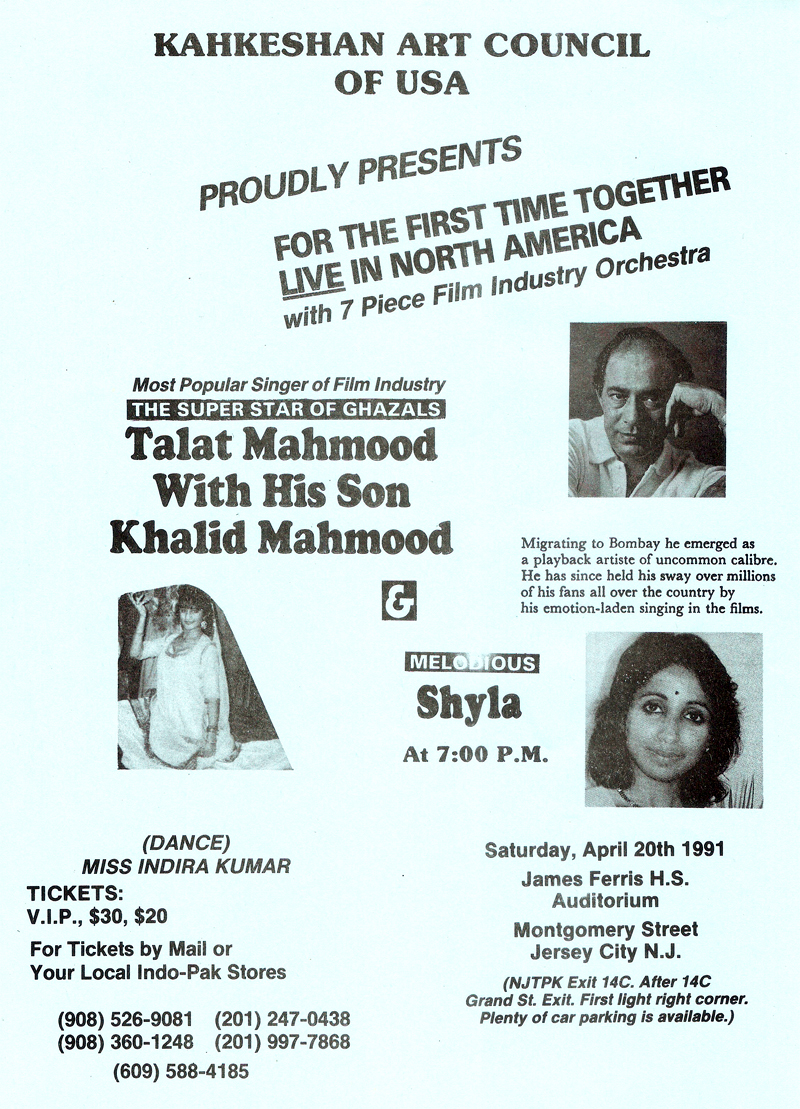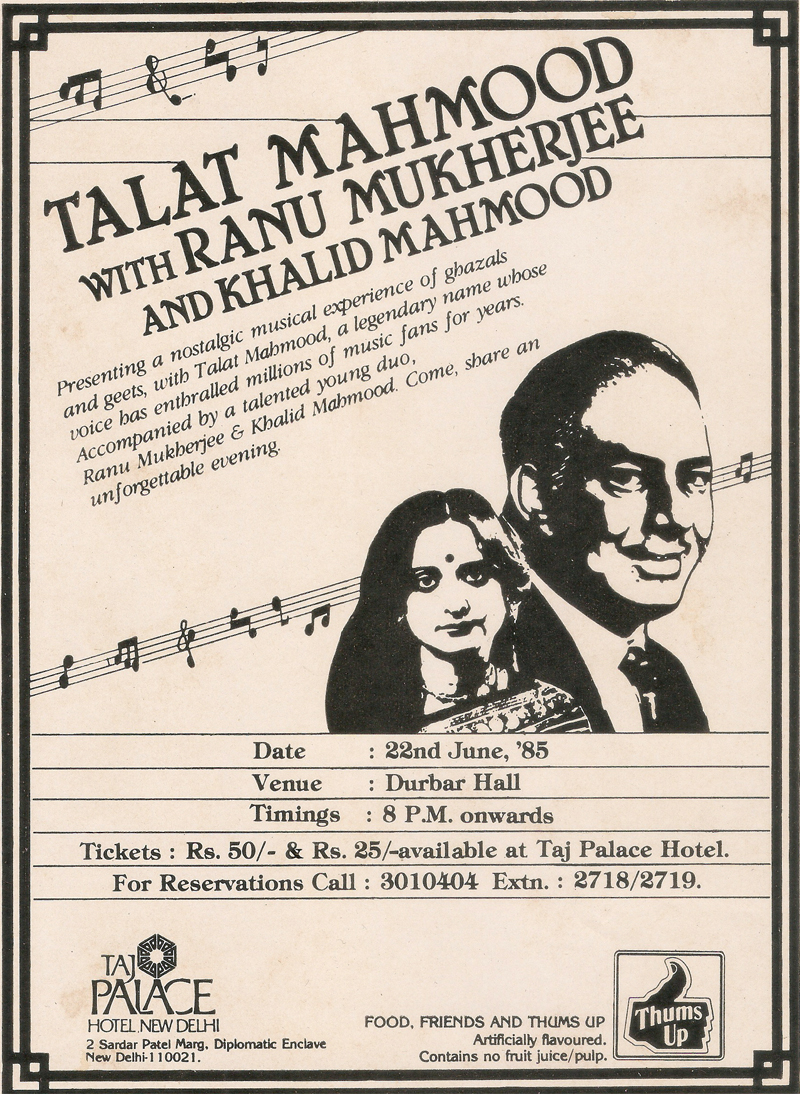 Mukesh, Hasrat Jaipuri, Talat Mahmood, SD Burman, Lata Mangeshkar, Nargis Dutt, Madan Mohan, Mohd. Rafi, Manna Dey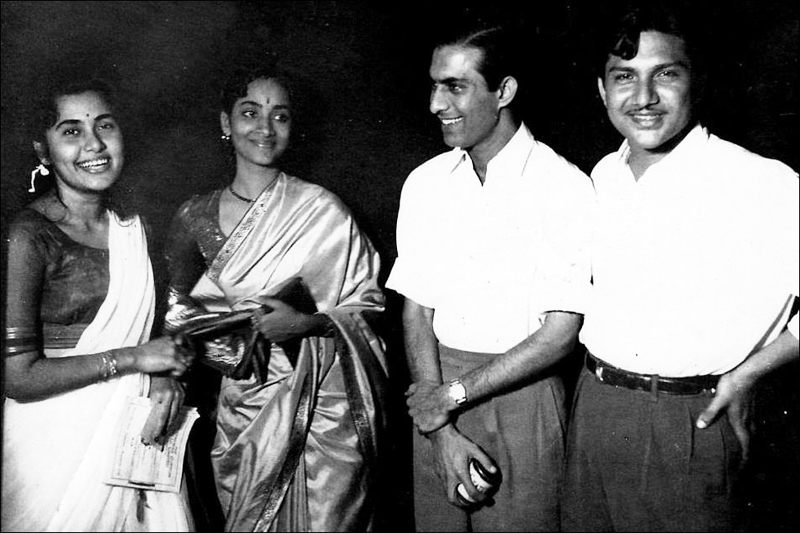 Meena Kapoor, Geeta Dutt, Talat Mahmood, Van Shipley

SHYAMA

actress

CINE BLITZ magazine - MARCH '85

"Co-starring with Talat Mahmood in LALA RUKH was a dream come true for me. Even though this was my second film with him, my heart would still miss a beat whenever we acted together ! He was my heart-throb as long as I can remember and I made it a point never to miss a song of his on the radio. One thing about Talat was that he was almost perfect, hardly troubling his directors with re-takes."

GOPAL SHARMA

famous radio announcer

Ameen Sayani and Gopal Sharma are the 2 most recognizable voices on the radio apart from the singers whose songs they have played by the hundreds. Gopal Sharma has said in Times Of India - Jan 5/2000 :

"The most popular singer is not the one who has sung the most, but one whose songs became more popular in quantity than another singer. Like, if Talat Mahmood sang 800 songs and they all became popular, then he is definitely more popular than another singer whose songs number in thousands!"

SATHYA SARAN

editor FEMINA magazine

Sathya Saran, editor of FEMINA magazine, who hand-picked and groomed Aishwariya Rai, Sushmita Sen, Yukta Mookhy, Priyanka Chopra - winners of the Miss Universe and Miss World Titles, wrote in FILMFARE magazine JULY 1998 :

"Talat Mahmood was the quintessential romantic. His gentle good looks, his chivalrous manners and his quiet reclusivity had all the elements of high romance".

DILIP KUMAR

actor

IN A DOORDARSHAN DOCUMENTARY :

"Talat was a wonderful human being and a perfect gentleman. The sort of ghazals and songs he has sung and popularized were very revolutionary and modern for their time. There was a uniqueness in his voice which has never been seen in any other singer. His songs touched peoples hearts. When I would act to his playbacked songs I would put in that much more extra effort to match his singing prowess."

LATA MANGESHKAR

singer

IN A STAGE SHOW IN MUMBAI - MAY 2000 :

"I have sung a lot of duets with Talat sahab and always enjoyed a wonderful rapport with him. I first heard his heart-warming songs on the radio when he began singing from Lucknow and Calcutta. Me and my entire family was already his fans by the time he came to Bombay. His voice is the only voice in this Film Industry which has never been copied!"

JAGJIT SINGH

singer

SOCIETY magazine -NOV '87

"I was weaned on Talat Mahmood, so to speak, because much before we became popular, he was already the King. If you'll notice, Mehdi Hassan sings like him! There's very little difference."

MEHDI HASSAN

singer

THE HINDU - 27TH. SEPT. '91

"It was through the vocals of Talat Saab that I discovered the goldmine in my throat. His songs like 'Ek main hoon ek meri bekasi ki shaam hai' and 'Husn walon ko na dil do ye mita dete hain' had left a lasting impression on me. It was whilst singing these two Talat numbers on stage in the early years of my singing career, that I held an audience of 10,000 in Pindi spellbound! Believe it or not, the moment I completed singing these two Talat hits, the Pindi audience showered me with money and in a trice I had collected almost about Rs.14,000 ! All this, was of course, courtesy Talat Saab ! "

KISHORE KUMAR

singer

ILLUSTRATED WEEKLY OF INDIA - DEC '87

Such was Talat Mahmood's aura, that Kishore Kumar on hearing Talat once at Anil Biswas's house had remarked, "I think I had better give up singing. How can I dare open my mouth so long as such a perennially romantic voice is around !"

AMEEN SAYANI

famous radio
announcer

AMEEN SAYANI RELIVING THE "GEETMALA" LORE IN 'SCREEN' - SEPT 22, 2000

"The Geetmala which was aired from 1952-53 didnít rank the songs. It only played seven hit songs, without rating them. It was only in 1954 that Geetmala became a countdown show. I remember vividly that in 1954, the topper of the first countdown show was Talat Mahmoodís "Jayen to jayen kahan" from film 'TAXI DRIVER'."



ANIL BISWAS

music director

SPOKEN DURING ZEE TV'S 'SA RE GA MA' PROGRAMME

"Talat sahab was the only singer with the greatest ratio of hits to his credit. He is the only singer whose every song is a classified hit. All the singers from Mukesh to Lata have sung for me but whilst the other singers had their share of flops, it is only Talat whose every song has become a hit!"

NAUSHAD

music director

Doordarshan's "Shraddhanjali" programme :

"You can fathom how unique Talat sahab's voice is by the fact that there are a thousand copies of Mohd. Rafi, Kishore, Mukesh and others. But Talat sahab's is the only voice in our Film Industry that has never been copied or duplicated ever! His is a voice that stands apart and is truely inimitable!"

KHAYYAM

music director

THE SUNDAY FREE PRESS JOURNAL - 27.2.94

"Talat Mahmood is a cultured person whose voice is sweet in all it's colors. He is a great ghazal singer and I regard him in the same company as Begum Akhtar or Mallika Pukhraj. No one can imitate him. Unke paas ek nafees zabaan aur purkashish aawaz hai. I am his fan!"

SHIKHA VOHRA

journalist

".....Indeed, I have been in the presence of greatness itself !" wrote journalist Shika Vohra, in Times of India - 17.5.98, after interviewing this great singer. Such was the aura, charisma and charm of Talat Mahmood !!!

RAJENDRA MEHTA & NINA MEHTA

ghazal singer duo

SUNDAY magazine 20th Sept. '87 :

"For us there is only one ghazal king Talat Mahmood - and only one ghazal queen Begum Akhtar."

RAVI

music director

THE SUNDAY FREE PRESS JOURNAL - 27.2.94

"Talat is a singer with a very sweet voice and his own inimitable style - the serious song filled with meaning and bordering on the ghazal. Many of today's ghazal singers have tried to imitate him and have failed. Only Jagjit Singh's voice and style bears some similarity to his. Talat's place in film music will remain unassailable."

BAPPI LAHIRI

music director



Bappi Lahiri told PTI Bhasha, MSN NEWS - 8/5/11


"Talat Mahmood was a great singer. He had Mukesh, Kishore Kumar and Mohammad Rafi as his competitors but still he managed to gain recognition. He was different from the others. Talat was a great friend of my father, I always wanted to work with him but unfortunately couldn't. I have met him on several occasions."

PANKAJ UDHAS

ghazal singer

Voice clip in "Legends - Talat Mahmood" released by HMV

"Whenever there is a discussion on ghazals only one name comes to your lips - that of Shahenshah e Ghazal Janab Talat Mahmood ! I am very much influenced by him and his music. His singing style, his soft velvety voice, his sweet, emotion filled, tuneful film songs, geets and ghazals..... a voice so sweet that you can listen to it for hours on end..... and you get that feeling of sweet nectar being poured into your ears!"

ILLUSTRATED WEEKLY OF INDIA - DEC '87

For Talat's film 'Dil e Nadaan', producer A.R. Kardar (who launched Raj Kapoor) launched an All India Beauty Contest to hunt for a new heroine to act opposite this immensely popular singer. The contest was sponsored by "Kolynos" the then leading brand of toothpaste. The winner was beautiful Peace Kanwal and she did the romantic lead opposite Talat! It was a dream come true for her! Which girl in those days would not have given her right ear to come face to face with this handsome King Of Ghazals !!!

THE EVENING NEWS - 14TH. MARCH '83

Journalist Vinod Dhawan, commenting on ghazal singer Ghulam Ali's singing style, wrote : "Ghulam Ali has no depth. He can't even graze the feet of the likes of Begum Akhtar and Talat Mahmood."

Talat would get hundreds of fan letters everyday , like the one reproduced below. This fan letter appeared in the popular film magazine STAR & STYLE - July 18, 1977. It was awarded the 'Best Letter Prize of Rs.75/-' from this popular film magazine, beating other fan letters to stars like Dilip Kumar, Sanjeev Kumar, Randhir Raj Kapoor and others !

To,

Talat Mahmood.

Talat, my sweetheart, I was sixteen when I fell in love with you and now after a decade, the situation is still the same. The other day I was watching your film "Waris" on TV, I envied Suraiya whenever you came a little close to her. I prepare "kheer" on your birthday and pray to Allah to give some years of my life to you. When I hear your sweet, velvety voice, I forget everything else in the world. I feel that your singing is going directly to my heart and flowing through my bloodstream in every vein. I wish I could hear your "Ae gham e dil kya karoon" while leaving this world. When I think of you all the time my husband gets cheesed off. But I can't help it. I wish that at least in the next birth I become your Begum and hear your voice straight from the heart, resting my head on your 'dil'.

Yours forever,

Meeta

Agra

THESE COMMENTS ON TALAT MAHMOOD BY POPULAR STARS
APPEARS IN THE BOOK 'TALAT GEET KOSH'


RAJ KAPOOR ( producer, director, actor ) : "Talat Sahab sang with rare gusto and inspiration. He was flawless in his rendering of songs and always touched the hearts of the people."

SHAMMI KAPOOR ( actor ) : "Talat Sahab's voice is incomparable. He sang with such inspiration that it touched many people's hearts."

JAIRAJ ( actor ) : "Before I heard him as a singer I saw him as a handsome young film hero, one of the few who sang their own songs. Then he entered playback singing and became a legend in his lifetime. Talat bhai, as we affectionately call him, belonged to the old culture and was a gentleman in the real sense."

CHANDRA SHEKHAR ( actor ) : "Talat's voice is as cultured, dignified and melodious as he is in his personal life."

QAMAR JALALABADI ( lyricist ) : "Talat Mahmood has sung many songs for me which are very popular. He has great love for Urdu poetry and his selection of ghazals is brilliant. I am much impressed by his warmth."

PULAK BANERJEE ( lyricist ) : "Talat is a great singer of our country. He has made a kingdom and made himself a king in the country of romanticism."

USTAD ALLARAKHA ( renowned tabla player & music director ) : "What can one say about Talat! He is a great person, a great singer and very valuable artiste India has produced. He is a famous playback singer whose speciality was ghazals. He creates such grace and pathos in each ghazal that it goes straight to your heart. He has sung many songs composed by me, notably "Bewafa", where he playbacked for Raj Kapoor "

C. ARJUN ( music director ) : "I always found Talat Sahab to be a noble human being. His voice was silky and velvety. He was always so helpful during recordings."
---
KHALID MAHMOOD SINGS!
TALAT FANS PACKED THE HALLS TO LISTEN TO KHALID MAHMOOD SING HIS LEGENDARY FATHER'S HITS IN 'EK SHAAM TALAT MAHMOOD KE NAAM' CONCERTS AROUND THE WORLD!!!

SEE THE 2 ALL-NEW FULL LENGTH VIDEOS BELOW!!!


'EK SHAAM TALAT MAHMOOD KE NAAM'
BOSTON, USA




'EK SHAAM TALAT MAHMOOD KE NAAM'
HYDERABAD


CLICK HERE TO GO TO VIDEO PAGE !!!