KHALID MAHMOOD - page 2

Yesterday.... Once More !

KHALID MAHMOOD brings to you
"EK SHAAM TALAT MAHMOOD KE NAAM"
A SERIES OF DEDICATED CONCERTS IN HONOUR
AND MEMORY OF HIS LEGENDARY FATHER!
Remembering singing legend and his evergreen father Talat Mahmood (Padmabhushan), Khalid Mahmood's concerts dedicated to his father titled 'EK SHAAM TALAT MAHMOOD KE NAAM' are being talked about enthusiastically by music lovers as well as the Press. The concerts honoring Shahenshah e Ghazal Talat Mahmood began in Calicut on 15th March '06 at the prestigious Tagore Auditorium followed by Geneva (Switzerland), Hyderabad, England, USA, Lucknow and other cities, where Khalid got a standing ovation from both the audience and the Press! He enthralled the appreciative audiences, singing all the super-hits of his legendary father, from films like Daag, Patita, Chhaya, Sujata, Footpath, Sangdil, Jahan Ara, Sone Ki Chidiya, Yasmin, Tarana, Taxi Driver and many others. Khalid Mahmood is accompanied by a full compliment of live orchestra, playing
original melodies and scores. Khalid who is a 'chip of the old block', has a remarkable resemblence to his illustrious father and has many mannerisms reminicent of his world famous father. With a voice which has the same unique quality as his father, Khalid transports the audience to the era of golden music, singing one Talat hit after the other! Many in the audience feel they catch glimpses of the great Talat Mahmood himself through his son Khalid!

________________________________________________
'EK SHAAM TALAT MAHMOOD KE NAAM'
LUCKNOW - 27th May 2007

Khalid Mahmood sings before a packed-to-capacity auditorium!!!
* PIONEER (Lucknow) dated 28th May '07 remarked "Noted singer Khalid Mahmood mesmerised
the Lucknow audience with his live concert EK SHAAM TALAT MAHMOOD KE NAAM. Khalid's performance rekindled memories of the singing legend and his evergreen father Talat Mahmood"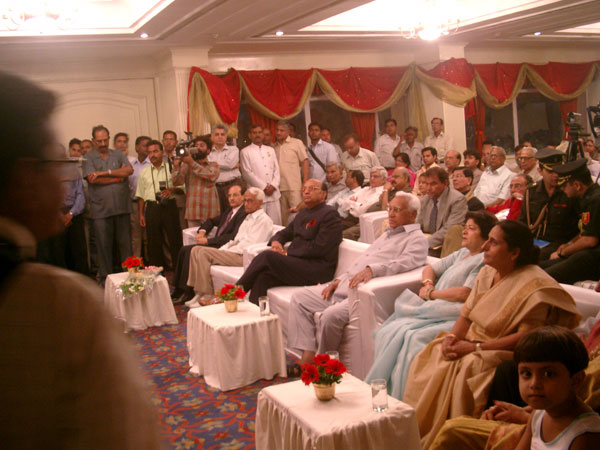 Honouring the show with their presence are Jharkhand Governor Syed Sibte Razi, Haryana Governor A. R. Qidwai, Minister PWD Nasimuddin Siddiqui and Agriculture Production Commissioner Anis Ansari




* TIMES OF INDIA (Lucknow) 29th May 2007 writes " A striking physical resemblance isn't all that Khalid Mahmood, son of legendary singer and filmstar Talat Mahmood, has inherited from his father. He also shares the latter's gift of a silken voice!"
Click here for LUCKNOW PRESS WRITE-UPS
---
USA ALIGARH ALUMNI ASSOCIATION INC
proudly presents
'EK SHAAM TALAT MAHMOOD KE NAAM'
NEW YORK
7th April 2007
GRINTON WILL AUDITORIUM, 1500 Central Park Avenue, Yonkers.
ATLANTA
14th April 2007
BERKMAR THEATRE, 405 Pleasant Hill Road, Lilburn.
SAN FRANCISCO
20th April 2007
INDIA COMMUNITY CENTRE, 555, Los Coches Street, Milpitas.
SAN ANTONIO
21st April 2007
CHAPMAN AUDITORIUM, 1 Trinity Place.
NASHVILLE
27th April 2007
FATHER RYAN AUDITORIUM, Franklin Road, Nashville.
BIRMINGHAM
28th April 2007
UAB BELL THEATRE, 13th Street South, Birmingham.
DETROIT
4th May 2007
UNIVERSITY AUDITORIUM, Evergreen Road, Dearborn
BOSTON
5th May 2007
INDIA CENTRE OF WORCESTER, 152 West Main Street, Shrewsbury.
CHICAGO
12th May 2007
UNIVERSITY CENTRE AUDITORIUM, 1200 University Centre Drive, Grayslake.
DALLAS
20th May 2007
FUNASIA AUDITORIUM, Carollton, TX 75006
--------------------------------------------------------------------
--------------------------------------------------------------------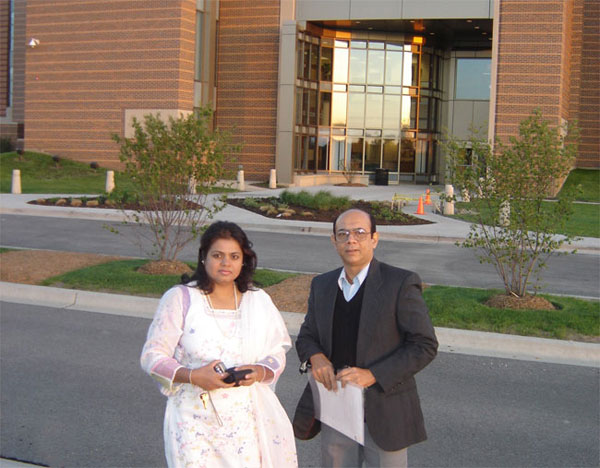 Khalid with Detroit concert organiser outside the prestigious 'University Auditorium'
where EK SHAAM TALAT MAHMOOD KE NAAM was held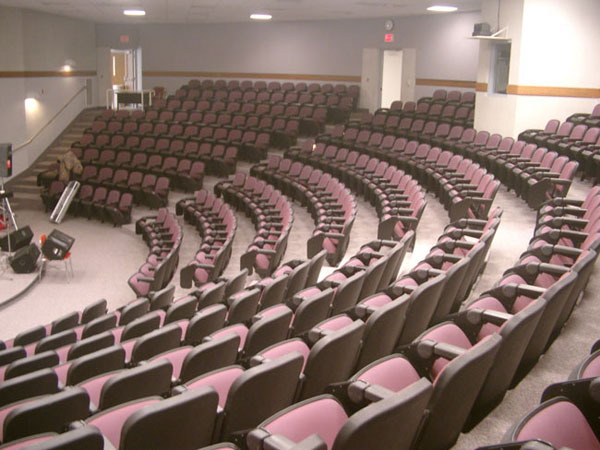 A view of the beautiful curved seating at 'University Auditorium' just before showtime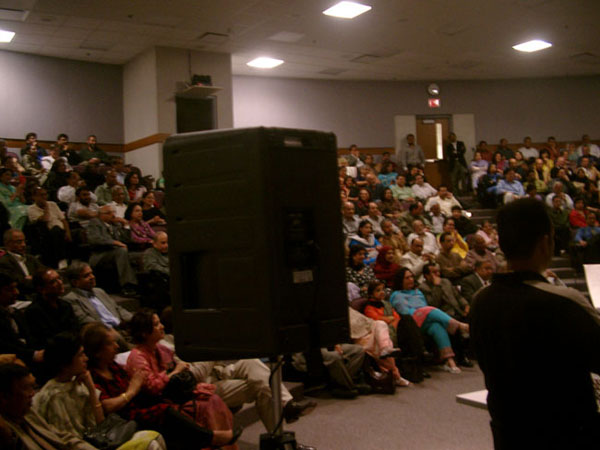 A view of the same 'University Auditorium' packed to capacity by
die-hard Talat Mahmood fans who were not going to miss the show for anything in the world!
New York's Grinton Will Auditorium resounds to the encores of Talat fans as
Khalid Mahmood sings all the biggest hits of his father to an appreciative audience!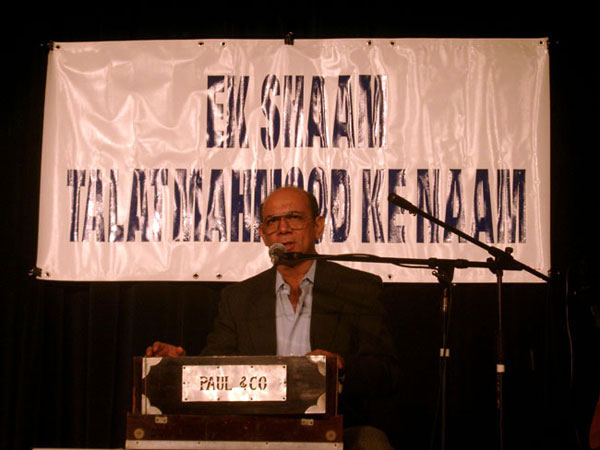 At Atlanta's packed Berkmar Theatre Khalid regaled the audience. Visible behind is the
huge EK SHAAM TALAT MAHMOOD KE NAAM banner which says it all !
Half of the packed auditorium in Chicago is visible in this photo !
The beautiful stage at Nashville's Father Ryan Auditorium where Khalid sang
hit after hit of his legendary father's evergreen songs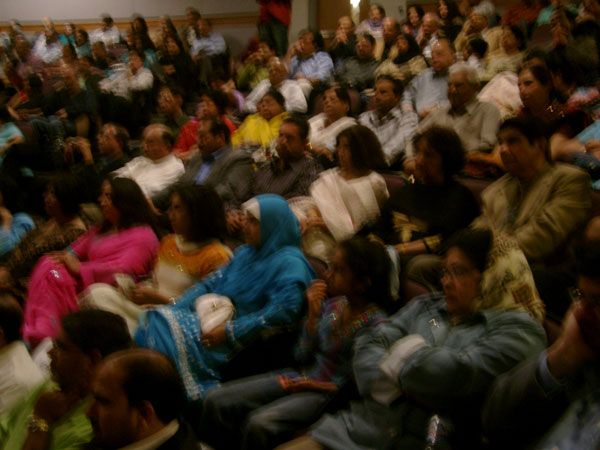 Houseful shows greeted Khalid where ever he performed in USA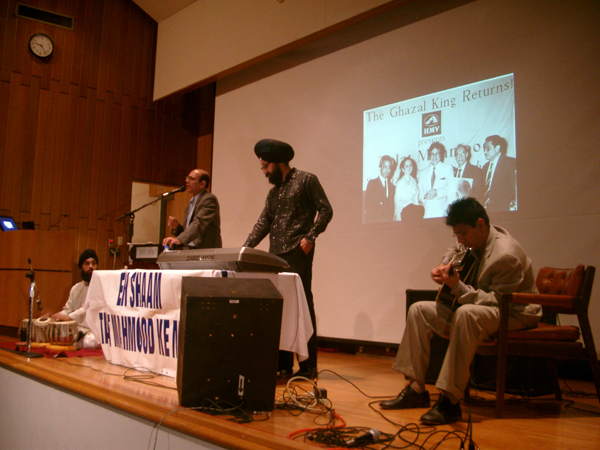 Khalid with his musicians regales the capacity crowd at the packed
Chapman Auditorium in San Antonio!
The prestigious Chapman Auditorium in San Antonio was the the venue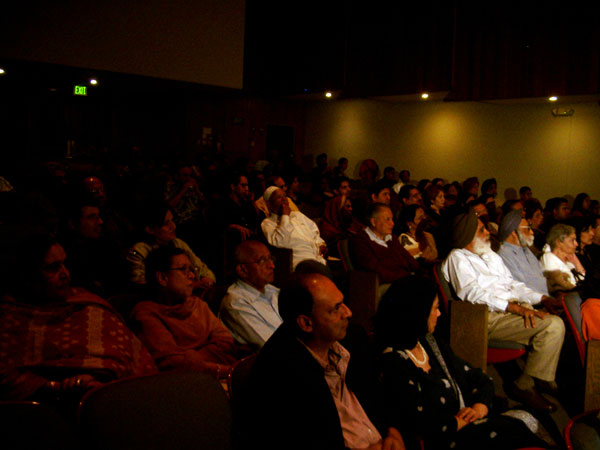 Here is a portion of the packed to capacity Chapman Auditorium in San Antonio!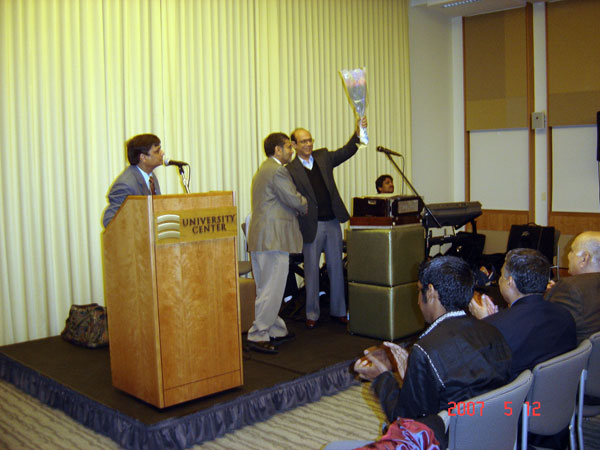 Khalid thanks the audience profusely from the depths of his heart for making the concert tour of EK SHAAM TALAT MAHMOOD KE NAAM such a stupendous success across 12 cities in USA !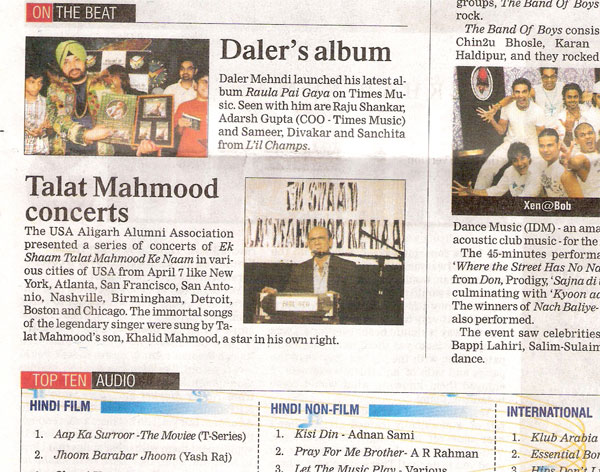 India's oldest and most popular film weekly 'SCREEN' (June 8th '07)
appreciating Khalid's efforts calls him "a star in his own right" !!!
---------------------------------------------------------------------------------------------------
----------------------------------------------------------------------------------------------------------------------------
---
Pakistan's undisputed 'King Of Pop' Alamgir (left) meets Khalid Mahmood in Atlanta, USA
during Khalid's stupendously successful 12 city concert tour of 'EK SHAAM TALAT MAHMOOD
KE NAAM', to convey to Khalid his deep and abiding love and respect for his father
'Shahenshah e Ghazal' Talat Mahmood, whose silken voice he has cherished for decades!
Alamgir very graciously took Khalid out for a lovely dinner and then to his own beautiful house in
Atlanta where he showed Khalid a shelf of his very own collection of Talat Mahmood CD's !!!
---
'EK SHAAM TALAT MAHMOOD KE NAAM'

KHALID MAHMOOD WOWS TALAT FANS IN ENGLAND!!!
LONDON : 15th Oct 06 'Falcon Center'
LEICESTER : 14th Oct 06 'Burleigh College Hall'
BIRMINGHAM : 12th Oct 06 'The Mailbox Center'

Khalid Mahmood on extreme right, is honoured by the presence of London's Mayor Shri Ashok Kumar (wearing his official emblems) at his London concert. The London concert of
EK SHAAM TALAT MAHMOOD KE NAAM was organised by the Indian Medical Association Of UK, Dr Shubhakar and Dr Sahay (extreme left)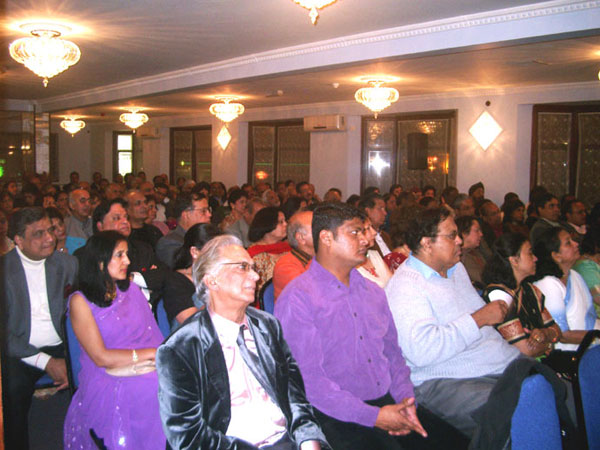 Packed to capacity audiences greet Khalid Mahmood at all his EK SHAAM TALAT MAHMOOD KE NAAM concerts! The crème de la crème of society is in attendance at every concert, making the time to spend a memorable evening, listening to their all time favorite hits of the unforgettable Shahenshah e Ghazal Talat Mahmood!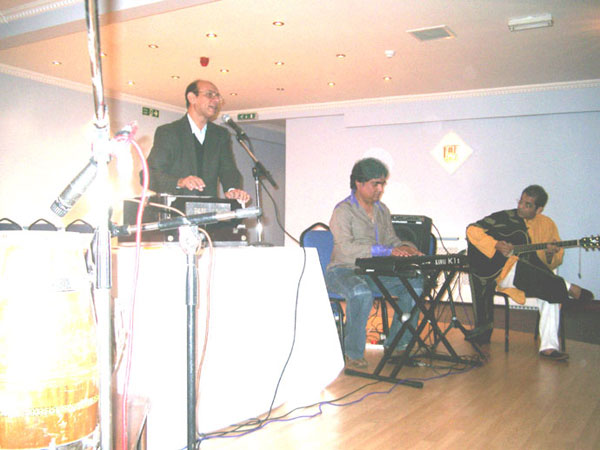 Khalid Mahmood is accompanied by four of the top musicians of London. Just like his world renowned father, Khalid looks dapper in a suit. Khalid is a chip of the old block, resembling his father to such an extent, that many in the audience momentarily felt transported into the world of
the great Talat Mahmood himself on stage! The same soft voice, the same mannerism, the
same cultured and gentlemanly behavior that Talat was well known and famous for!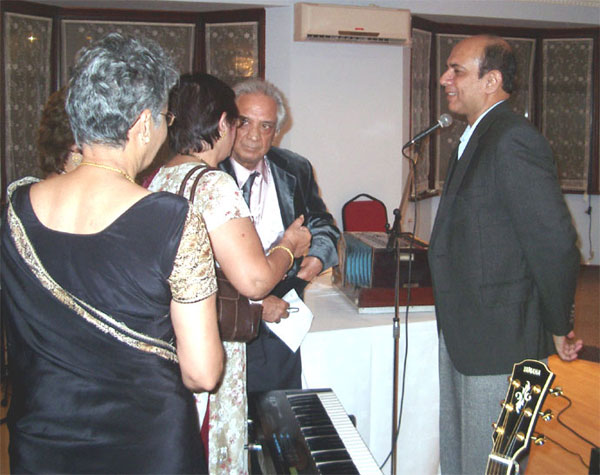 Fans requesting Khalid to sing their favourite Talat hits! Khalid regaled listeners with 30 hits of
his legendary father in each of the UK concerts. Khalid's grace, charm and ability to talk to the audiences and keep them in good humour, just like his father, was appreciated and
applauded by all.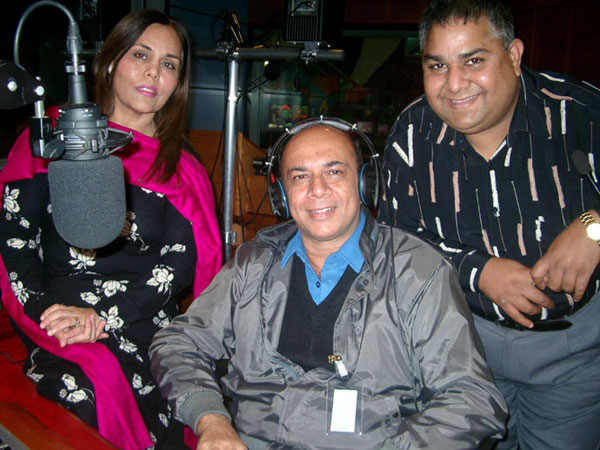 BBC Radio honours Khalid Mahmood by recording a 1 hour Special. The 1 Hour Specials are conducted only for the topmost ranking world class artistes and Khalid Mahmood is proud to be ranked by BBC as one amongst the best! Flanking Khalid Mahmood are well known Talk Show hosts Zeb Qureshi and Kanwal Qazi of BBC.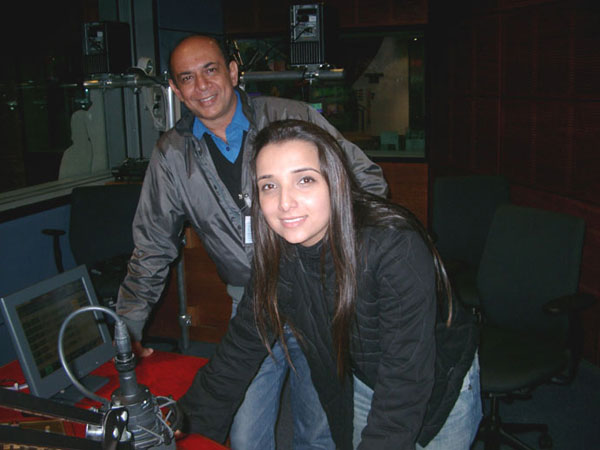 BBC's producer of the 1 Hour Special Saima Amreen seems happy with the results! This 1 Hour Special is broadcast all around the world and is now also available on the internet and reaches practically every home interested in Asian music around the world.
---
EK SHAAM TALAT MAHMOOD KE NAAM
HYDERABAD 1st JULY '06
"Aaj mera Talat mujhko phir se wapas mil gaya hai. After hearing Khalid today I know that Talat is still very much here with us in the shape of his son Khalid"
Ex Mumbai Governor and Air Chief Marshal Mr. Lateef was heard telling people after the Hyderabad concert
-------------------------------------------------------------------------------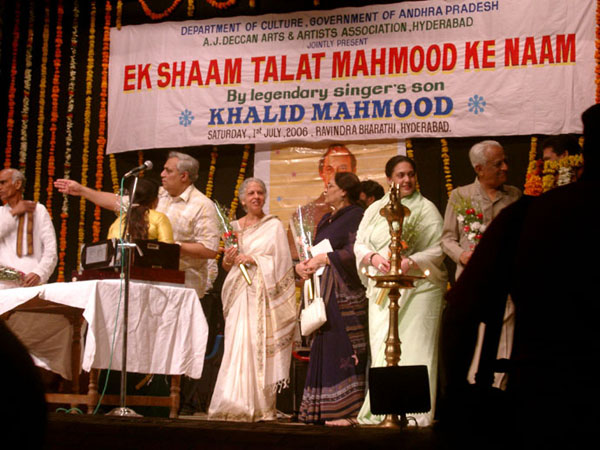 The auspicious 'Lamp Lighting Ceremony' takes place just before the concert begins. The VVIP's gathered on stage to welcome Khalid Mahmood are: Ex Mumbai Governor and Air Chief Marshal Mr. Lateef with his wife Mrs. Bilquees Lateef, Director Of Dept Of Culture
Mr. Shreekant, Vice Chairman Of Administrative Tribunal Mr. Saudagar Anwar and his wife, Committee member of Public Service Commission Andhra Pradesh, Mrs. Khosla.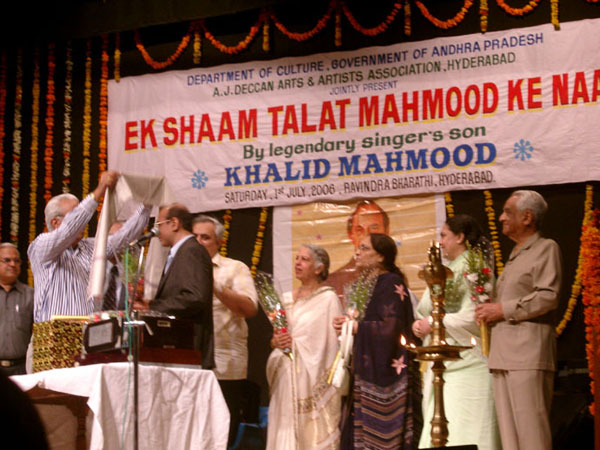 Khalid Mahmood is introduced on stage by All India Customs and Excise Chief Mr. S.S. Khosla, who honours Khalid with a "Shawl Presentation Ceremony", which, in Indian custom and tradition, is reserved only for the most highly respected artistes! This gesture shows that such is their tremendous love and respect for Talat Mahmood that they hold even his son Khalid in their highest esteem!


After the ceremonies finish, Khalid Mahmood takes the stage and gives the appreciative audience hit after hit of songs that have made his father a singing legend.


A lady singer joins Khalid Mahmood onstage to sing duets with him. A few of Talat Mahmood's hit duets sung with Lata Mangeshkar, Geeta Dutt and Shamshad Begum were part of the evening presentation too

Hundreds of fans thronged the back stage after the show to get autographs and photo's with the Legends son. Khalid met and talked to all of them with the same patience, affection and caring that his father was well known and famous for.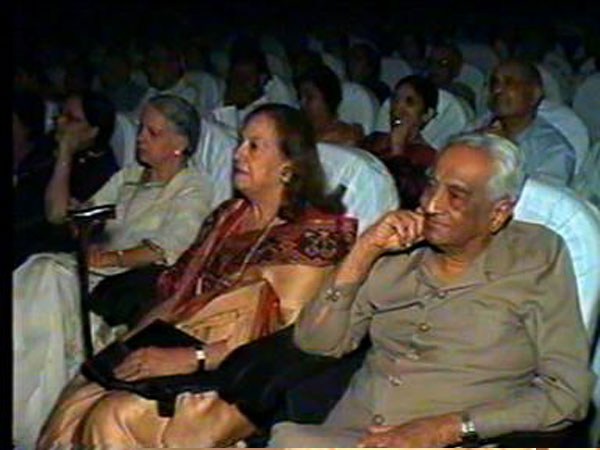 Governor and Air Chief Marshal Mr. Lateef and Mrs Lateef enjoying the evening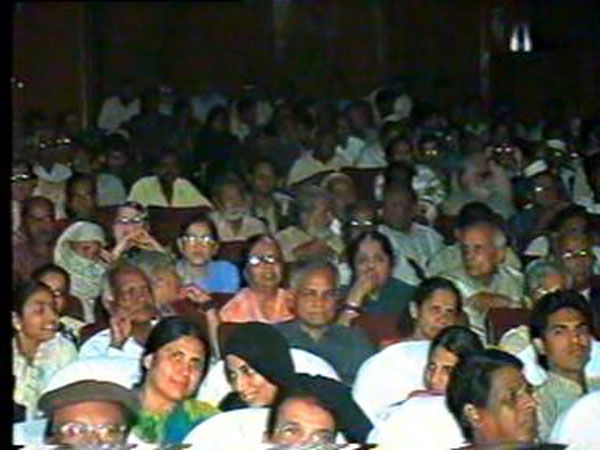 Packed to capacity Ravindra Bharati Auditorium! The prestigious Ravindra Bharati Auditorium was completely packed with a "HOUSEFULL" sign outside. Not a single seat remained empty! Enough proof that Talat Mahmood still lives in the most coveted corner of his fans hearts and minds even today!!!

---
EK SHAAM TALAT MAHMOOD KE NAAM
SWITZERLAND (Geneva, 3rd July 06)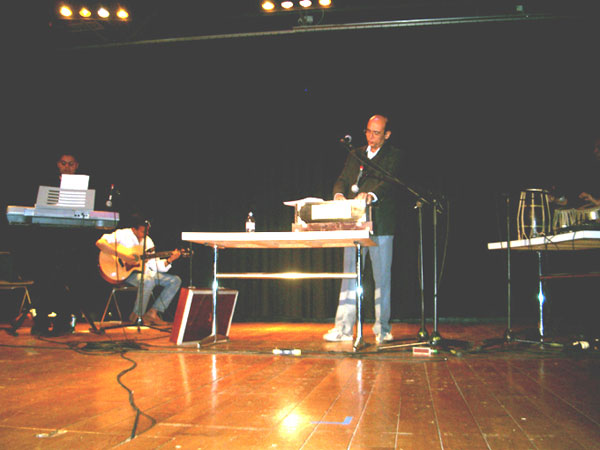 Khalid Mahmood sings in EK SHAAM TALAT MAHMOOD KE NAAM concert in Switzerland, ( Geneva - 3rd June 06 ) organised by the Geneva Indian Association. The love, affection and craze for Talat Mahmood was so apparant in the eyes of the Indian and Pakistani fans there. The Geneva Concert was attended by The Indian Ambassador to Switzerland - Mr. Pawan Singh and his wife, who sat thru the entire concert enjoying the nostalgic evening
_____________________________________________________________________________
---
EK SHAAM TALAT MAHMOOD KE NAAM
CALICUT 15th MARCH 06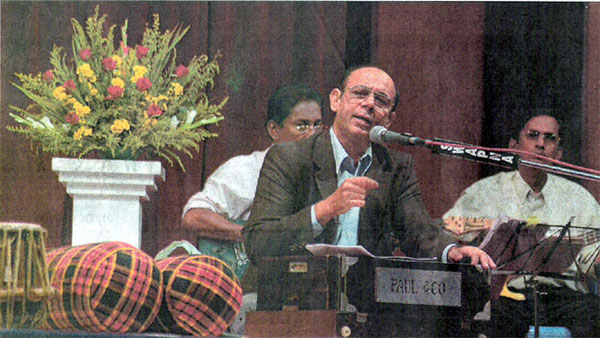 The EK SHAAM TALAT MAHMOOD KE NAAM concert by Khalid Mahmood in Calicut on 15th March was held at the prestigious Tagore Auditorium and was sponsored by Kairali TV. Huge banners were seen across the city advertising the concert.
______________________________________________________________________
---
---
CLICK PHOTO TO ENLARGE AND READ
| | | | | | |
| --- | --- | --- | --- | --- | --- |
| | | | | | |
| Deccan Chronicle | The Asian Age | The Hindu | Times Of India | Screen | Times Of India |
| | | | | | |
| --- | --- | --- | --- | --- | --- |
| | | | | | |
| Thejas | Chandrika | Manorama | Deshabhimani | Mah. Times | Mangalam |
| | | | | | |
| --- | --- | --- | --- | --- | --- |
| | | | | | |
| Inquilab | Madhyamum | Sandesh | Matrabhoomi | The Hindu | Matrabhumi |
KHALID MAHMOOD SINGS!
TALAT FANS PACKED THE HALLS TO LISTEN TO KHALID MAHMOOD SING HIS LEGENDARY FATHER'S HITS IN 'EK SHAAM TALAT MAHMOOD KE NAAM' CONCERTS AROUND THE WORLD!!!

SEE THE 2 ALL-NEW FULL LENGTH VIDEOS BELOW!!!


'EK SHAAM TALAT MAHMOOD KE NAAM'
BOSTON, USA




'EK SHAAM TALAT MAHMOOD KE NAAM'
HYDERABAD


CLICK HERE TO GO TO VIDEO PAGE !!!