Khalid Mahmood, singer son of the great Singing Legend Talat Mahmood, welcomes you to his website in memory of his legendary father. With over 800 rare photographs, fact file, press clips, complete songs list and tons of nostalgic memorabilia, all from the personal collection of the 'King Of Ghazals' himself, this website promises to be a treasure trove for all Talat Mahmood fans!

With millions of hits every year from fans all around the world, this is easily one of the most popular websites since 1998 on the internet today. So take a walk down memory lane with the 'Shahenshah E Ghazal' Talat Mahmood……

A GOLDEN VOICE
TALAT MAHMOOD
'KING OF GHAZALS'.........
'MAN WITH THE GOLDEN VOICE'........
'A PERFECT GENTLEMAN'.........
'VELVET VOICE OF INDIA'.........
THESE ARE SOME OF THE MANY ACCOLADES SHOWERED ON THE MAN HISTORY KNOWS AS TALAT MAHMOOD...... AN ENORMOUSLY TALENTED SINGING STAR WHO BECAME A LEGEND IN HIS LIFETIME ! EVERY SONG THAT TALAT MAHMOOD SANG POSSESSED A HUSHED MAJESTY AND AN ABIDING GRACE WHICH ARE FOREVER EMBEDDED IN THE HEARTS OF HIS MILLIONS OF FANS ALL OVER THE WORLD. TALAT MAHMOOD WILL ALWAYS BE REMEMBERED AS ONE OF THE GREATEST SINGING STARS OF ALL TIMES !!!
---
'KING OF GHAZALS' TALAT MAHMOOD
has been honoured with the prestigious and highly respected
PADMABHUSHAN AWARD
by Government of India.

Receiving the highly respected PADMABHUSHAN AWARD
from President of India Shri Venkataraman in Rashtrapati Bhavan, New Delhi


At Rashtrapati Bhavan, Delhi
TALAT MAHMOOD (standing at extreme left) with the much in the news ANNA HAZARE (standing at extreme right). Also in the group one can spot Prime Minister Atal Bihari Vajpayee, Home Minister S.B. Chavan, Prime Minister Narasimha Rao, Vice President Shankar Dayal Sharma and President R. Venketaraman.
---
'King of Ghazals' Talat Mahmood was born in a highly cultured but conservative family in Lucknow, India, on Feb. 24, 1924. He was one amongst six children. Talat showed his musical leanings from a very young age and would enjoy sitting through all-night music soiree's listening patiently to some of the biggest names in Indian classical music. Later, for a very short period of time Talat studied music at Marris Music College, before people began noticing his natural singing talent and offers to sing began to pour in.





Talat Mahmood began his music career at the young age of 16 when he began singing the ghazals of Ghalib, Dagh, Mir and Jigar on All India Radio, Lucknow. His voice had a quality distinct from all other singers. HMV was quick to notice this and offered Talat his first disc in 1941, "Sab din ek samaan nahin tha, ban jaoonga kya se kya main, iska to kuch dhyan nahin tha". Indeed how prophetic were these words. Little did Talat know that he was soon to rise to become the greatest name in ghazals on the Indian sub-continent !


In 1944 came the smash hit "Tasveer teri dil mera behela na sakegi". It took the country by storm. It's popularity was so phenomenal and unrivalled that even today it remains one of the biggest non-film hits! This disc brought Talat fame throughout India and soon he was beckoned by the Calcutta Film Industry, which was then the premiere hub of film production in the 40's. Apart from singing many hits, Talat also acted in the first 3 of his 13 films there - "RAJLAXMI", "TUM AUR MAIN" and "SAMAPTI".


But fate had even bigger things in store for Talat and in 1949 he came to the Hollywood of India - Mumbai. His name and fame had already preceded him and people in the Mumbai Film Industry were already aware of this handsome and talented young singer and soon he was offered the song "Ae dil mujhe aisi jagha le chal jahan koi na ho" composed by the then reigning music director Anil Biswas and picturised on the great Dilip Kumar. The combination was electrifying ! The record was an overnight success and set the trend for the filmi ghazal.





In Talat Mahmood, the music directors found the perfect voice for ghazals. His diction and intonation were word perfect. His expressive style and emotional nuances were unparalleled. The mellowness, sweetness and pathos in his voice set him apart from all the other singers. Here was a voice that was fresh ! The style absolutely new !! He was unanimously hailed as "The King Of Ghazals", a title he consolidated over the period of years to become the greatest name in ghazals !!! His film solo's and romantic duets numbered in hundreds as hit after hit followed. Talat soon grew into a living legend.


However, the handsome young 'King of Ghazals' did not go unnoticed by the film producers, who besieged him with offers to act in their films. Such was Talat's aura, that for his film 'Dil-e-Nadaan', producer-director A.R. Kardar, launched an 'All India Beauty Contest' to hunt for a beautiful girl who would play the heroine opposite the young and immensely talented superstar Talat Mahmood !!! Talat was to finally accept 13 films with top heroines like Nutan, Mala Sinha, Suraiya, Shyama, Nadira and others before he decided that acting was not his forte. And hence, Talat gave up acting to concentrate on singing.

Towards the late 60's the filmi ghazals and good romantic songs gave way to the electronic rhythms of the disco generation. Disliking the new trend towards loud meaningless music, Talat decided to cut down his film singing assignments but continued his non-film ghazal recordings. As a singer, Talat has already secured a place in history. Over the years, the King of Ghazals has created a catalogue of songs for generations to come. His fan following straddles the globe. He strides like a colossus in the field of ghazals - a KING whose name is surpassed by none !!!
---
'KING OF GHAZALS'
---
TALAT MAHMOOD
A SUPERSTAR AMONG STARS !

Dilip Kumar and Talat Mahmood, two of the greatest and most respected names of the Indian film industry pose for press photographers

ALL TIME GREATS !

TALAT, MUKESH, LATA, RAFI


Talat Mahmood & 'comedy king' Johnny Walker in London during concert tour


Bimal Roy, Talat Mahmood,
Mohd. Rafi & S.D. Burman recording for film 'SUJATA'

India's nightingale Lata Mangeshkar chats with 'King of Ghazals' Talat Mahmood


Dilip Kumar, Talat, Mukesh backstage at a charity concert


Talat Mahmood, Nadira, Suraiya at the premiere of their hit film "WARIS'

Talat Mahmood with Bengal's heartthrob Uttam Kumar


Asha Bhosle warmly greets Talat Mahmood


Magnum Opus "Mughal -e- Azam" producer K.Asif and
Talat Mahmood at a party


Talat Mahmood with Shammi Kapoor at a film premiere


O.P. Nayyar, Balraj Sahani,
Talat Mahmood during making of 'Sone Ki Chidiya'


Waheeda Rehman, up and coming star Chand Usmani, Jabeen, 'Jublee Star' Rajender Kumar and Talat Mahmood at Powai Lake picnic


Suraiya, Motilal & Talat during the shooting of 'MAALIK'

Charismatic cricketing star
Nawab of Pataudi visits Lata, Madan Mohan and Talat during 'SUHAGAN' song recording


Mehdi Hassan pays his respects to the majestic 'Shahenshah e Ghazal' Talat Mahmood


Talat with 'villain' Pran

Guru of "Beatles"!
Sitarist Ravi Shankar with Ghazal King Talat Mahmood

Two legends come together!
Talat Mahmood rehearses a song for composer Naushad


Talat Mahmood with his favorite music director Anil Biswas

Mukesh, comedian Mehmood, tragedy queen Meena Kumari and Talat Mahmood

Shankar-Jaikishan recording with Lata and Talat
for ROOP KI RANI CHORON KA RAJA

Laxmikant-Pyarelal rehearse with Talat
for WOH DIN YAAD KARO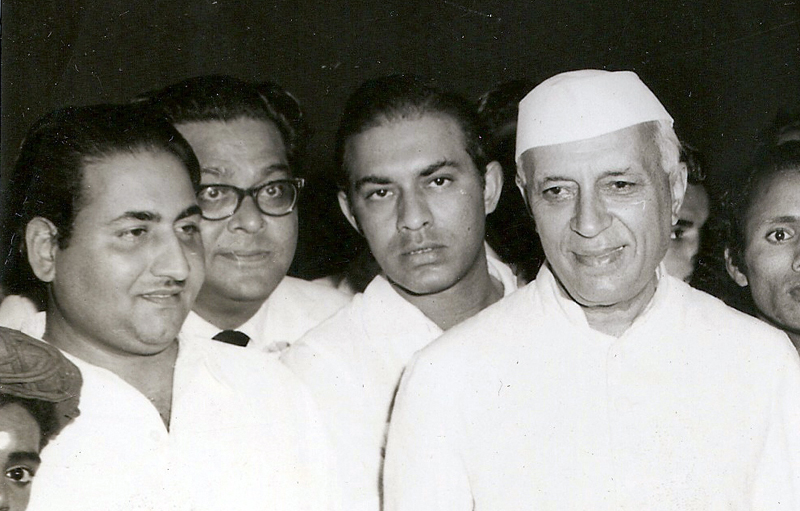 Mohd Rafi and Talat Mahmood with the much loved and respected Prime Minister of India Pandit Jawaharlal Nehru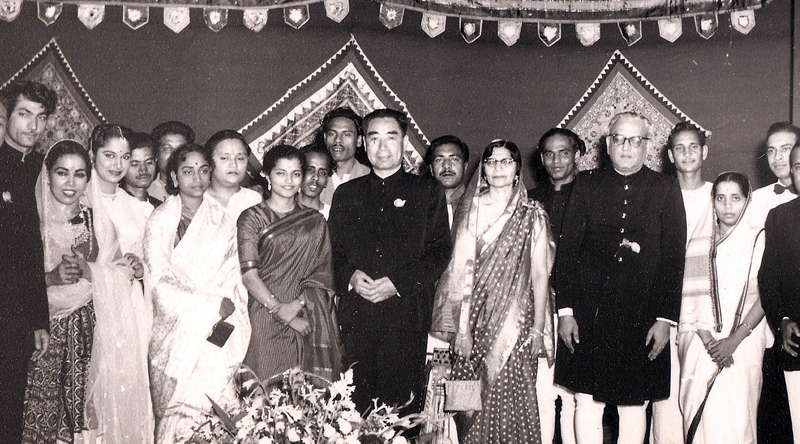 The Indian Government rolled out the red carpet for Chinese premier CHOU EN LAI (IN CENTER) and
presented an entertainment extravaganza with the film industry's biggest names!!!
(far right to left) singers TALAT MAHMOOD, SUDHA MALHOTRA, GEETA DUTT, actress WAHEEDA REHMAN, dancer SITARA DEVI with Indian ministers and top ranking govt officials.



Three cheers for the KING!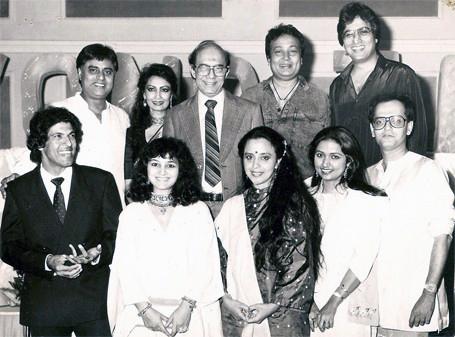 Shahenshah-e-Ghazal Talat Mahmood
with
Jagjit & Chitra Singh, Bhupinder, Talat Aziz
Pop singers Gary Lawyer, Alisha Chinai, Ila Arun, Mitali, Nandu Bhende
______________________________________________________________________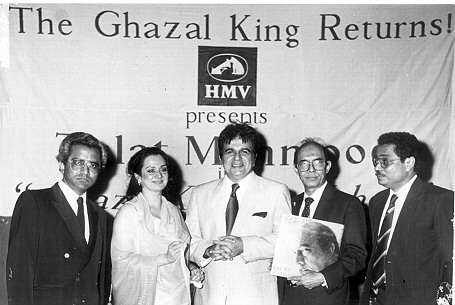 The release of Talat Mahmood's "GHAZAL KE SAAZ UTHAO" was a grand affair!
Old friend Dilip Kumar and his wife Saira Banu were on hand to release the ghazal album
at a 5 star hotel in Mumbai with the glitterati of the city gracing the occasion.
---
LEGENDS ARE FOREVER !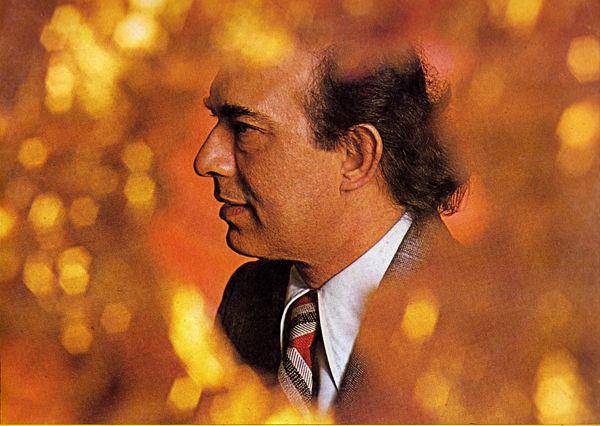 Sathya Saran, editor of FEMINA magazine, who hand-picked and groomed Aishwariya Rai, Sushmita Sen, Yukta Mookhy, Priyanka Chopra - all winners of the Miss Universe and Miss World Titles, wrote in FILMFARE magazine JULY 1998 :
"Talat Mahmood was the quintessential romantic. His gentle good looks, his chivalrous manners and his quiet reclusivity had all the elements of high romance!"
---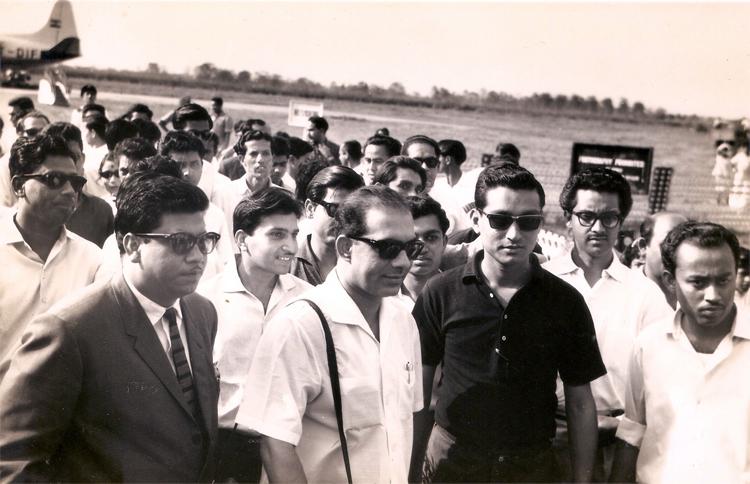 Mega star Talat Mahmood was mobbed by his fans where ever he went!
Here, on a concert tour, eager fans mob the Ghazal King at the airport itself. Talat never disappointed them
and always made time for his fans by signing autographs and taking photo's with them
---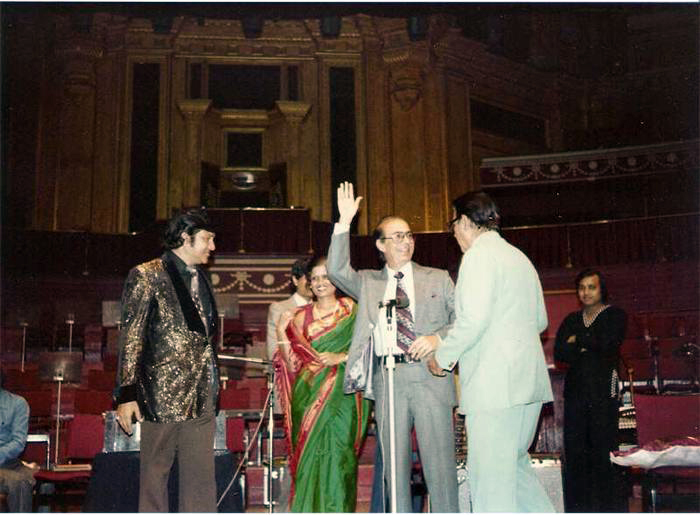 In 1979, Talat Mahmood performed at the world renowned Royal Albert Hall, London, selling out all tickets
2 weeks before the concert date! Talat Mahmood was the second playback singer after Lata Mangeshkar to
be permitted to perform at this historical venue. Here, Talat Mahmood waves to a capacity crowd of his
ardent and ever-loving fans after his hugely successful concert.

CLICK BELOW TO LISTEN TO THE FULL CONCERT!
'KING OF GHAZALS' AND SINGING STAR TALAT MAHMOOD "LIVE"
AT ROYAL ALBERT HALL , LONDON
RECORDED BY KHALID TALAT MAHMOOD

"ROYAL ALBERT HALL", LONDON - 1979
A FLAWLESS SINGING PERFORMANCE BY THE 'KING OF GHAZALS' TALAT MAHMOOD !!!
LISTEN TO THE THUNDEROUS APPLAUSE, ENCORES AND A STANDING OVATION IN THE END FROM A CAPACITY CROWD OF EVER LOVING FANS!!!

THIS CONCERT IS RECORDED BY TALAT MAHMOOD's SINGER SON KHALID
---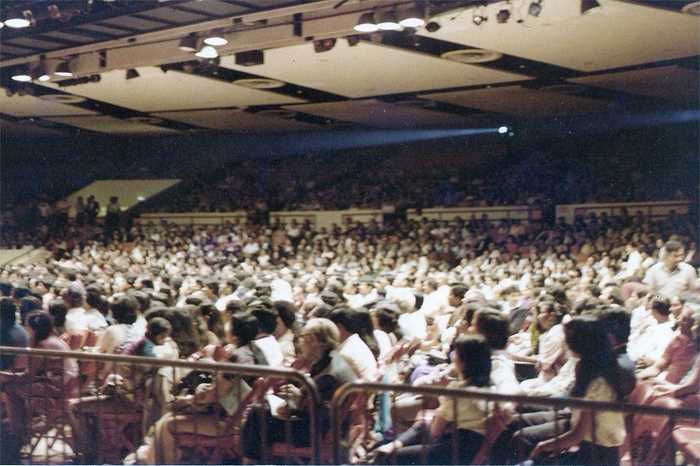 Fans pack Wembley Centre, London, to hear the King sing!
Every concert of Talat Mahmood anywhere in the world, was always packed to capacity
and not a single seat remained empty at show time. Such was the love of fans for THE KING!
---
SHAMMI KAPOOR CORRECTS SOME FACTS!


It is believed by many that it was Mohd Rafi who gave Shammi Kapoor the hit songs of his career with "YAHOO" etc. But Shammi Kapoor himself corrects the facts in the TV documentary "SHAMMI KAPOOR UNPLUGGED - Episode - 52"


Shammi Kapoor states that most people mistakenly believe that it was Mohd Rafi who gave him the hit songs of his career with "YAHOO" etc. But the fact is, that his first hit singer was actually 'KING OF GHAZALS' TALAT MAHMOOD throughout the 50's who gave him a host of hit songs in his movies like "THOKAR", "MEMSAHIB", "NAQAAB", "SIPAH SALAR", "MEHBOOBA", "CHOR BAZAAR","LAILA MAJNU" and "MOHAR". Mohd Rafi came into his career much later in the 60 s with YAHOO. Shammi Kapoor says that he was in awe of this majestic and handsome singer who's unique voice in those days was the voice of the greatest actor of all time – DILIP KUMAR

Click link to watch video: http://www.youtube.com/watch?v=bFLgFnbevrY
---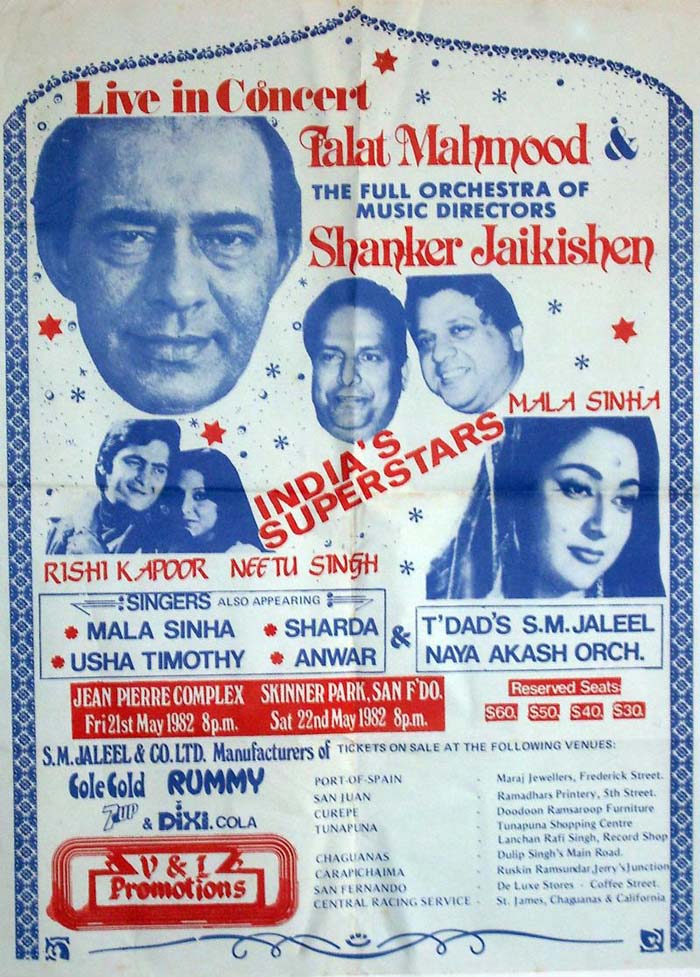 In the 1982 West Indies Tour by top most Music Directors Shankar-Jaikishan, inspite of the presence of such mega stars like Rishi Kapoor, Neetu Singh, Mala Sinha and others, it is the 'GHAZAL KING' TALAT MAHMOOD who is the most prominently featured in all the posters, as the organisers knew that it is only the magic of his golden voice that will draw
huge audiences and crowds into the arena!


The book everybody is talking about!
MANEK PREMCHAND's "VELVET VOICE - TALAT MAHMOOD"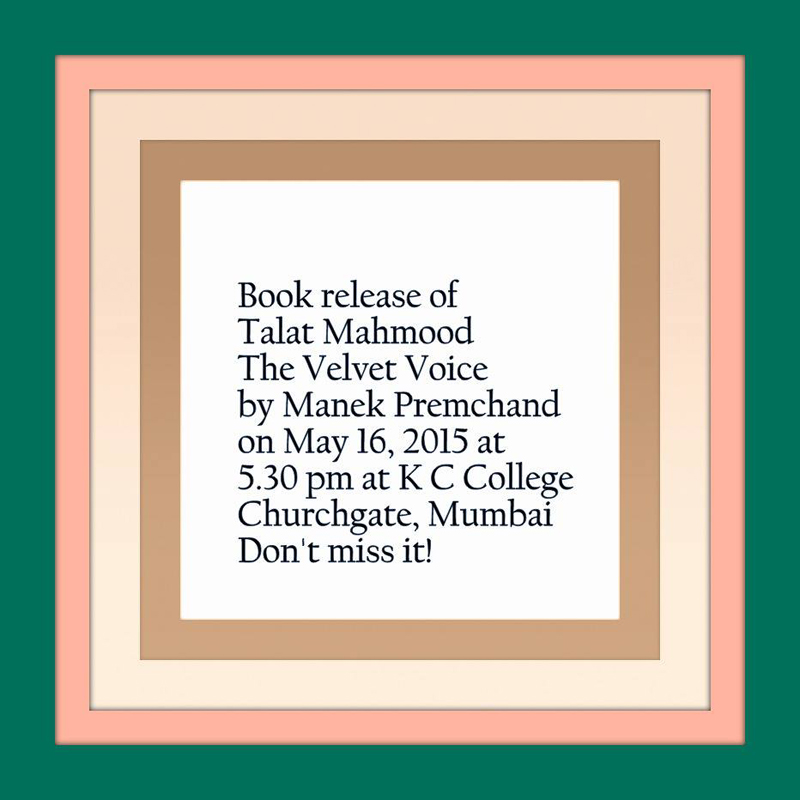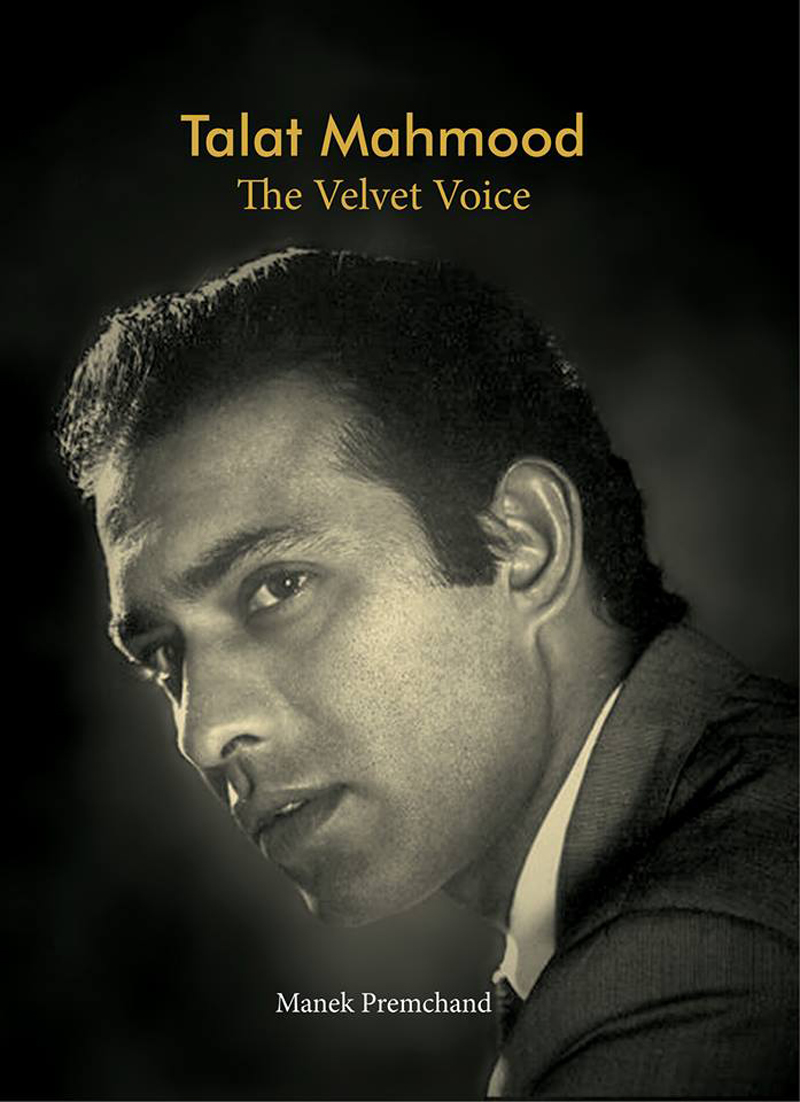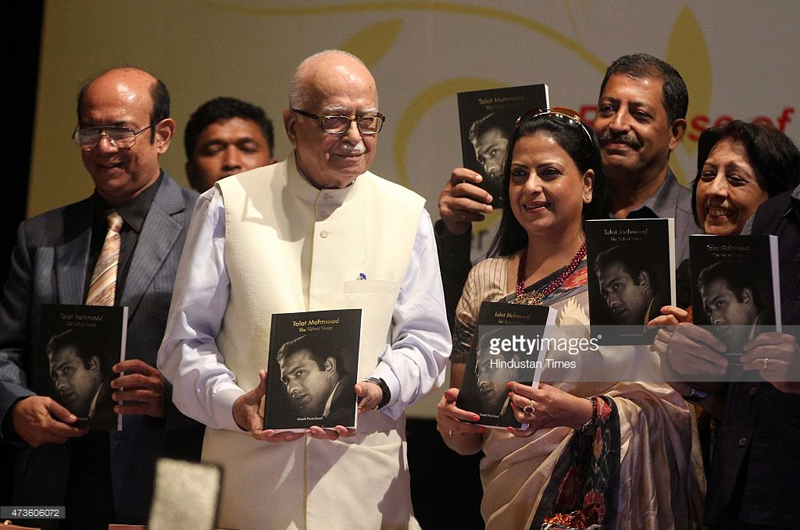 AT THE BOOK RELEASE OF MANEK PREMCHAND's "VELVET VOICE - TALAT MAHMOOD".
From Left: KHALID TALAT MAHMOOD, L.K. ADVANI ji, PRATIBHA ADVANI ji, LATA
JAGTIANI ji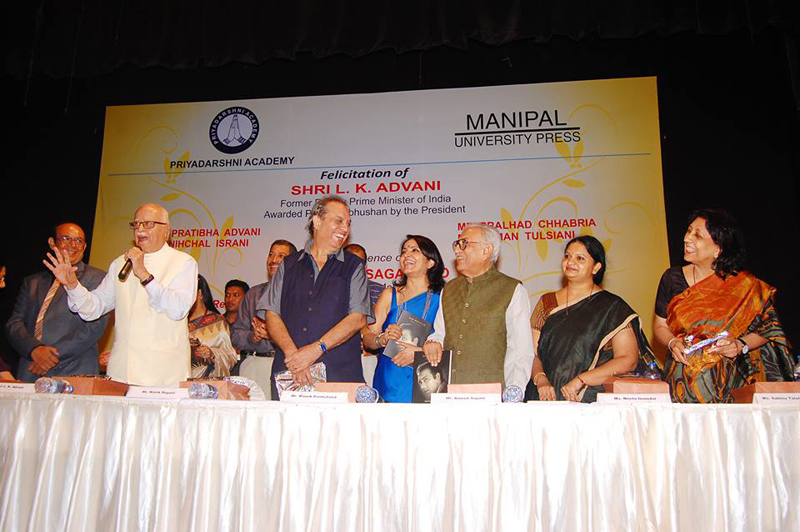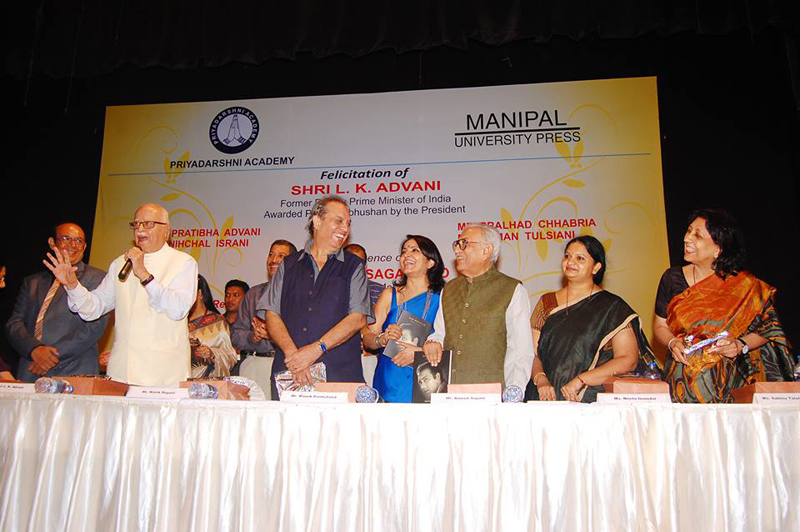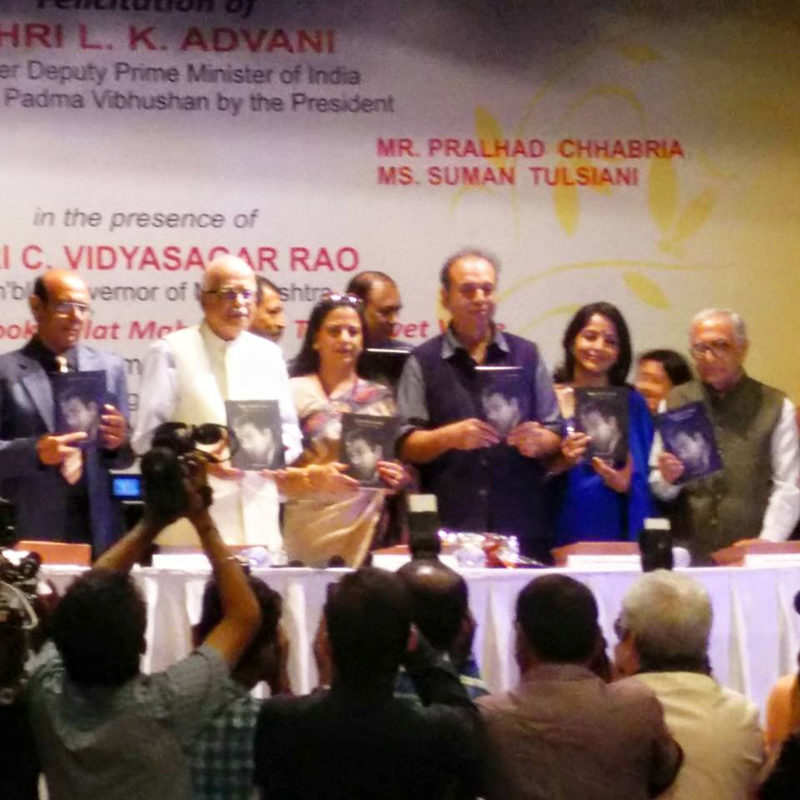 Don't miss the phalanx of reporters and cameramen! Every paper and magazine was represented at the book release. They are
there for the presence of one man alone - L.K. ADVANI ji, who they have loved revered and respected all their lives!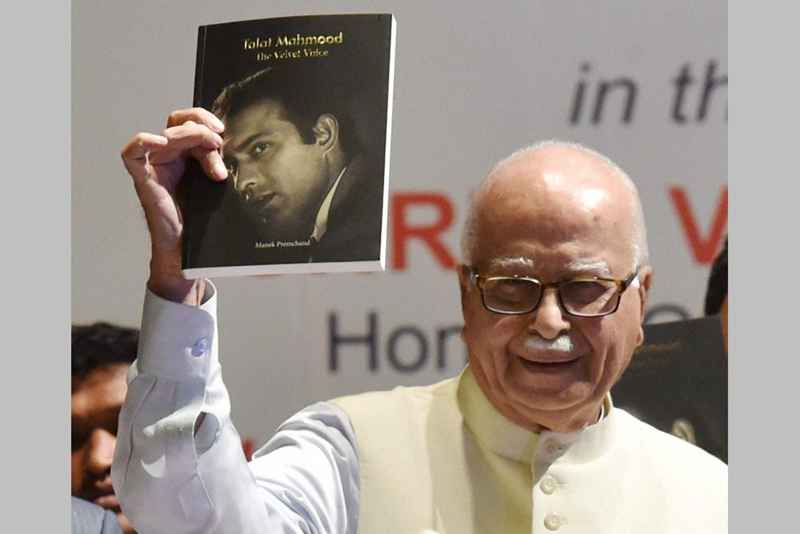 LK ADVANI releases book "TALAT MAHMOOD - VELVET VOICE" written by Manek
Premchand!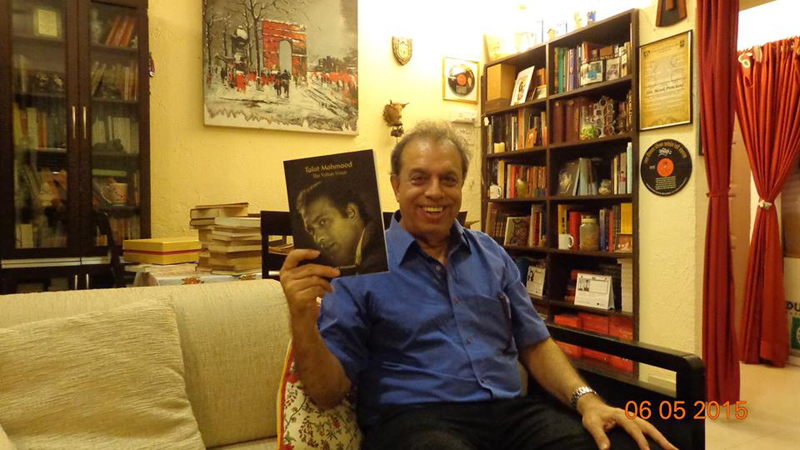 Lata Jagtiani says about Manek Premchand; "Manek, every word is meant....even two days back as I entered the room I saw
you holding the book, speechless, and when you looked up at me I saw the tears in your eyes...tears of having paid a fitting
tribute to the man who stood by you in your lonely hours, reaching deep into your soul with his calm, balming voice...
reassuring you that he too has been thru dark tunnels and survived."
WATCH THE 'BOOK RELEASE' VIDEO BELOW!
Talat Mahmood book release – Audio songs and short films shown at the event
---

After the stupendous success of songs in "Ek Gaon Ki Kahani", "Chhaya", "Usne Kaha Tha",
"Prem Patra" and "Aawaz" the genius of Talat Mahmood and composer Salil Choudhury once again came together in 1982 to record for Chabi Bharati Film Productions bi-lingual film. TUP TAP BOONDEN BARSEN in Hindi written by lyricist Yogesh and TUP TAP BRISHTI PODCHE in Bengali were recorded. Talat's son Khalid, who is a big fan of Salil Choudhury, was also present at this recording and has clicked all these photo's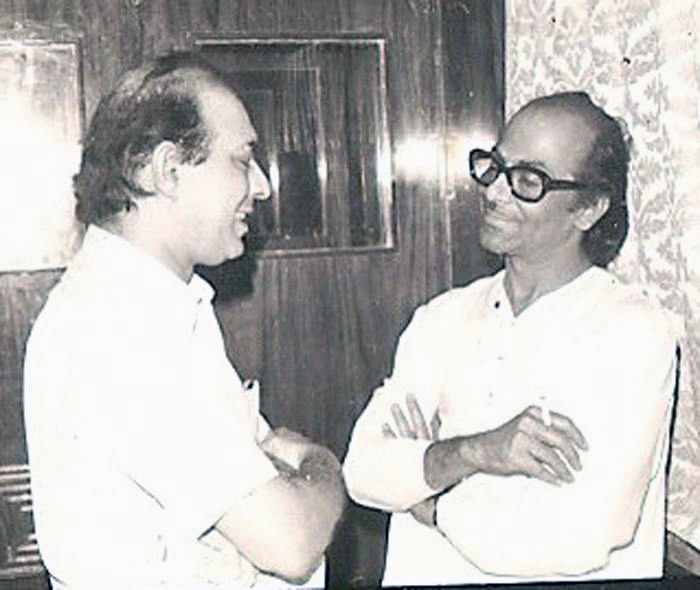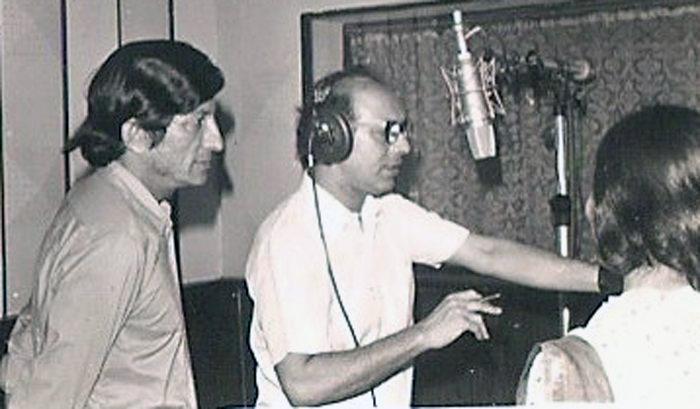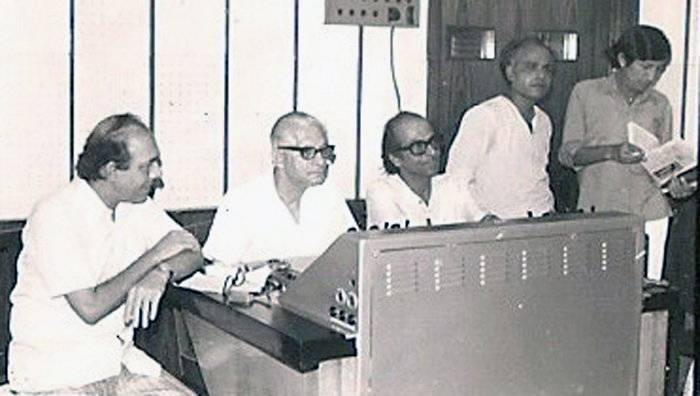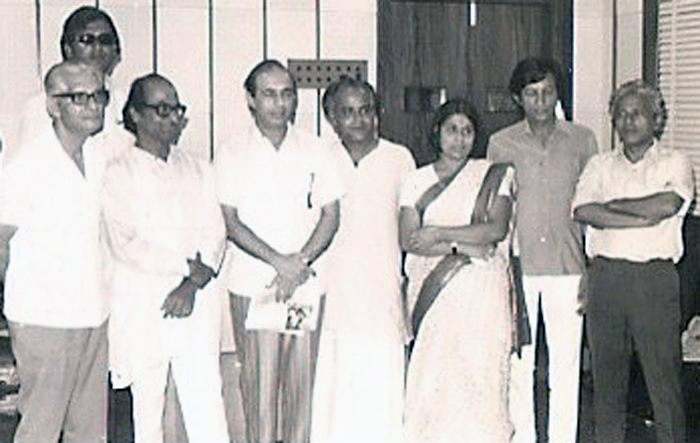 LISTEN TO THE AUDIO TRACK BELOW!
TALAT MAHMOOD - Tup tap boonde barse HINDI FILM SONG (1982) music by SALIL CHOUDHURY
TALAT MAHMOOD - Tup tap brishti podche BENGALI FILM SONG (1982) music by SALIL CHOUDHURY
---

'MAUSIQAR E AZAM' NAUSHAD ALI (left) and 'SHAHENSHAH E GHAZAL' TALAT MAHMOOD (right)
sharing a light hearted moment between themselves and enjoying a hearty laugh!!!

Talat and Naushad have worked together first in "BABUL" in which Talat singing playback for the greatest actor ever, DILIP KUMAR has given huge and all-time big hits composed by Naushad! Then they came together again in "MAALIK",
a film produced by Naushad's own production house, where singing star TALAT MAHMOOD was the hero and
SURAIYA was the heroine!

Music Director Naushad says in INDIAN EXPRESS 20.9.81 : "I have a very high opinion of Talat Mahmood.
He has a fine style. When he sings ghazals it is in his own unique inimitable sweet style. Sweetness is indispensable
to a proper singing of the ghazal. Besides, he has mastery over the language.
He knows which words to emphasize and which not to. You will never hear any lines misread from Talat Mahmood's lips!"

---
PRIME MINISTER OF INDIA - P.V. NARASIMHA RAO (from 1991 to 1996).
In 1986 is the invitation of P.V. NARASIMHA RAO requesting TALAT MAHMOOD to attend the wedding of
his son PRABHAKAR RAO. They were on such close terms!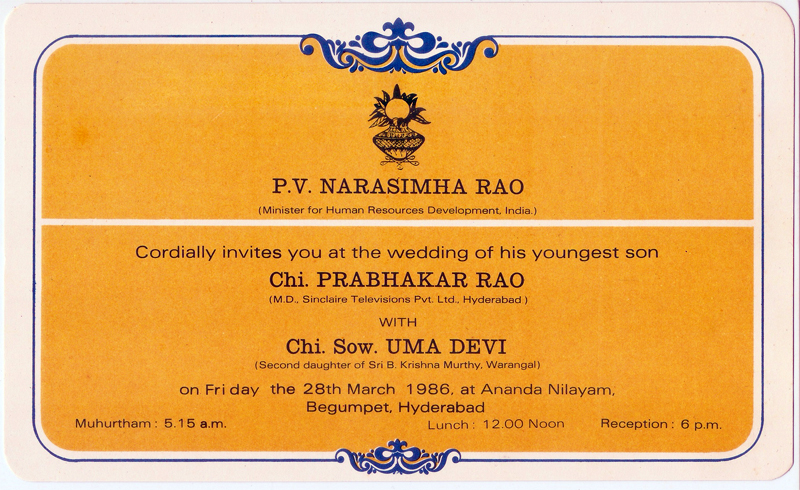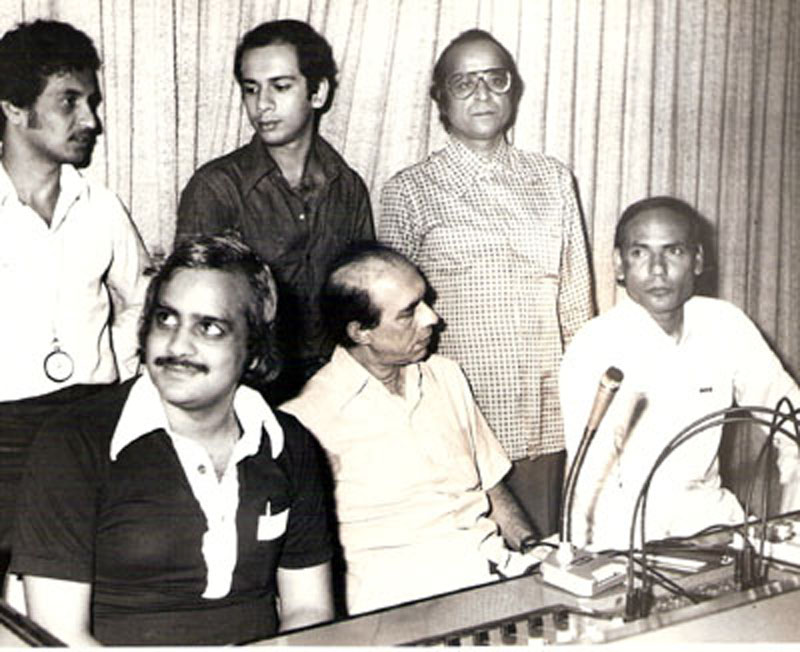 Listening to Talat's recording "Jaoon kahan aye aasman' for Film "SAWAAL"
(In foreground) ace recordist Daman Sood, 'KING OF GHAZALS' Talat Mahmood, music director CK Chauhan
Standing in center is Talat's son Khalid and Nida Fazli on right
LISTEN TO THE AUDIO TRACK BELOW!
TALAT MAHMOOD - Jaoon kahan aye aasman SAWAAL recorded in 1983
---
---

JETHRO TULL and TALAT MAHMOOD....... CULT FIGURES!
Well known and respected music critic Narender Kusnur writes in MID-DAY (13/5/02) about 'cult figures', like Elvis Presley, whose fan following borders on the fanatical and is never ending. Every new generation re-discovers these icons.

He draws up his own list of "Top 10 Western Musicians With Cult Following" - his list is headed by Jethro Tull and includes pop icons The Grateful Dead, Bob Dylan, Jim Reeves and others.

No.1 on his list of "Top 10 Indian Musicians With Cult Following" is none other than the 'King Of Ghazals' Talat Mahmood, who he says has a never ending club of ardent admirers!!! Others following
Talat Mahmood on this list are Geeta Dutt, Begum Akhtar, Mehdi Hassan, Madan Mohan and others.
---

'TALAT MAHMOOD SHOW' IN DELHI
Talat Mahmood sings in Delhi to a packed auditorium and listening to the Shahenshah is the
greatest name ever in Indian cinema Dilip Kumar with wife Saira Banu and Naseem Banu!
---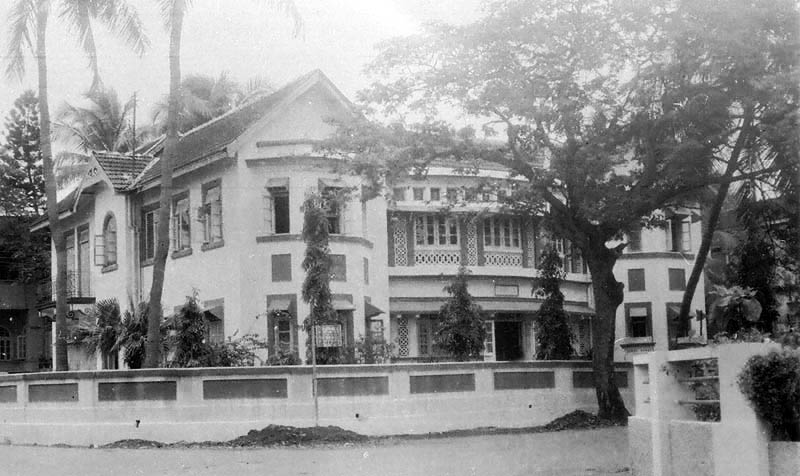 "SUNBEAM", No. 1, PERRY CROSS ROAD, BANDRA WEST, MUMBAI
Talat Mahmood's palatial English styled sea front mansion in the tony suburb of Pali Hill, Bandra!
Talat Mahmood's neighbours within 2 square miles in this exclusive and much sought after locality were greats like
Dilip Kumar, Rajendra Kumar, Rajesh Khanna, Mumtaz, Sunil Dutt etc. and now, none other than the world's
greatest batsman and living legend Sachin Tendulkar has joined this elite list by moving into his own new residence
on Perry Cross Road itself.
---


Talat with wife Nasreen and singer son Khalid

---
KHALID MAHMOOD SINGS!
TALAT FANS PACKED THE HALLS TO LISTEN TO KHALID MAHMOOD SING HIS LEGENDARY FATHER'S HITS IN 'EK SHAAM TALAT MAHMOOD KE NAAM' CONCERTS AROUND THE WORLD!!!

SEE THE 2 ALL-NEW FULL LENGTH VIDEOS BELOW!!!


'EK SHAAM TALAT MAHMOOD KE NAAM'
BOSTON, USA




'EK SHAAM TALAT MAHMOOD KE NAAM'
HYDERABAD


CLICK HERE TO GO TO VIDEO PAGE !!!
---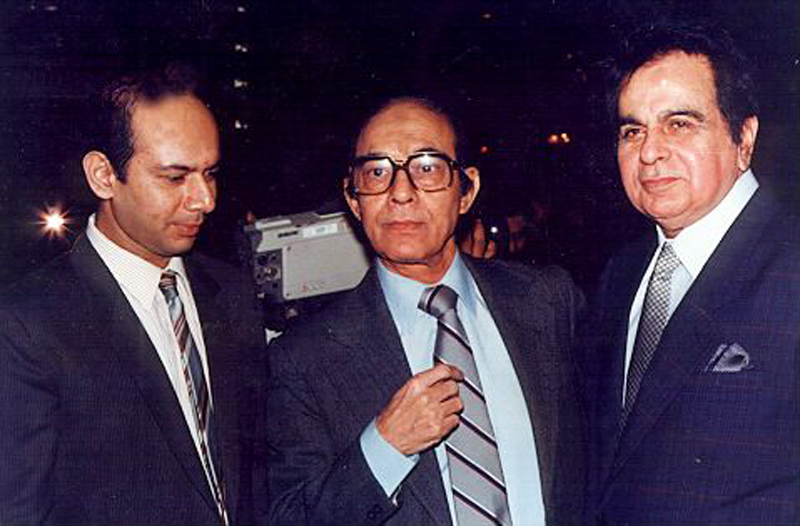 KHALID, TALAT MAHMOOD, DILIP KUMAR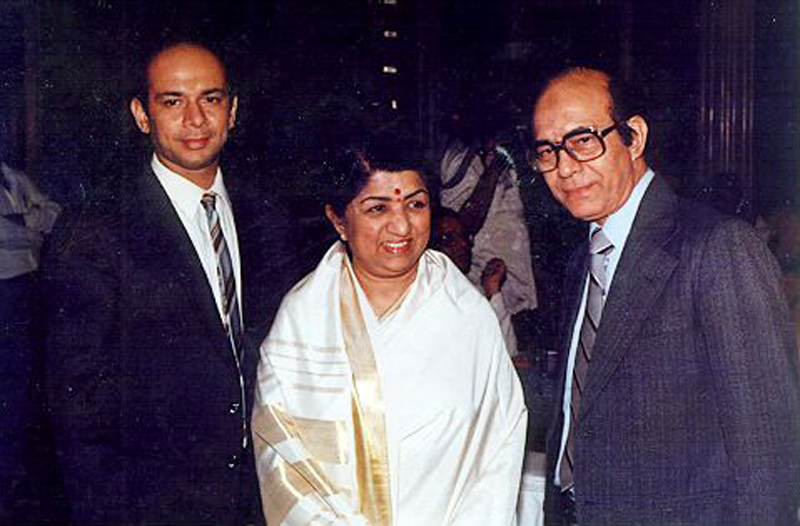 KHALID, LATA MANGESHKAR, TALAT MAHMOOD

---
KHALID WITH CELEBRITIES!!!

Popular singer KHALID MAHMOOD is at the most exclusive party in town
in the company of superstars, politicians, industrialists and socialites!!!
"THE LEELA HOTEL" PARTY - Mumbai (JAN 2012)

Udhav Thakeray with Khalid Talat Mahmood

Industrialist and SAREGAMA owner Harsh Goenka with Khalid Talat Mahmood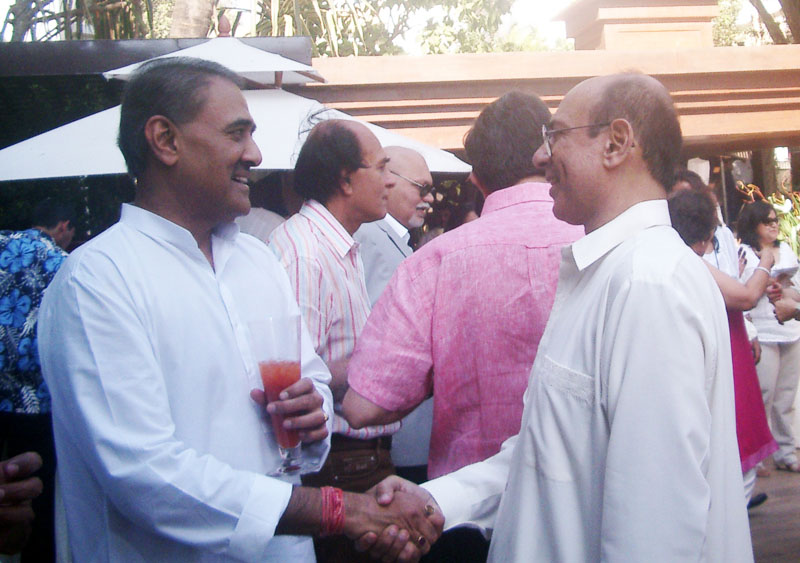 Aviation Minister Praful Patel with Khalid Talat Mahmood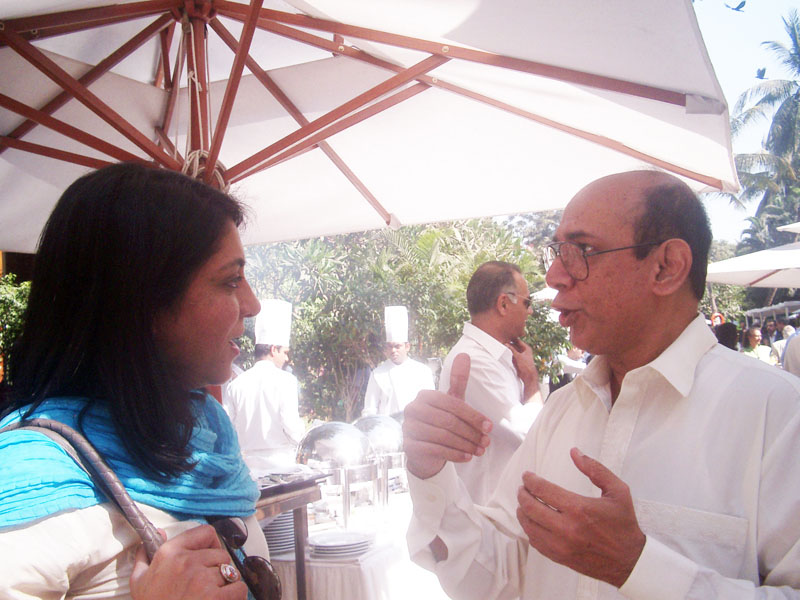 Priya Dutt with Khalid Talat Mahmood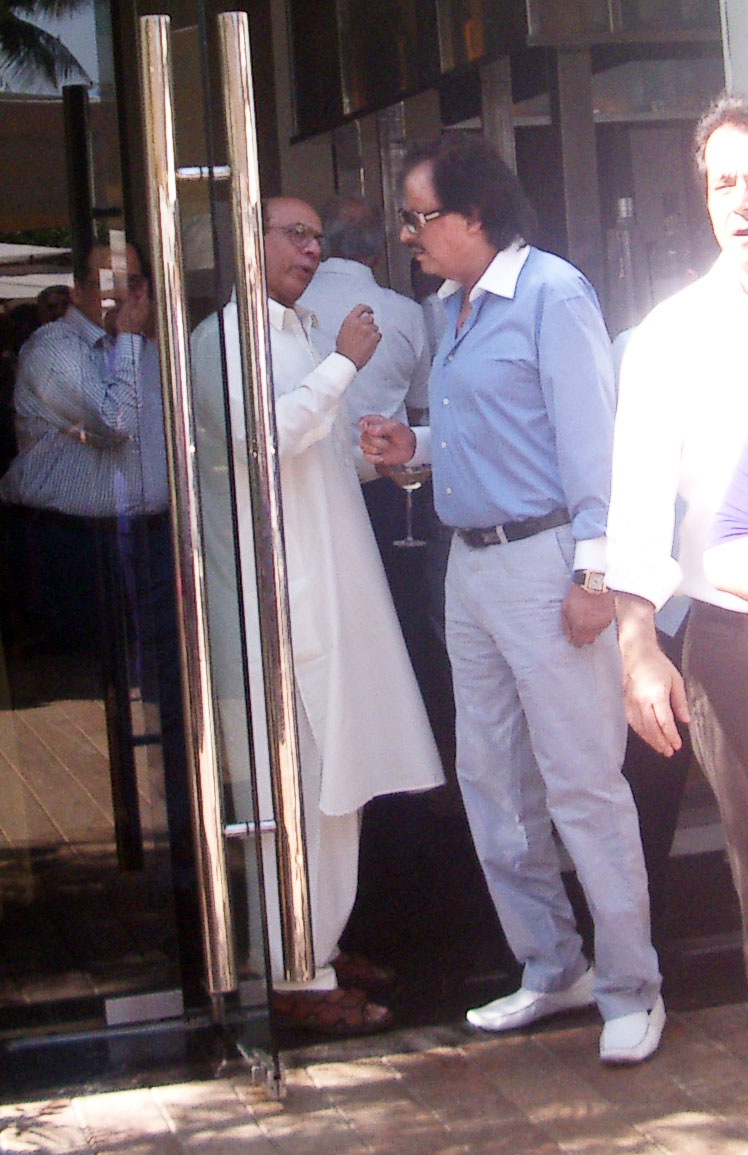 Filmstar Sanjay Khan with Khalid Talat Mahmood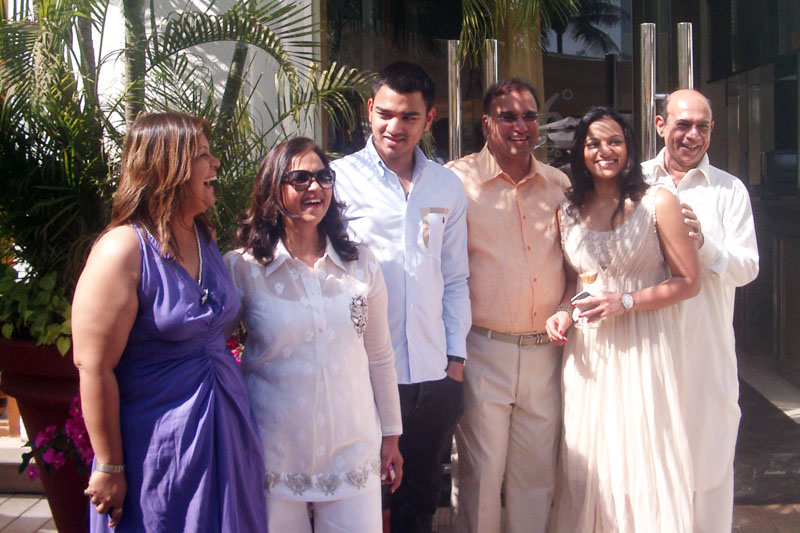 From left: Khalid's wife Ísha Mahmood, owners of "Hotel Leela" Lakshmi Nair,
Aushim Nair, Vivek Nair, Amrudha Nair and Khalid Talat Mahmood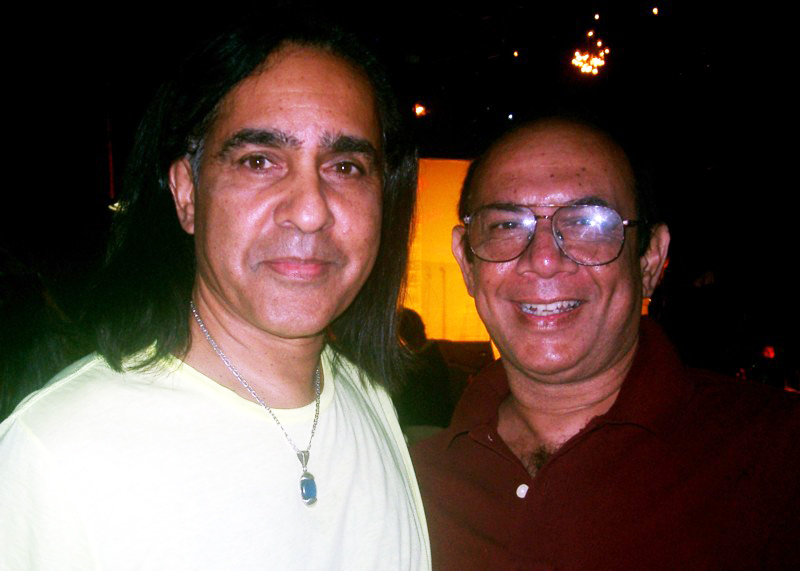 Khalid meets Biddu in Mumbai after Biddu's concert. Biddu is the man who
took India into the Disco Pop age with Nazia Hassan's DISCO DEEWANE and several International chart toppers like Tina Charles and Carl Douglas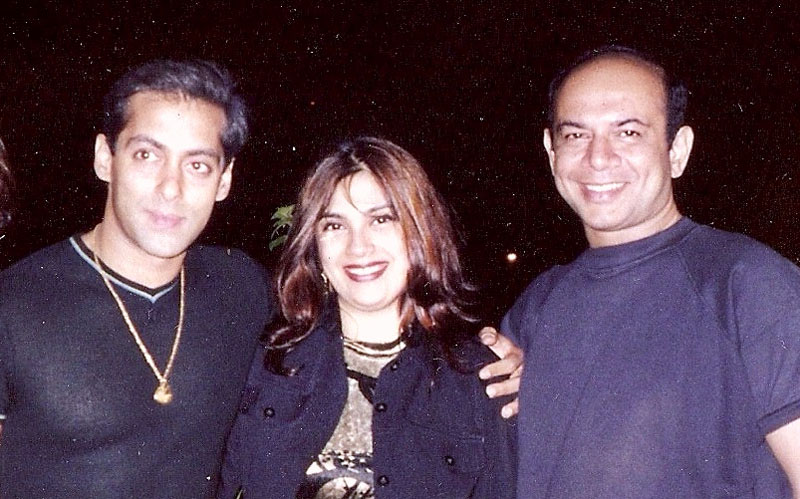 Superstar Salman Khan, actress Priyanka Timmins and singer Khalid Talat Mahmood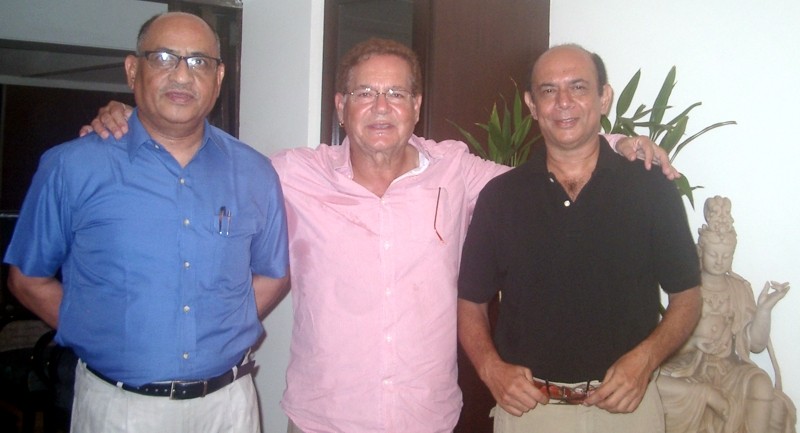 AT SALIM KHAN SAHAB's HOUSE IN BANDRA, MUMBAI
Left to right: V.N. Deshmukh (Mumbai's ex Director General of Police), Salim Khan and Khalid
Salim Khan sahab told Khalid: "In the early years of my struggling days, when I had come to Mumbai and had
rented a place very close to Talat sahab's beautiful bungalow. I would pass by his house hoping to catch sight
of him sitting in his lawns. Talat sahab spelt class and I was always a big fan of Talat sahab!"
Both V.N. Deshmukh sahab and Salim Khan sahab were very appreciative of the fact that Khalid was single handedly, tirelessly and selflessly carrying on the work of digitally restoring all of his father Talat Mahmood's work, (audio and video) and setting up a website for the first time ever on any singer!
______________________________________________________

Scions of the Film Industry's Legendary and most popular Stars!
Khalid Talat Mahmood and Randhir Raj Kapoor seen at the most exclusive/members
only OTTERS CLUB in Mumbai
---

Andre Timmins (owner of IIFA Awards and famed for bringing the
reclusive superstar 'MICHEAL JACKSON IN CONCERT' to Mumbai) and
Priyanka Timmins threw a party for their handsome goodlooking son Leslie.
The line of cars outside the restaurant was a mile long - as the glitterati of
the city was in attendance!
---
KHALID HAS APPEARED ON THE TOP NATIONAL AND INTERNATIONAL TV CHANNELS AND PROGRAMS TALKING ABOUT HIS LEGENDARY FATHER!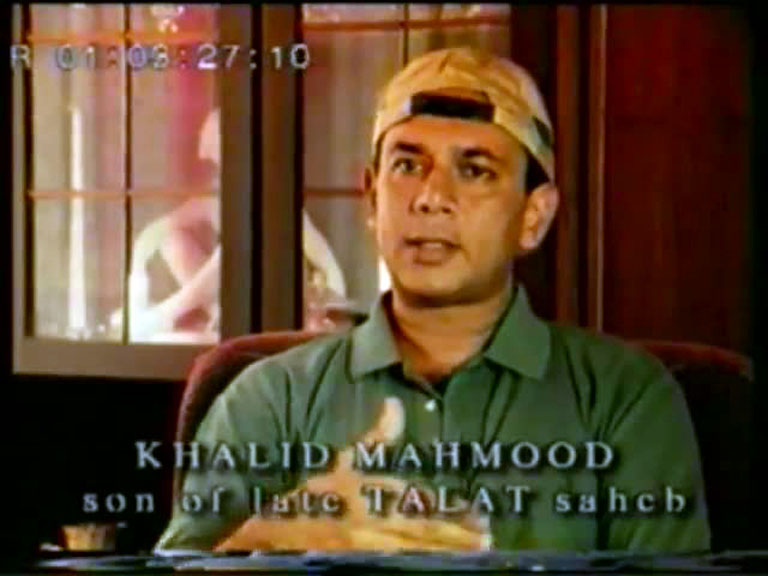 DOORDARSHAN CHANNEL

"FLASHBACK - TALAT MAHMOOD" (NEWS-X CHANNEL)



"TOTAL RECALL - SHAMSHAD BEGUM" (TIMES NOW CHANNEL)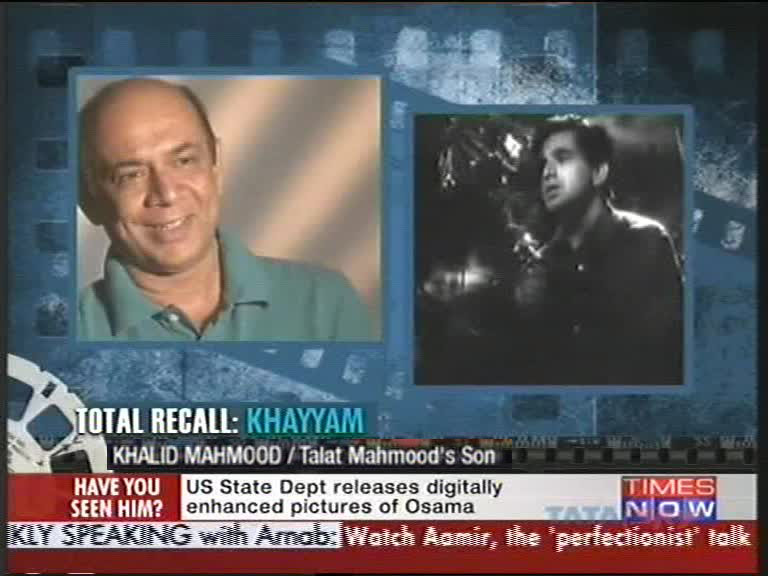 "TOTAL RECALL - KHAYYAM" (TIMES NOW CHANNEL)



"SINGING FATHERS SINGING SONS" (STAR TV CHANNEL)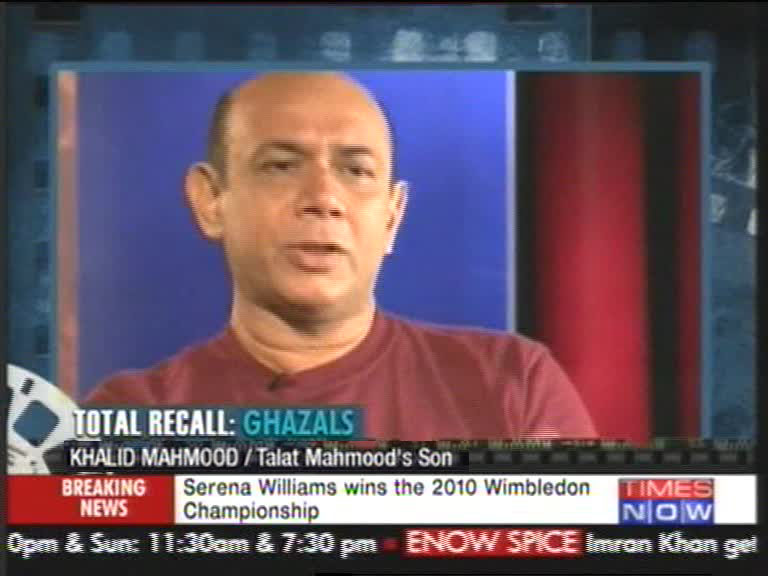 "TOTAL RECALL - GHAZALS" (TIMES NOW CHANNEL)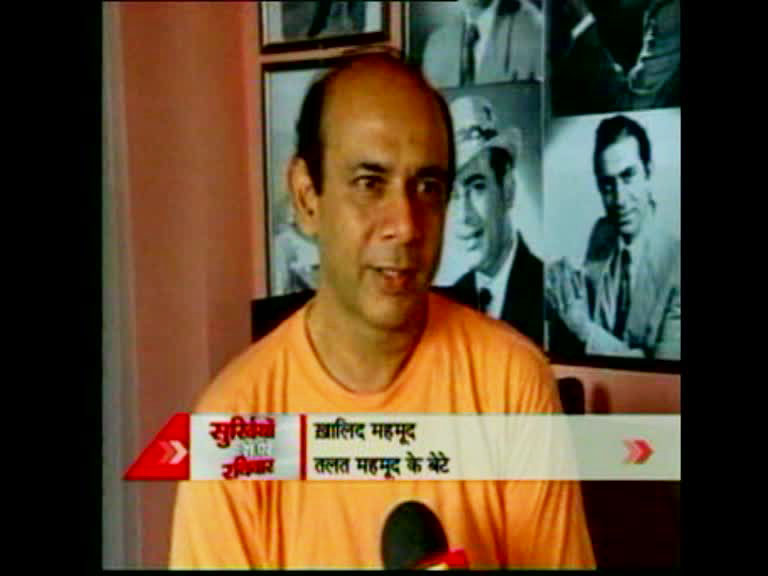 "REMEMBERING TALAT MAHMOOD" (ZEE TV CHANNEL)


"TOTAL RECALL - TALAT MAHMOOD" (TIMES NOW CHANNEL)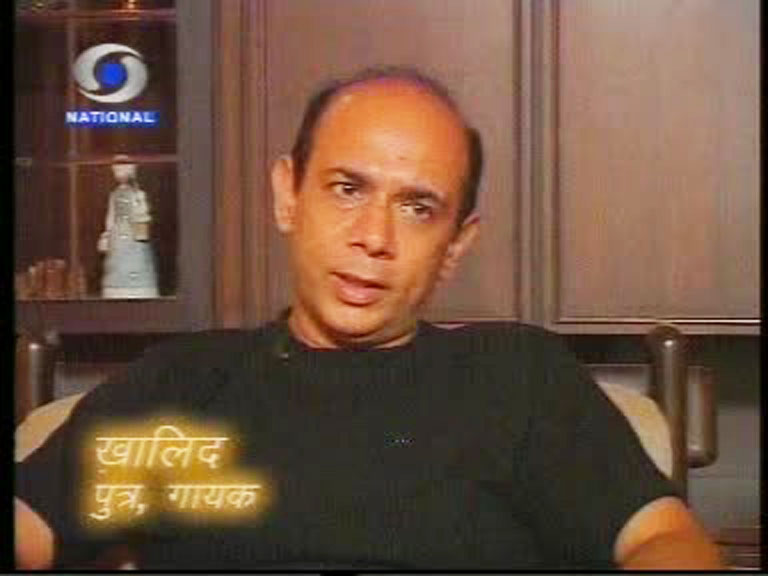 "YAADEN - TALAT MAHMOOD" (DOORDARSHAN CHANNEL)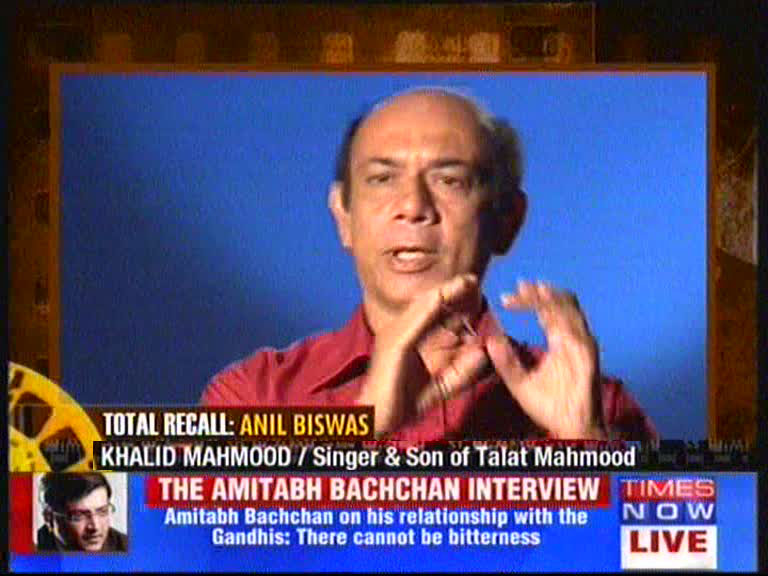 "TOTAL RECALL - ANIL BISWAS" (TIMES NOW CHANNEL)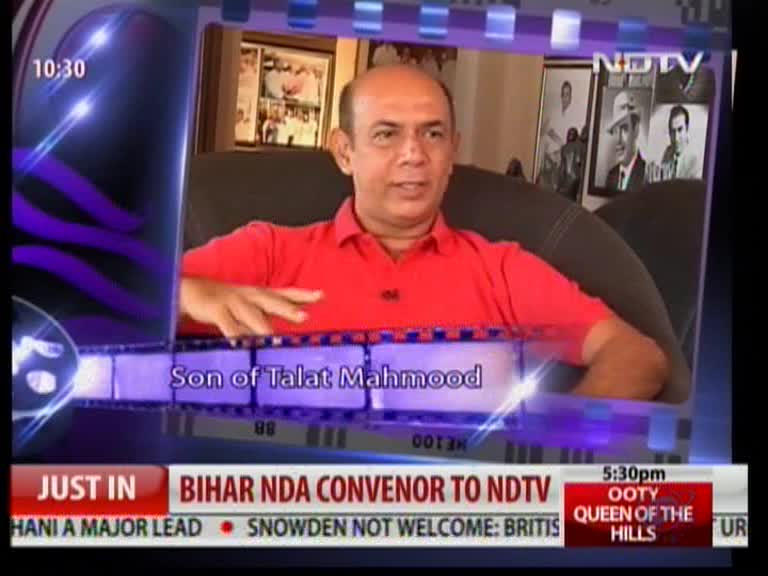 'KING OF GHAZALS' - TALAT MAHMOOD ( NDTV CHANNEL)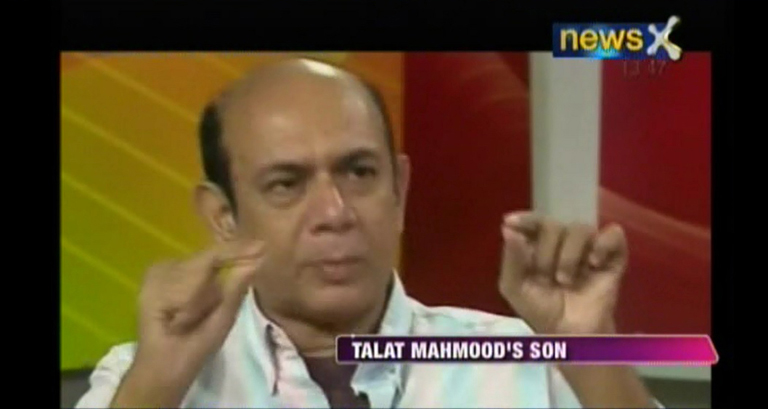 "MUSIC DIRECTOR KHAIYAM" (NEWS-X CHANNEL)
---

'YAADEN - TALAT MAHMOOD'
BJP leader Shri L.K. Advani ji's daughter Pratibha Advani's personal letter of thanks to Khalid with a presentation of the master copy of the video 'YAADEN - TALAT MAHMOOD'.

Khalid had accompanied his father to Rashtrapati Bhavan in Delhi in 1994, where his father 'KING OF GHAZALS' Talat Mahmood was to receive the prestigious Padmabhushan Award from the President Of India. Congratulating Talat Mahmood at Rashrapati Bhavan L.K. Advani ji told Talat "Talat ji, all of us are your big fans, but the biggest fan of yours in my family is my daughter Pratibha!" He called Pratibha over and she was thrilled to get Talat to sign his autograph in her personal diary!

"YAADEN - TALAT MAHMOOD" produced and anchored by Pratibha Advani in 2005 has been called one of the most complete, endearing and heartfelt documentaries on the 'KING OF GHAZALS' Talat Mahmood. Pratibha then also sent a personal invitation requesting Khalid to join her in Mumbai in Grand Hyatt Hotel for drinks and dinner in the company of BJP bigwigs and media giants like Prasoon Joshi, stars like Shatrughan Sinha, Hema Malini and others. Khalid congratulated Pratibha on the wonderful work she has done to preserve India's film heritage!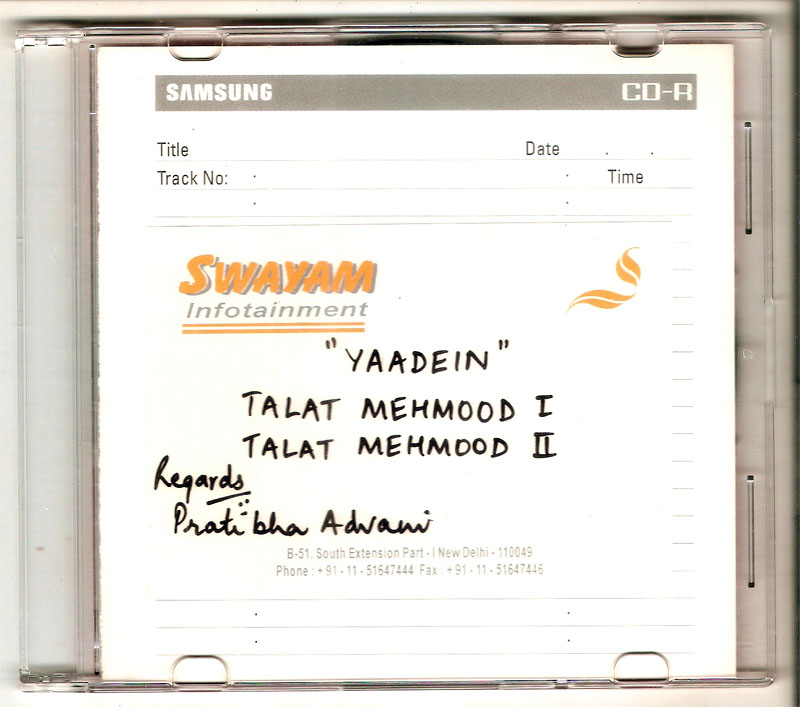 WATCH VIDEO!
Shri L.K. ADVANI ji' s daughter PRATIBHA ADVANI who
is a huge fan of TALAT MAHMOOD produces and comperes
this lovely video documentary which aired on all TV channels!
CLICK HERE AND WATCH 1 hr VIDEO "YAADEN"
---
FROM LEFT: MEHDI HASSAN, KHALID's WIFE ISHA, TALAT MAHMOOD AND KHALID
Khalid Talat Mahmood is definitely the envy of music fans. Being a Star-Son he is
privileged to hobnob with the greatest and biggest names in the world! Here, Khalid
and his wife Isha, are overjoyed, when ghazal great Mehdi Hassan who has revered
and respected Talat all his life, decided to drop in to pay his respects and spend
some time with the greatest name in ghazals - Talat Mahmood!

---
FRONT PAGE NEWS IN LONDON!!!
FRONT PAGE NEWS IN LONDON!
KHALID's ARRIVAL IN LONDON (WITH HIS WIFE ISHA) FOR THE RELEASE
OF HIS SMASH HIT ALBUM "JUST FOR YOU" AND A FOLLOW-UP CONCERT
TOUR OF ENGLAND MAKES FRONT PAGE NEWS IN ALL OF LONDON'S
BIGGEST SELLING ETHNIC LANGUAGE NEWSPAPERS!
---
FROM LEFT: VAN SHIPLEY, TALAT MAHMOOD, SINGER SHOBHA JOSHI, AGHA, and TALAT's SON KHALID

TALAT MAHMOOD's SELL-OUT 1983 USA CONCERT TOUR PUBLICITY
PHOTO WHICH APPEARED IN ALL THE MAGAZINES AND
NEWSPAPERS AROUND THE WORLD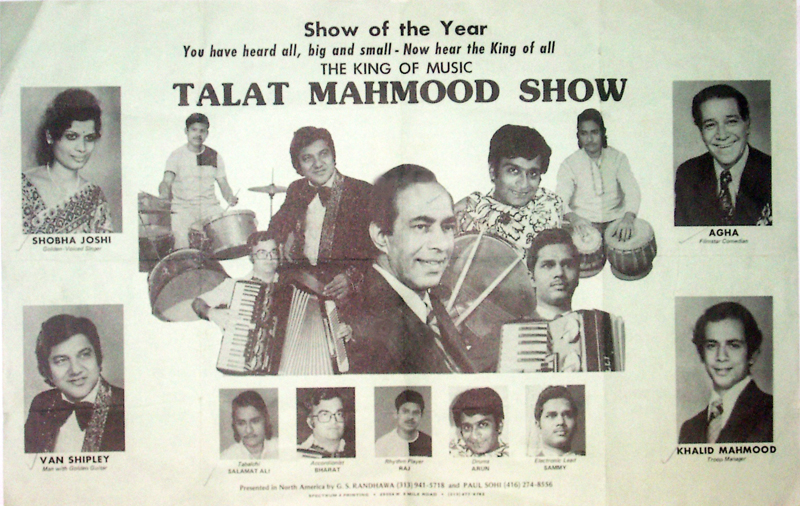 ---
Is the godfather of the film industry offering KHALID a film role???
No...! Just KHALID TALAT MAHMOOD with close family friend FILM DIRECTOR NITIN BOSE, whose credits include the great Dilip Kumar's magnum opus "Ganga Jamuna", and Talat Mahmood's silver jubilee hit "WARIS"! Nitin Bose is credited as the first director who introduced the concept of playback singing in Indian films 1935 in "Bhagya Chakra"!
---
Because of the keen interest shown by fans, Talat's singer son KHALID soon became a part
of every "TALAT MAHMOOD SHOW" with his own seperate STAR BILLING!!!


New York's 'DAILY NEWS', then America's third largest selling newspaper of 3 million
copies a day, sponsored Talat's New York concert!!!

---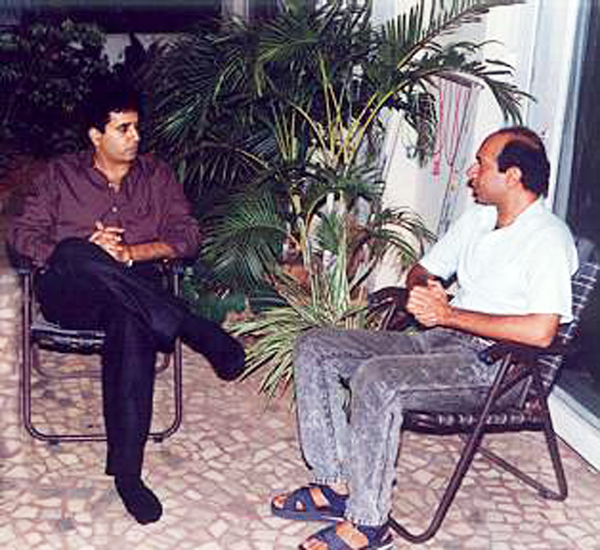 MINISTER FOR EXCISE, FOOD & DRUG ADMINISTRATION ANIL DESHMUKH
PAYS A CONDOLENCE VISIT TO KHALID'S HOUSE AFTER THE PASSING
AWAY OF HIS LEGENDARY FATHER
---
BBC, LONDON, HONOURS KHALID!!!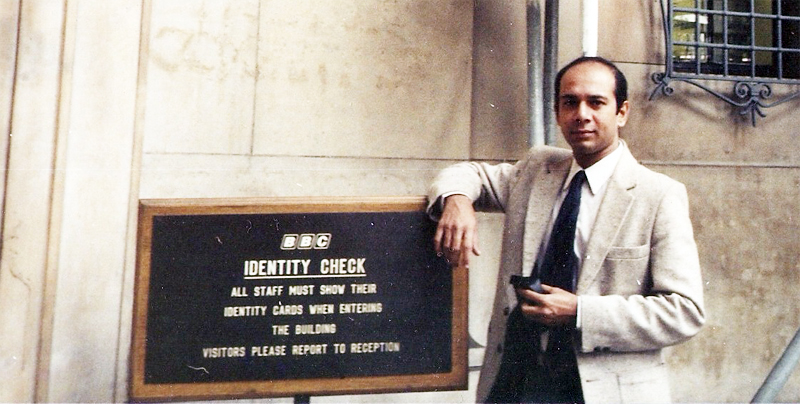 Khalid outside the BBC STUDIOS LONDON
Khalid inside the BBC STUDIOS LONDON recording interview
BBC Radio honours Khalid Mahmood by recording a 1 hour Special. The 1 Hour Specials are conducted only for the
topmost ranking world class artistes and Khalid Mahmood is proud to be ranked by BBC as one amongst the best!
Flanking Khalid Mahmood are well known Talk Show hosts Zeb Qureshi and Kanwal Qazi of BBC.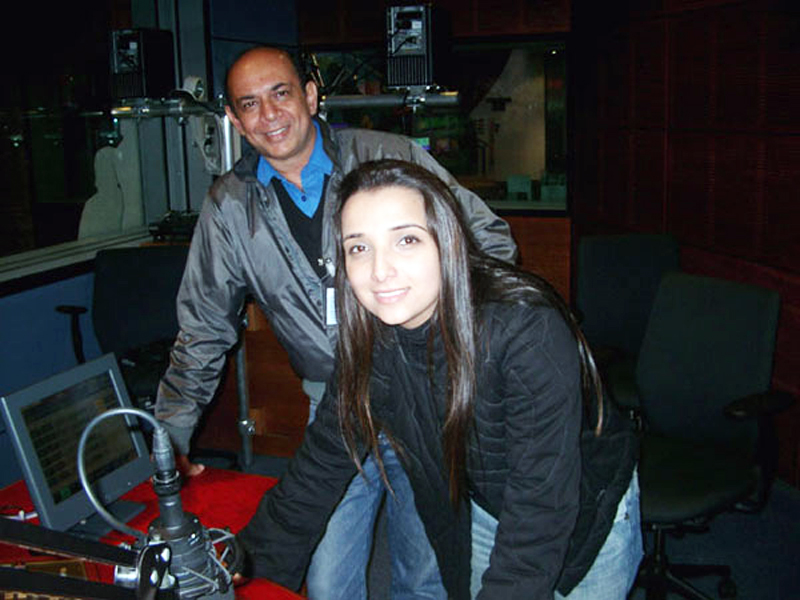 BBC's producer of the 1 Hour Special Saima Amreen seems happy with the results! This 1 Hour Special
is broadcast all around the world and is now also available on the internet and reaches practically every
home interested in Asian music around the world.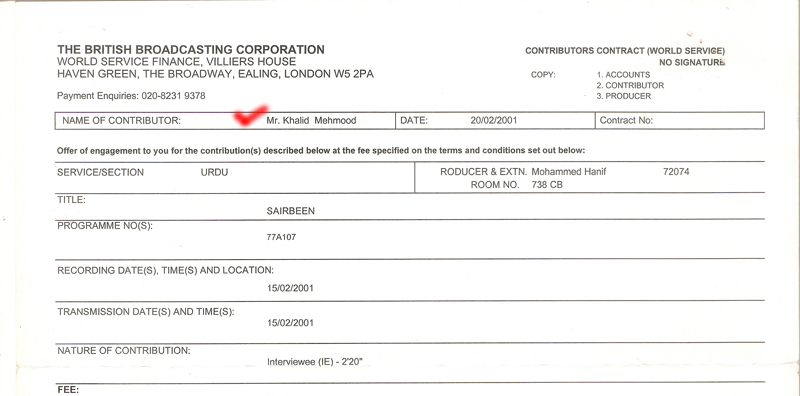 KHALID, inspite of being the scion of legendary singer TALAT MAHMOOD, did not tread the beaten path
and instead opted to blaze his own trail!!!
Recognising this new talent and new trend, BBC London, the worlds largest and most respected network,
interviewing KHALID for his album release "KING OF HEARTS", (ghazals with western music back-up
for the first time), put aside protocol, on the insistence of nearly 400,000 requests worldwide and played
Khalid's songs in their TALK ONLY show!

---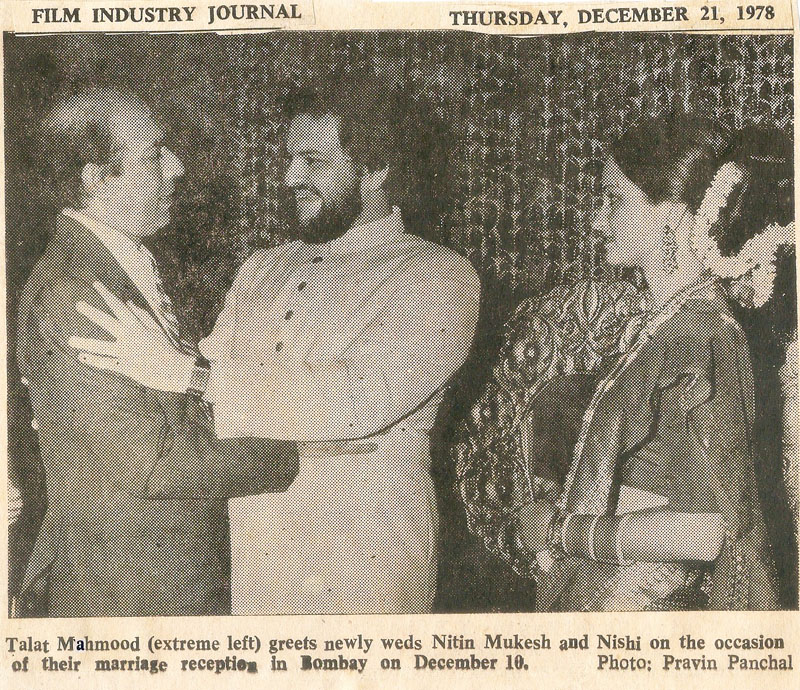 ---
This photo was given to Talat's son Khalid in Oct.2012 by Mohd Rafi sahab's Son In Law
Firoz Ahmed who lives and works in Saudi Arabia with this comment:
"Salam Khalid bhai....found a touching pic of Talat sahab at Nana abba's janaza." ________________________________
At the 'janaza' ( July 31st. 1980 ) of singing colleague Mohd Rafi, Talat, who is overcome
with emotions, bends down and kisses the forehead of his departed friend. The half legs
seen behind in this photo are that of Talat's son Khalid who had accompanied his father
to pay his respects and offer prayers too.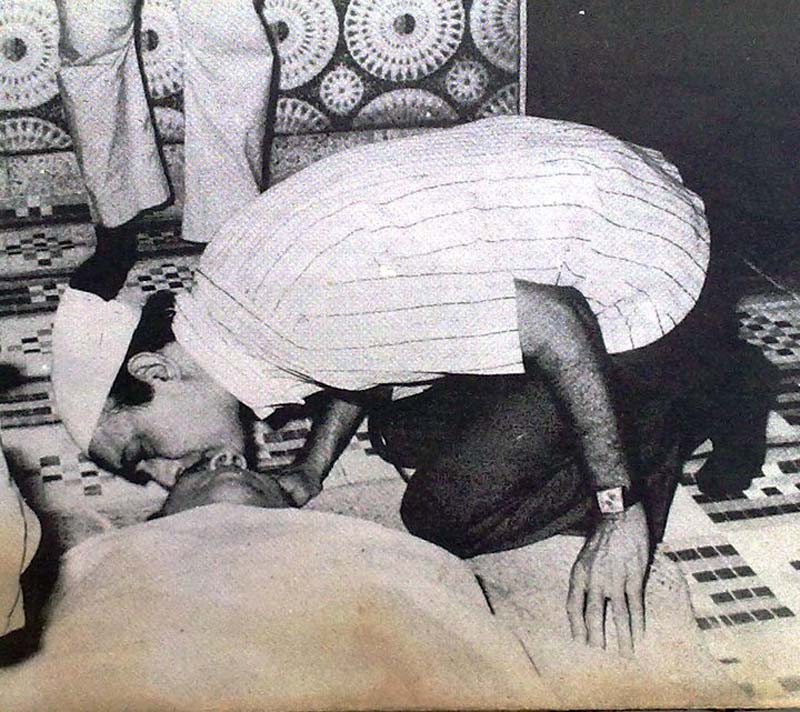 ---