FAMILY ALBUM
Young and handsome Talat Mahmood was the heart-throb of the nation and he had no dearth of girls, from beautiful movie-stars to sophisticated Maharani's, practically throwing themselves at him vying for his attention ! But his heart was stolen by a beautiful Bengali girl called Latika Mullick. Latika had been a child star and had starred in hit films like 'KASHINATH' and others. She was a great fan of Talat's and was thrilled to meet him during one of his many trips to Calcutta for his recording and acting sessions. Love soon blossomed and the two decided to marry. But in those days it was unimaginable for anybody to marry against the wishes of their parents and Talat was worried that his orthodox father would throw a fit if he came to know that Talat was planning to marry a Christian Bengali ! So Talat and Latika decided to marry on the quiet ! However, the Press soon got wind of the "quiet marriage" and within days splashed stories of their marriage, including photo's of the 'Nikahnama' or marriage certificate, on the front pages of their publications ! Talat's family in Lucknow came to know of his marriage when some well-meaning family friends showed these Press revelations to them. His father was upset but only for a very short while and soon gave his daughter-in-law Latika, whose new married name was now Nasreen Mahmood, his blessings for a happy married life. And so, this became a love story that had a happy ending!!!

Talat and Nasreen married on 20th Feb 1951 and have two children: Khalid born in 1953 and Sabina born in 1959.
---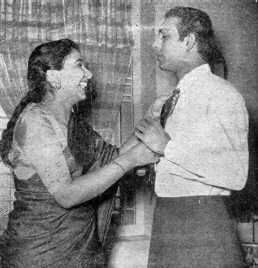 Nasreen with Talat in a press photograph just after their marriage
Latika Mullick (Nasreen's name before marriage) has the distinction of being the youngest heroine in the Calcutta Film Industry, just as Nutan is considered the youngest heroine in the Bombay Film Industry. At age 13, Latika played the lead opposite Johar Gangooly in "DOTANA" as his leading lady! Latika had entered the Calcutta Film Industry as a child star and had starred in hits like "KASHINATH" and other films. She continued starring in films till her marriage to Talat after which she gave up acting. Latika has often been compared to the American child star Shirley Temple - and was nicknamed the Bengali Shirley Temple by the Bengali press!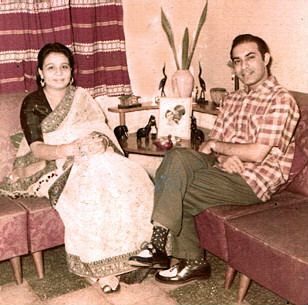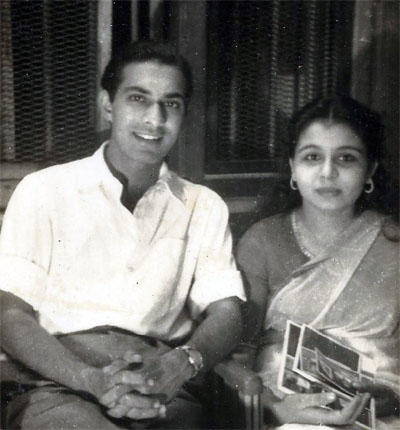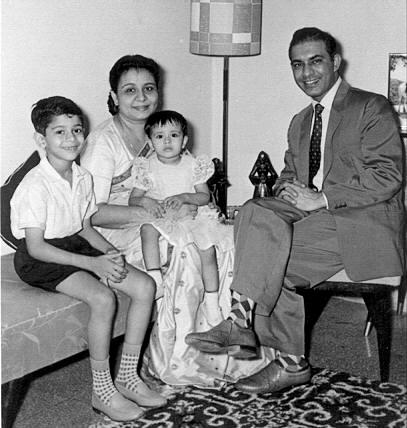 A 1961 press photo of Talat at home with wife Nasreen, son Khalid and daughter Sabina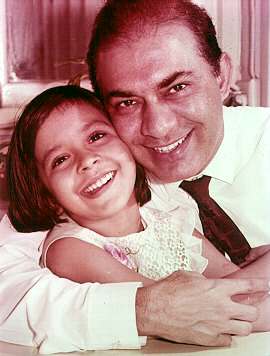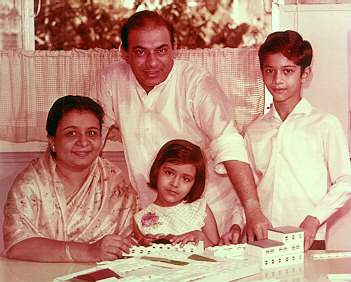 ---
The most romantic singer of the country in front of the most romantic symbol of love!
The singer who has sung the country's most popular and ever-lasting love songs by the hundreds, spending a day
at the ultimate monument of love, TAJ MAHAL - 'King Of Ghazals" Talat Mahmood and his wife Nasreen
taking in the grandeur of the TAJ MAHAL the greatest gift of love on planet earth!


Photographed by Khalid

On their 25th wedding anniversary, at home, Talat and Nasreen cut a harmonium shaped cake presented to them by their son Khalid and daughter Sabina !

Talat Mahmood always possessed an excellent sense of humour ! On his concert tour of USA in 1968 a wall hanging had been released which through the years became a catch phrase for husbands in general. Talat was amongst the first of 'proud owners' to get this wall hanging, seen in the picture above, on the wall just behind Talat.
Click this to enlarge and see it !


---


Teddy photographed by Khalid
The Talat Mahmood family portrait can never be complete without their beloved family member 'TEDDY', the magnificent Levine Spitz sitting in Talat's lap ! He was the darling of the family and surely the most pampered pooch in the world !


---




Talat and Nasreen holidaying at Beuona Vista Park, Florida, USA

Talat and Nasreen pose for a keepsake photo with the "American Werewolf " at Universal Studio, Los Angeles

Actress Saira Banu ( Mrs Dilip Kumar ) with
Mrs. Talat Mahmood

Mrs. Talat Mahmood with close family friend Mrs. Manna Dey



Talat with wife Nasreen on their wedding anniversary


---


Father of Talat Mahmood

MANZOOR MAHMOOD
(1890 - 1955)


Talat Mahmood comes from a highly respected and reputed ancestry. His father Manzoor Mahmood belonged to Makhdoom Shah Bahaul-Haq of Baba Farid Ganj Shakar dynasty.

Manzoor Mahmood had the distiction of accompanying the renowned Dr. Ansari on his famed Medical Mission to Turkey in 1912. (Dr. Ansari was an Indian nationalist and political leader - very close to Mahatma Gandhi and deeply involved in the Indian Independence Movement and Khilafat Movement)

Manzoor Mahmood had the gift of a powerful singing voice. He sang Allama Iqbal's famous 'tarana' Chin-o- Arab Hamara Hindustan Hamara in a public meeting in Lucknow where Allama Iqbal was also present. The crowds were overjoyed and honoured Manzoor Mahmood by lifting him on their shoulders! A record of this song in Manzoor Mahmood's voice was made.

Manzoor Mahmood also had the honour of being a much respected and revered 'Sajjadanasheen' - caretaker to the Makhdoom Shah Dargah in Amethi.

Manzoor Mahmood had 6 children (3 sons and 3 daughters) All his children had extremely melodious singing voices, but it was only Talat who was destined to become a Singing Legend revered by millions around the world !


_______________________________________________


A classic photo of MANZOOR MAHMOOD sitting on right with his 3 sons:
TALAT standing left, HAYAT (standing right) and KAMAL (sitting left)



Manzoor Mahmood with his entire family:
From left Manzoor, Kamal, Talat, Hayat, his wife Rafi-un-nissa.
In front are his daughters Azra, Khalida and Laila



A rare 1983 photo of Talat Mahmood with his aged mother and entire family of brothers, sisters, nieces and nephews. (Talat and his son Khalid are circled)


---

Khalid with his Dad and Mom having a rapturous time
at Disneyland, USA

---


KHALID WITH WIFE REENA


Backstage in concert at New York



Enjoying the evening together on River Thames in London



Out for a drive in New Jersey, USA



Outside The White House, USA



On the world famous shopping paradise Rodeo Drive, USA



Khalid in his tastefully done up house surrounded by photo's of his beloved father !

---
KHALID MAHMOOD SINGS!
TALAT FANS PACKED THE HALLS TO LISTEN TO KHALID MAHMOOD SING HIS LEGENDARY FATHER'S HITS IN 'EK SHAAM TALAT MAHMOOD KE NAAM' CONCERTS AROUND THE WORLD!!!

SEE THE 2 ALL-NEW FULL LENGTH VIDEOS BELOW!!!


'EK SHAAM TALAT MAHMOOD KE NAAM'
BOSTON, USA




'EK SHAAM TALAT MAHMOOD KE NAAM'
HYDERABAD


CLICK HERE TO GO TO VIDEO PAGE !!!


FAMILY ALBUM - 2


KHALID MAHMOOD MARRIES REENA PANDE


The Mahmood and Pande family seen together at the marriage ceremony.


FAMILY FRIENDS DROP IN TO WISH REENA & KHALID.....


Close family friend Manna Dey with
Khalid & Talat


Puneet Issar and wife drop in to wish
Reena and Khalid


Close family friend super-model Noyonika Chatterjee
enjoying herself at the marriage celebration


The made-for-each-other couple enjoying the attention of family and friends !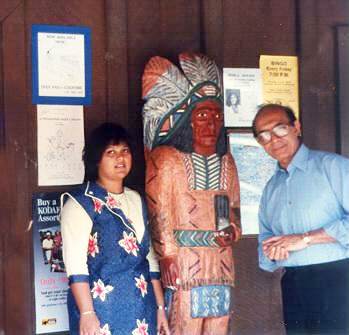 Talat Mahmood seen with daughter-in-law Reena outside a speciality store in Sedona, USA
_______________________________________________________________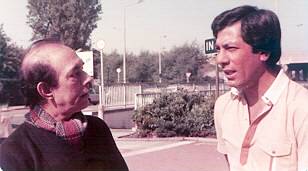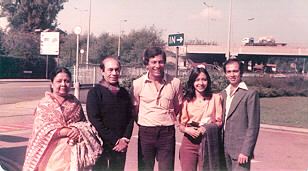 On his concert tour of England in 1979, Talat's lunch in his hotel's dining room was very gently but politely interrupted by a man tapping him on his shoulder and saying, " I am sorry to disturb you Talat Sahab, but I have been your fan all my life and it is indeed a great honour for me to have this unexpected chance of meeting you here ". And Talat Mahmood found himself looking up into the warm, respectful eyes of none other than Zaheer Abbas, considered by many to be the world's most stylish and graceful cricketer ! In turn, an amazed Zaheer Abbas was thrilled to learn that this great singer was an ardent cricket lover and a great fan of Zaheer's !
Nasreen, Sabina and Khalid join in for a photo with this cricketing great.

---

TALAT MAHMOOD'S 70th BIRTHDAY AT HOME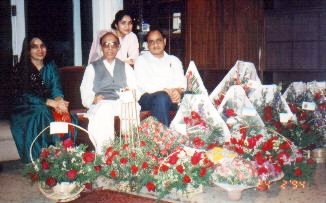 Fans who became close friends of the family ! On Talat Mahmood's 70th birthday,
close family friend Mr. V.N. Deshmukh (Joint Director of Intelligence Bureau),
Mrs. Deshmukh and their daughter Rohini share their love and respects for one of the
greatest singers the century has ever produced !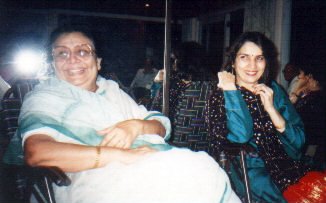 Mrs. Talat Mahmood and Mrs. V.N. Deshmukh enjoying a joke at the party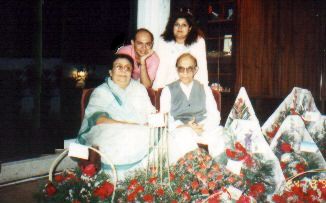 At the same party, Talat with wife Nasreen & son Khalid & Isha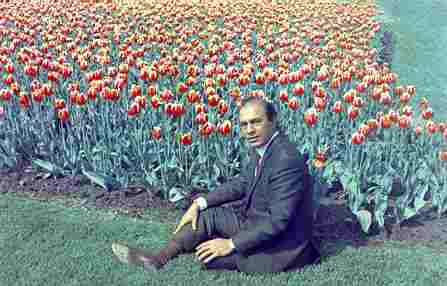 Talat loved nature and his beautiful British style sea front villa in the posh 'Queen of Suburbs' Bandra locality
in Mumbai at one time had one of the most beautiful gardens in the city !
---

TALAT IN ARIZONA, USA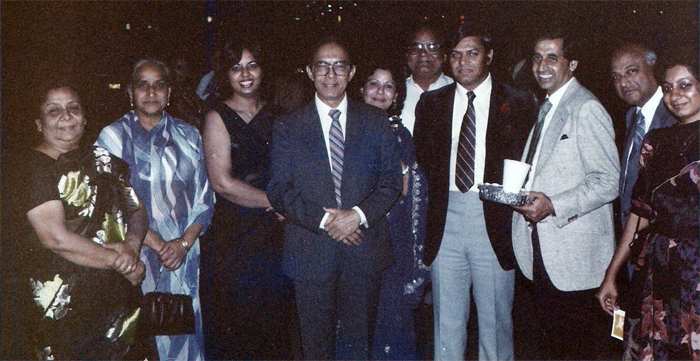 Talat and Nasreen at the post concert party to celebrate his stupendously
successful show in Phoenix, Arizona, USA,
__________________________________________________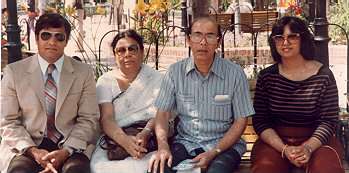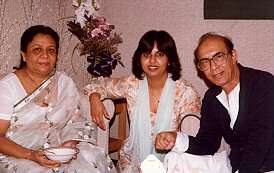 Javed, Nasreen, Talat & Anjum Anjum with 'Mom' & 'Dad' in their Phoenix hotel room
Anjum and Javed with their children Asma and Basil, were a successful couple living in Phoenix, Arizona. Being music lovers and in particular, Talat Mahmood fans, they were thrilled when the Phoenix concert promoters offered them a once-in-a-lifetime chance to look after Talat and his family whilst on his Phoenix leg of the tour. They started out a little apprehensive about how this great living legend would react to them, but on meeting him, they were completely floored ! His simplicity, charm, grace and old world chivalry just took their breath away and completely swept them off their feet ! They could not believe that a man this famous could be so down to earth, simple and humble in his daily life. Anjum, who had lost her father, told Talat that she felt the same love and respect for him as she had for her own father and from that day called him 'Dad' and Nasreen 'Mom'. True to her word, Anjum and Javed looked after Talat and family like their very own. At their request, the following year, Talat and family even stayed at their lovely Phoenix home for a few days. In the coming years Anjum and Javed with their kids flew down to Mumbai to spend time with 'Dad' and 'Mom' and were Talat's honoured guests staying with him at his beautiful seaside terraced penthouse apartment in Bandra, Mumbai.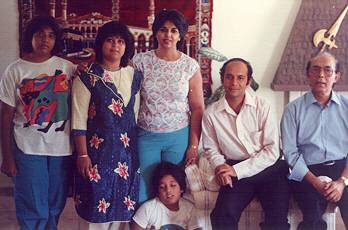 Talat, Khalid, Reena with Anjum, Asma & Basil in Arizona, USA

Talat and Javed, outside the
'Ceasars Palace' in Las Vegas



Talat Mahmood with Arizona show promoters Javed, Nafisa & Abdul.


Anjum in a keepsake photo with Khalid


Anjum and Reena out shopping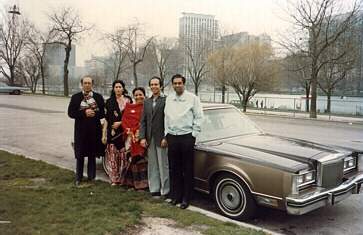 Talat, Nasreen and Khalid in 'Windy City' Chicago,
with show promoter Khan and his lovely wife
---
TALAT & KHALID IN HOLLAND

Talat's Holland Concert Tour was sponsored by Roshan Asgharali, whose entire family is a big Talat fan !
Seen clockwise - Mrs. Asgharali welcomes Talat to their video store, the largest of it's kind in Holland;
Their son congratulates Khalid on a wonderful performance the night before; Khalid and Talat then join
the Asgharali's to a lovely dinner at their house in Den Hague; Their daughter joins in for a photo too.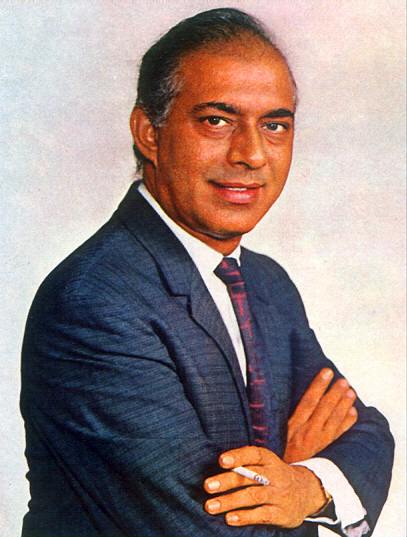 ---
KHALID MAHMOOD SINGS!
TALAT FANS PACKED THE HALLS TO LISTEN TO KHALID MAHMOOD SING HIS LEGENDARY FATHER'S HITS IN 'EK SHAAM TALAT MAHMOOD KE NAAM' CONCERTS AROUND THE WORLD!!!

SEE THE 2 ALL-NEW FULL LENGTH VIDEOS BELOW!!!


'EK SHAAM TALAT MAHMOOD KE NAAM'
BOSTON, USA




'EK SHAAM TALAT MAHMOOD KE NAAM'
HYDERABAD


CLICK HERE TO GO TO VIDEO PAGE !!!

FAMILY ALBUM - 3
Talat's parties were the talk of town!
From the family album are Press photo's of Talat Mahmood's party to celebrate his son Khalid's 4th birthday. His family, friends and well-wishers make it an evening to remember !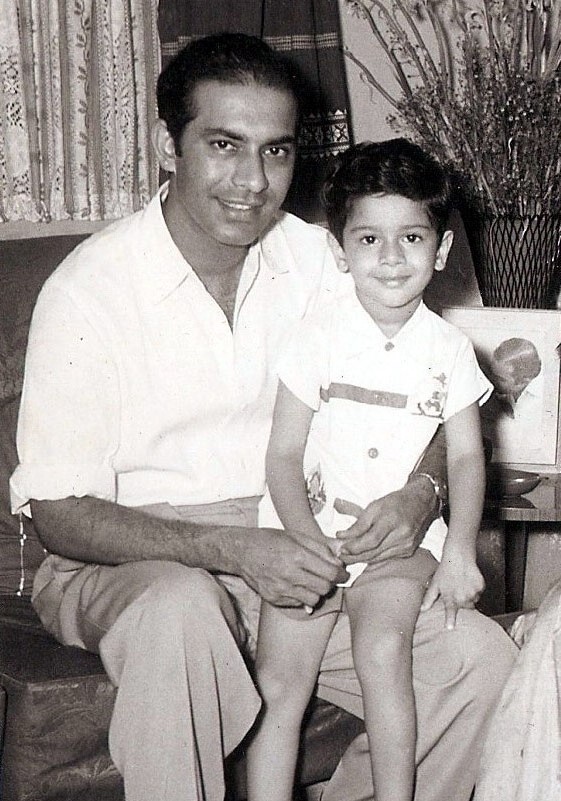 Talat with the love of his life, his son Khalid
Little Khalid gets a helping hand from his father to cut the huge cake!
On the left is Mrs. Sheila Madan Mohan with her daughter Sangeeta, famous child star Baby Naaz, Mrs Talat Mahmood, Little Khalid, Talat, film producer Yusuf Hassan and his wife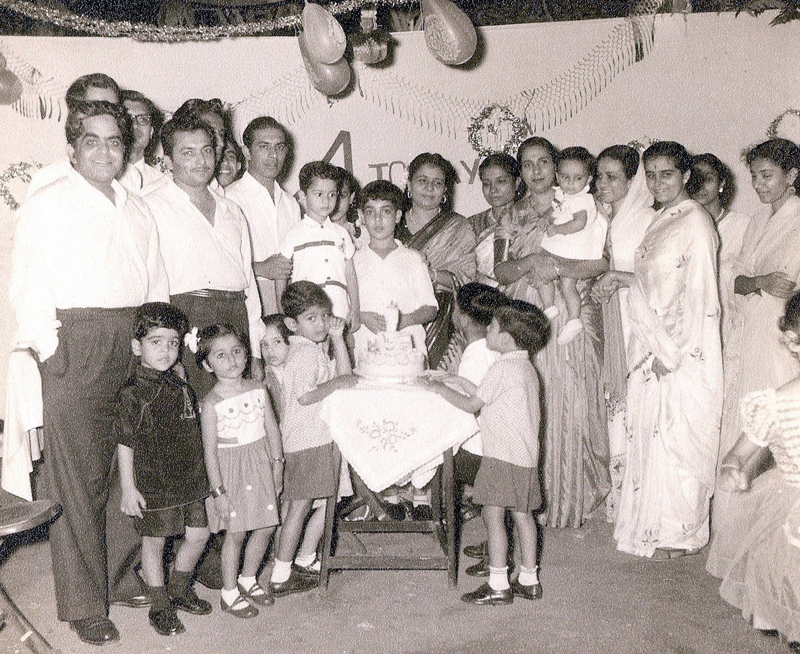 Friends for life!
From left: Character actor Manmohan Krishan whose friendship with Talat started on the sets of film "AARAM" where Talat plays himself and playing the tabla in the film is Manmohan Krishan, with his son Ram, Madan Mohan who knew Talat from his Lucknow days with his daughter Sangeeta, Talat holding on to son Khalid, Mrs Talat, Mrs Sheila Madan Mohan with son Sanjeev in her arms and Mrs. Manmohan Krishan
Talat, little Khalid and music director Vasant Desai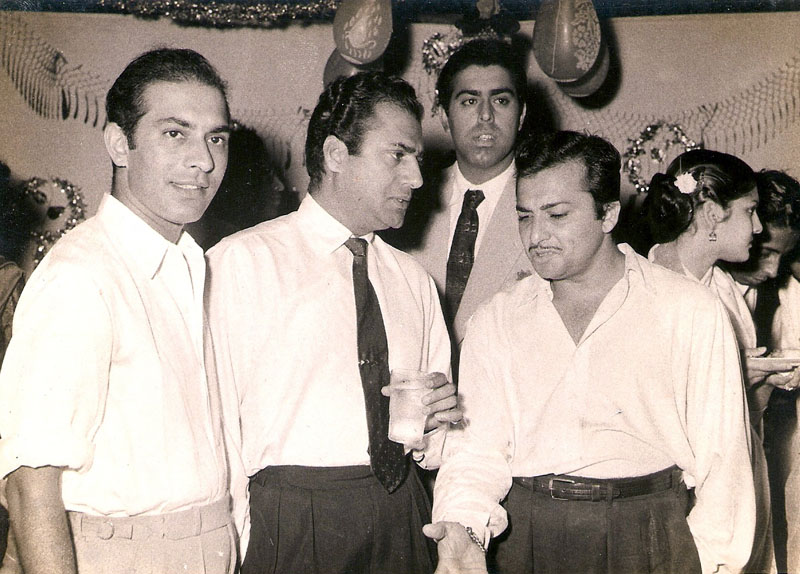 Posing for the benefit of the huge posse of press cameramen at the party are Talat Mahmood,
top actor Shekher and music director Madan Mohan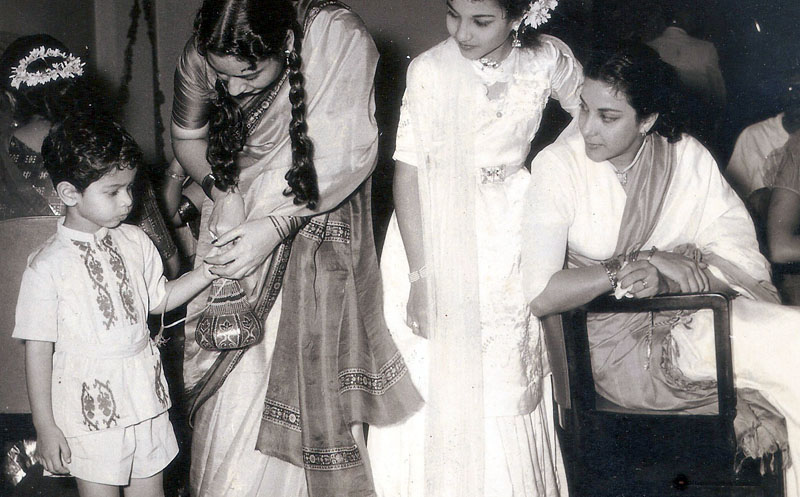 Silver screens greatest star Nargis (sitting on the chair) waits patiently for the star of the evening, little Khalid, to come and give "Nargis Aunty" a hug! Others gently coaxing Little Khalid along
the way, are actress Chand Usmani and Actress Baby Naaz
Actress par excellence and Talat's co-star Mala Sinha takes it upon herself to feed little Khalid
at the party, whilst little Khalid's mother is busy welcoming and looking after the guests. Mala Sinha's father Albert Sinha was a very good singer and was very appreciative of Talat's singing.
The Sinha's would drop in often to Talat's bungalow in Bandra and spend the evening having
dinner! Talat's wife Nasreen who was a very good cook would exchange recepies with Mala Sinha!


Talat welcomes long-time friend and close buddy music director Madan Mohan to the party !
Next to Madan Mohan are the film industry's top heavyweight musicians Enoch Daniels and
Van Shipley who has the credit of introducing the electric Hawaiian guitar! On the left is
famous sound recordist B.N. Sharma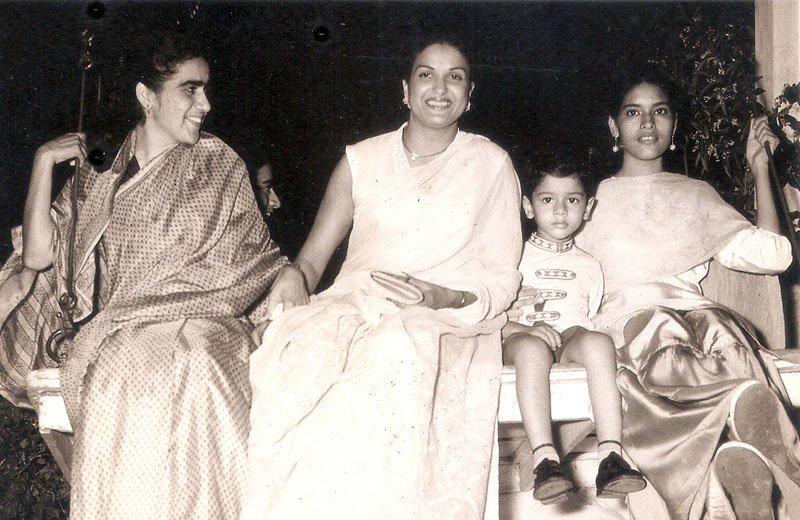 Little Khalid is having a "swinging time" with Dilip Kumars sister Sayeeda, popular actress
Kamini Kaushal, litte Khalid and Talat's youngest sister Khalida.



Singer Hemant Kumar, Manmohan Krishan and Talat Mahmood
Little Khalid gets pampered by the likes of Dilip Kumar - the greatest name ever in Indian Cinema!
Dilip Kumar and his brothers and sisters were very close family friends with Talat and his family. They would meet in each others house regularly for lunches, dinners and parties.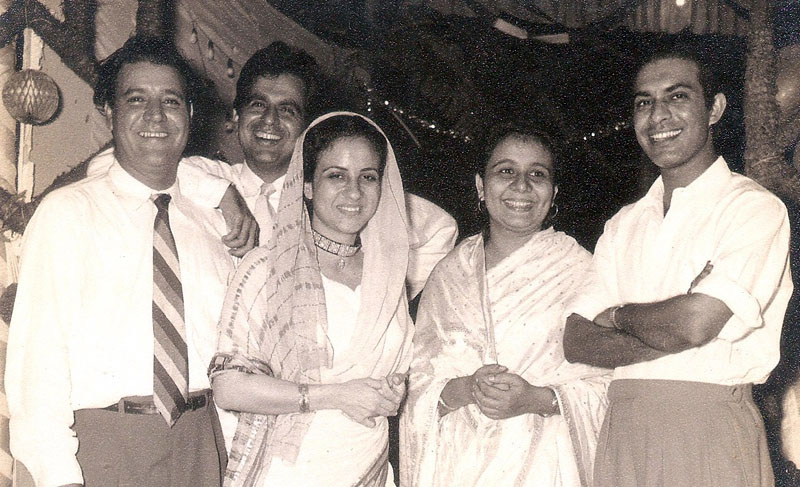 Close friends! Famous film comedienne Agha, Dilip Kumar, Mrs. Agha, Mrs. Talat and
Talat Mahmood having an enjoyable time!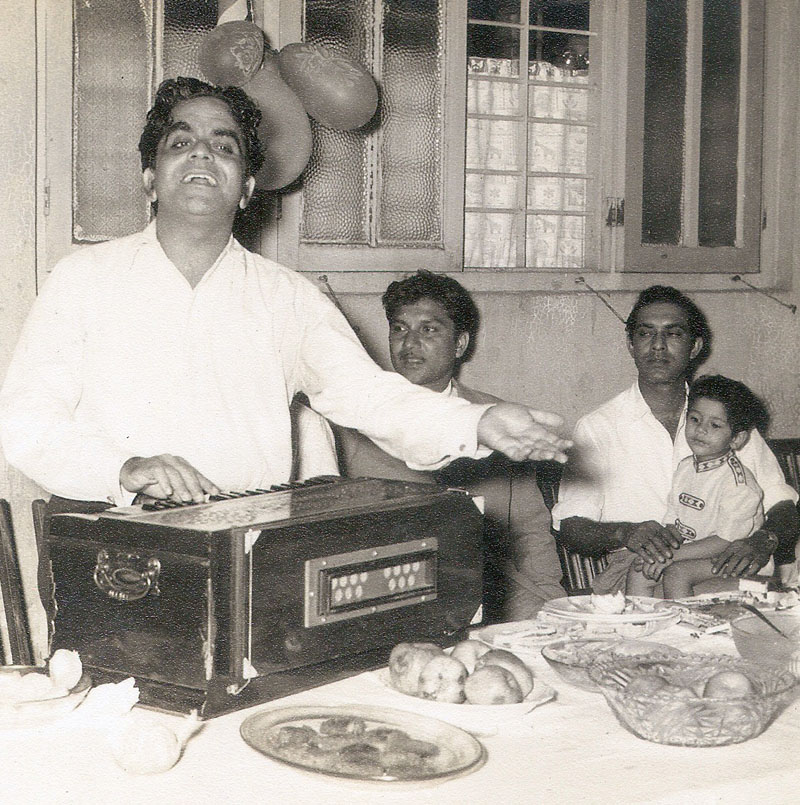 Manmohan Krishan, Van Shipley and Talat Mahmood with Little Khalid
Talat's absolutely brand new and top of the line gramaphone system speaks volumes
about his interest in living his life king size and surrounding himself and his family
with best the world had to offer!
He lived in the best locality the country had to offer - Bandra West - the Hollywood of India!
His house was a British style mansion just in front of the sea! He enjoyed taking a walk along
the seashore and spending time in his garden surrounded by the beauty of flowers. His landscaped garden was tended to and looked after by a professional horticultureist who came once a
week from Pune to instruct the gardeners.
Similarly, his love for cars is visible in the fact that the last car he owned was a CIELO fully automatic version which in the 90's was second only to the MercedezBenz car model.
His suits and clothes were especially stitched for him by the best tailors in india or they
were made to order by him when he went abroad for concerts. At home he was comfortable in a white crisp Kurta Pyjama.
For sports and keeping fit he would meet with his friends like Dilip Kumar, Naushad and Rajender Kumar for a game of badminton at the Bandra Gym. Later, when Otters Club on Carter Road opened he was the first to join and become a founder member there.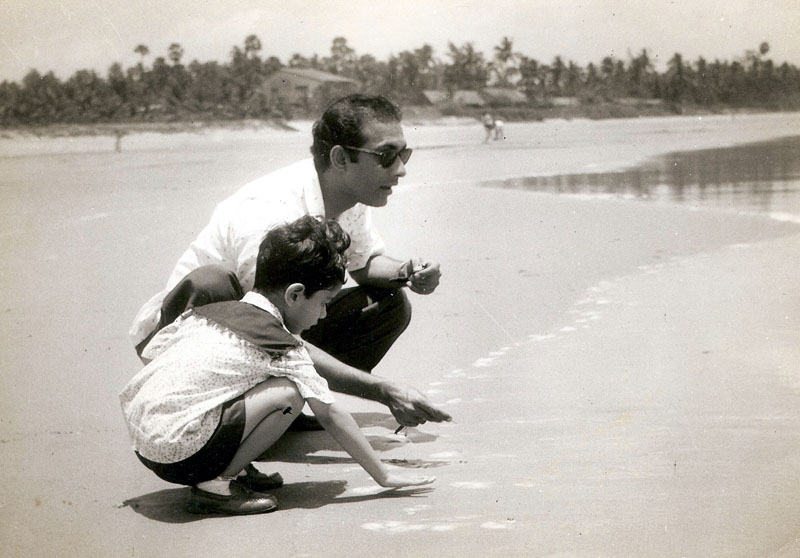 Talat at Juhu beach with son Khalid for magazine's photo shoot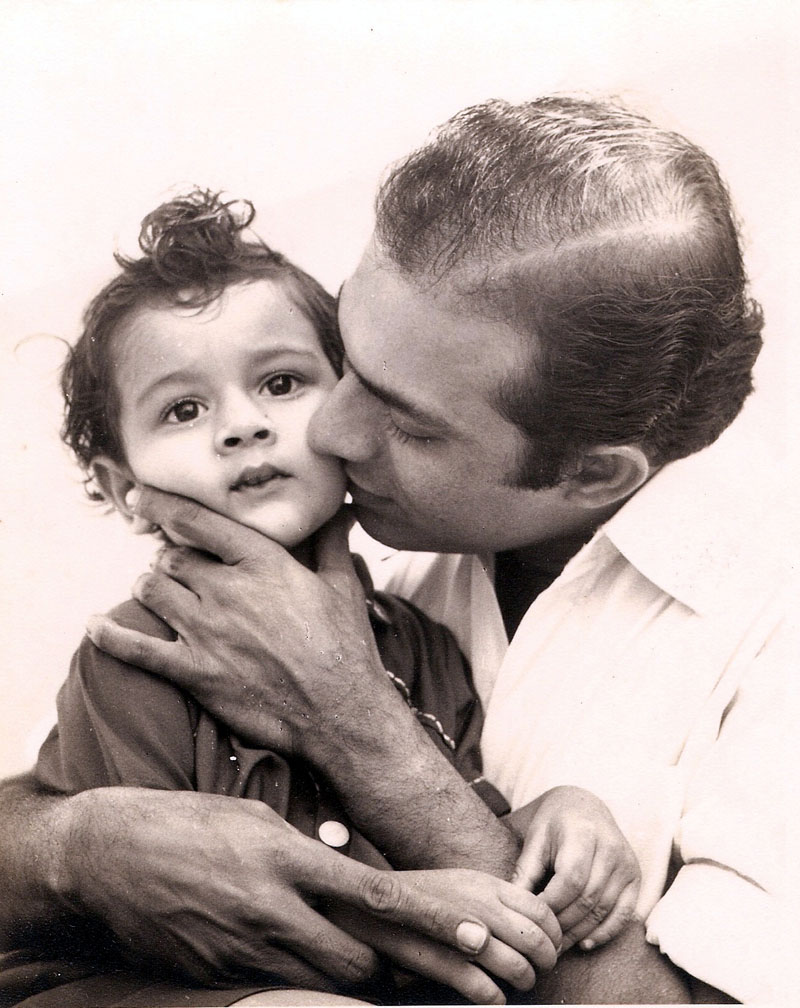 Talat with son Khalid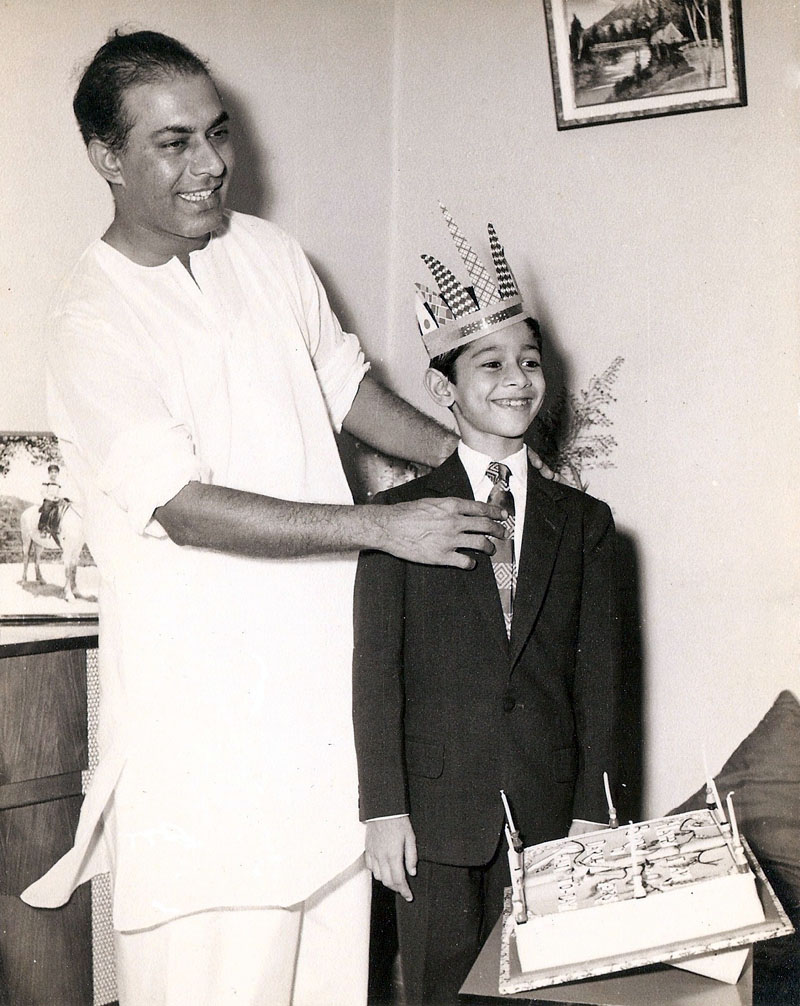 Talat crowns his son Khalid as his next musical successor!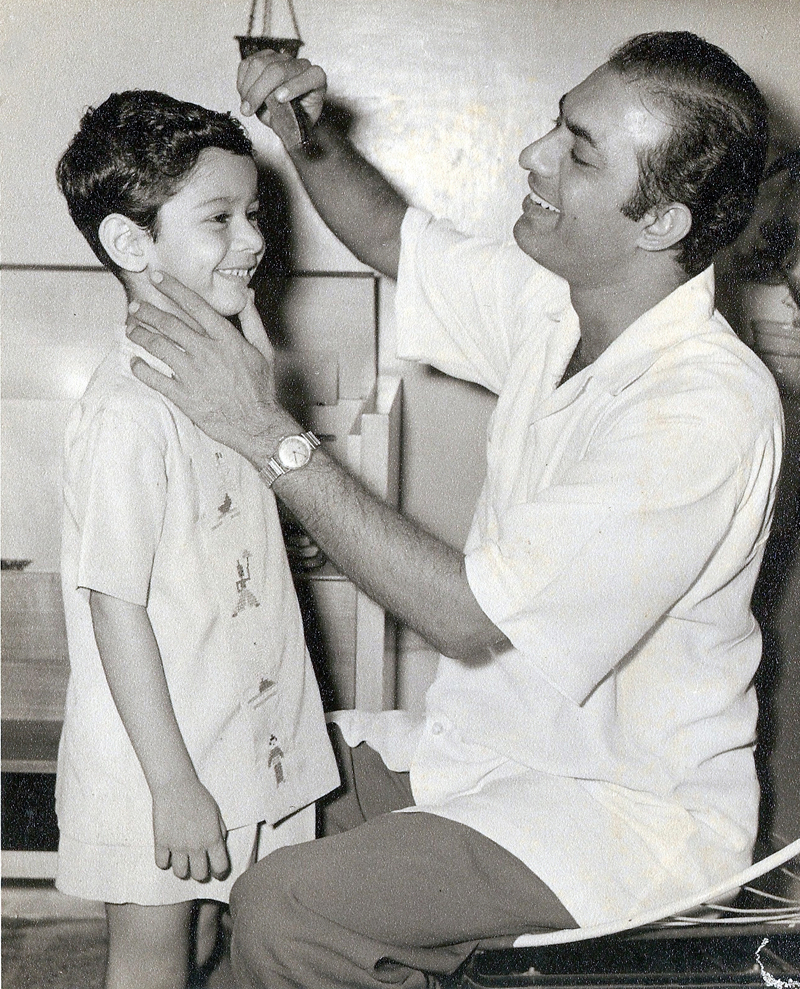 Talat with son Khalid
Talat with son Khalid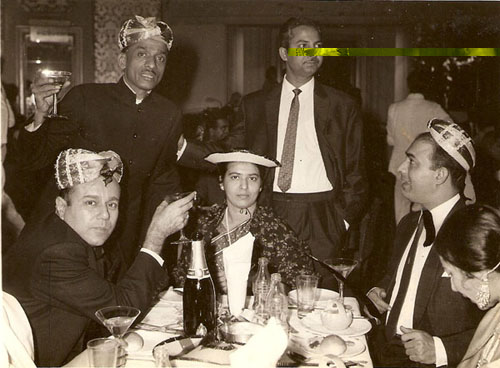 Talat seen with his best buddies at a Calcutta party !
From left: Mohan Saraiya, Shyam Sunder Khaitan, Ranjit Sinha and Talat party the night away!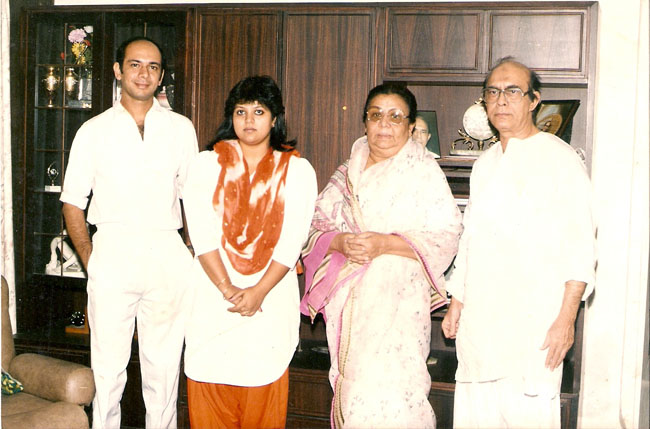 Talat relaxing at home with son Khalid, daughter-in-law Reena, his wife Nasreen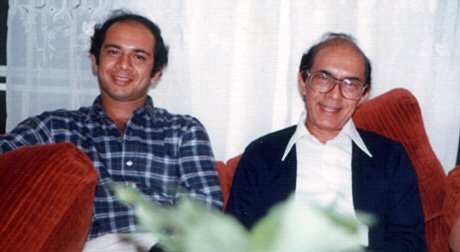 Khalid and Talat photographed in Philadelphia, USA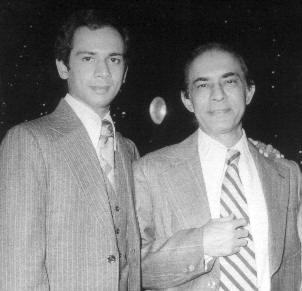 Khalid with his father Talat Mahmood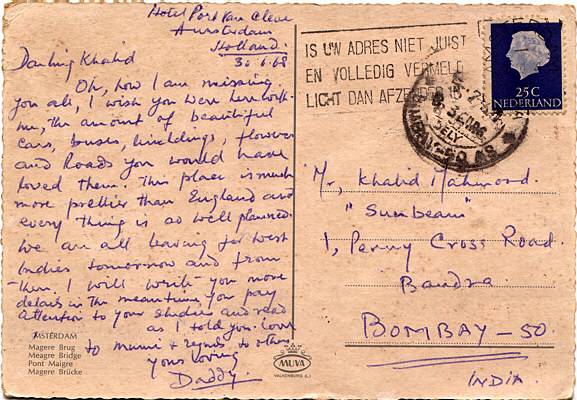 A loving and caring father's letter to a son.... a picture-postcard sent by Talat to
Khalid whilst on concert tour of Europe in '68, telling him how much he is
missing his family and reminding his son not to miss his studies !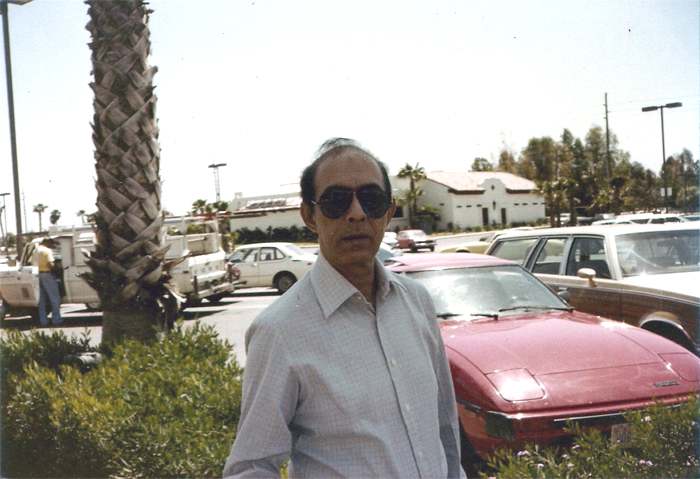 Talat Mahmood goes shopping in Pheonix, Arizona
TALAT MAHMOOD
PHOTOGRAPHED IN HOLLAND
KHALID MAHMOOD SINGS!
TALAT FANS PACKED THE HALLS TO LISTEN TO KHALID MAHMOOD SING HIS LEGENDARY FATHER'S HITS IN 'EK SHAAM TALAT MAHMOOD KE NAAM' CONCERTS AROUND THE WORLD!!!

SEE THE 2 ALL-NEW FULL LENGTH VIDEOS BELOW!!!


'EK SHAAM TALAT MAHMOOD KE NAAM'
BOSTON, USA




'EK SHAAM TALAT MAHMOOD KE NAAM'
HYDERABAD


CLICK HERE TO GO TO VIDEO PAGE !!!

FAMILY ALBUM - 4

Talat Mahmood's Music Room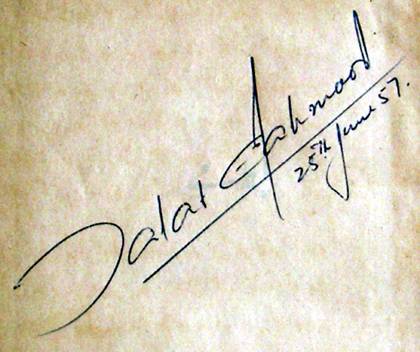 TALAT MAHMOOD'S MUCH SOUGHT-AFTER AUTOGRAPH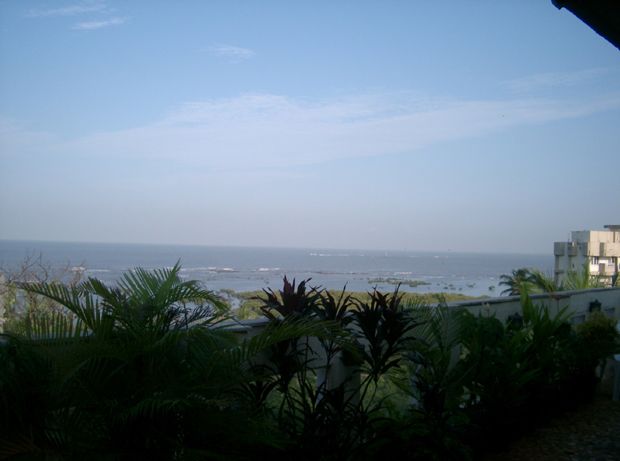 THE LOVELY SEA VIEW FROM TALAT'S TERRACE PENTHOUSE APARTMENT
IN THE POSH SUBURB OF BANDRA IN MUMBAI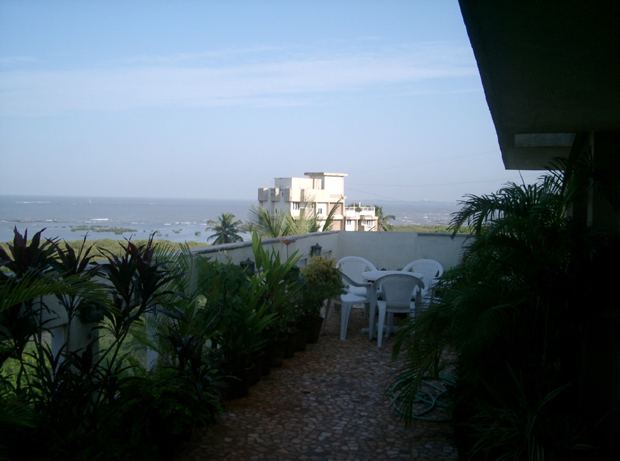 THE GARDEN CHAIRS ON TALAT'S TERRACE WHERE HE WOULD LOVE TO
SIT AND ENJOY THE VIEW AND SERENITY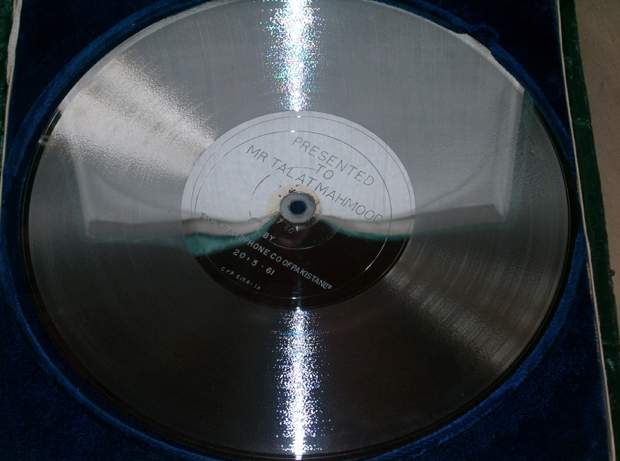 THE SILVER DISC PRESENTED BY EMI IN 1961 MAKING TALAT MAHMOOD THE FIRST
EVER SINGER ON THE INDIAN SUB-CONTINENT TO BE THUS HONOURED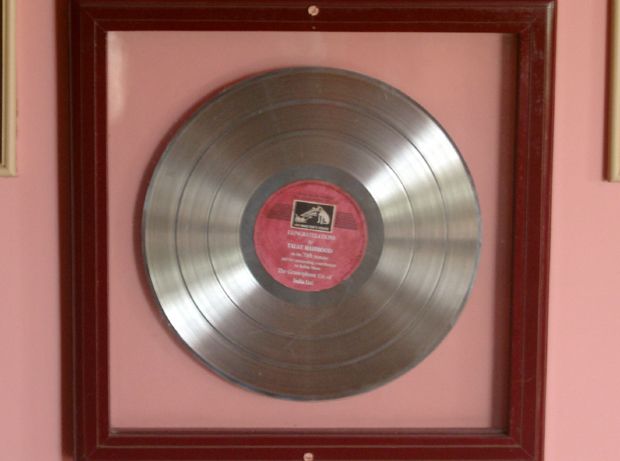 SILVER DISC PRESENTED BY EMI IN 1994 HONOURING TALAT ON HIS 70TH BIRTHDAY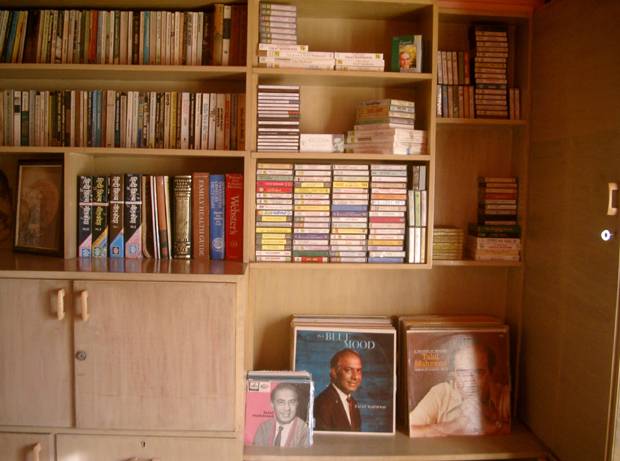 A VIEW OF TALAT'S MUSIC ROOM SHOWING THE NEATLY STACKED COLLECTION
OF HIS CD'S, RECORDS, CASSETTES AND BOOKS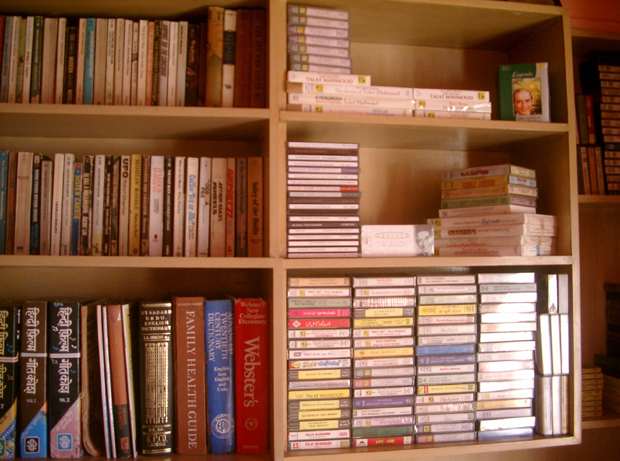 ANOTHER VIEW OF TALAT'S MUSIC ROOM SHOWING THE NEATLY STACKED
COLLECTION OF HIS CD'S RECORDS AND CASSETTES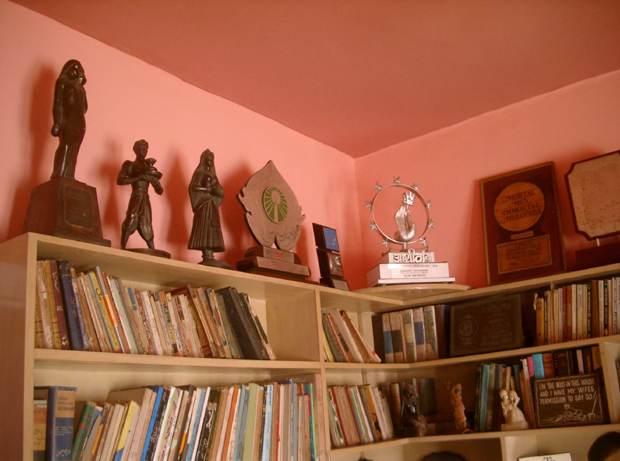 SOME OF TALAT MAHMOOD'S AWARDS ON DISPLAY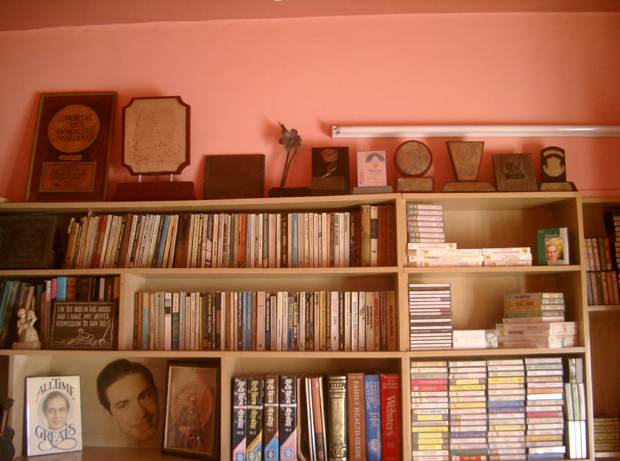 SOME MORE OF TALAT MAHMOOD'S AWARDS ON DISPLAY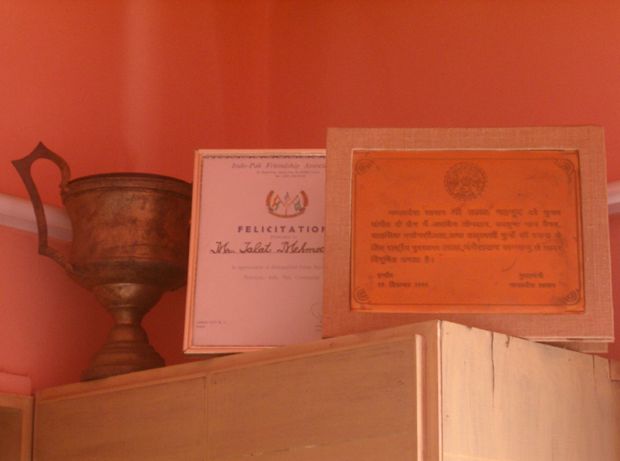 THE FIRST AWARD ON THE RIGHT IS THE 'LATA MANGESHKAR PURASKAR' AWARDED
TO TALAT MAHMOOD IN 1995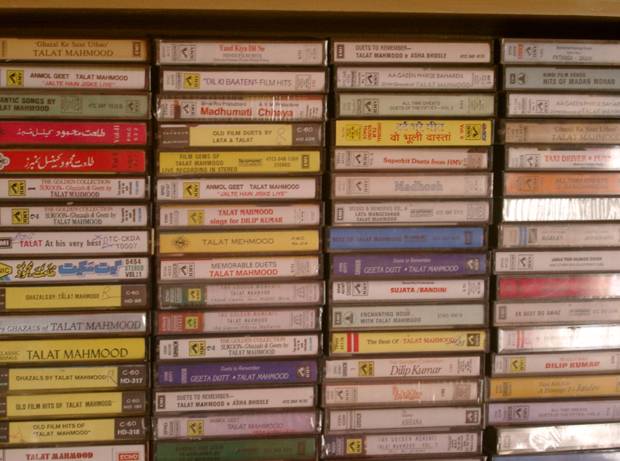 A SECTION OF TALAT'S HUGE CASSETTES COLLECTION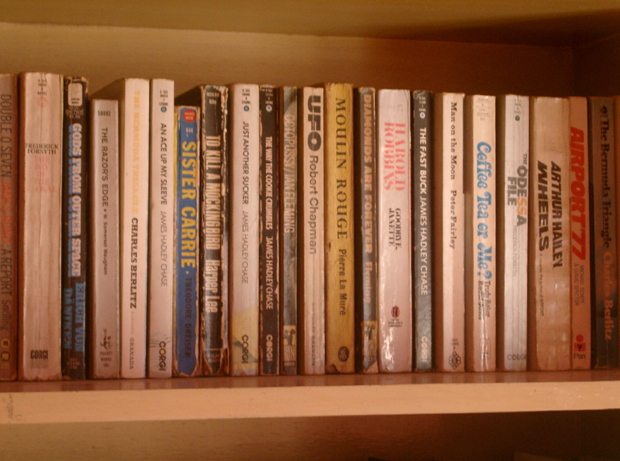 TALAT WAS FOND OF READING AND HERE YOU CAN SEE THE VARIED CHOICE OF
SOME OF TALAT'S NOVELS COLLECTION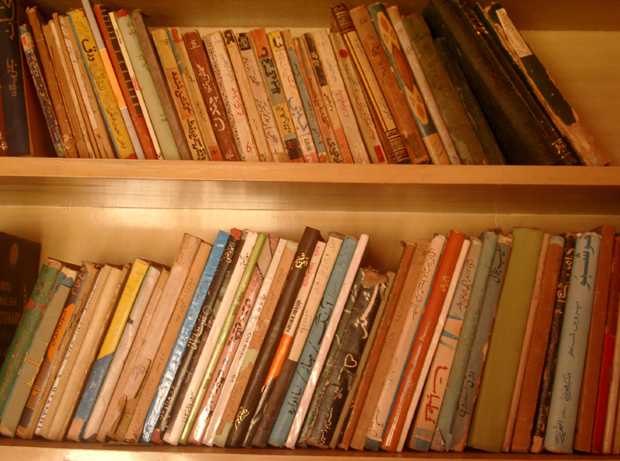 TALAT'S LOVE FOR URDU AND MASTERY OVER THE LANGUAGE WAS WELL KNOWN.
HERE ARE SOME OF HIS COLLECTION WHICH WERE PRESENTED TO HIM BY THE
AUTHORS AND POETS THEMSELVES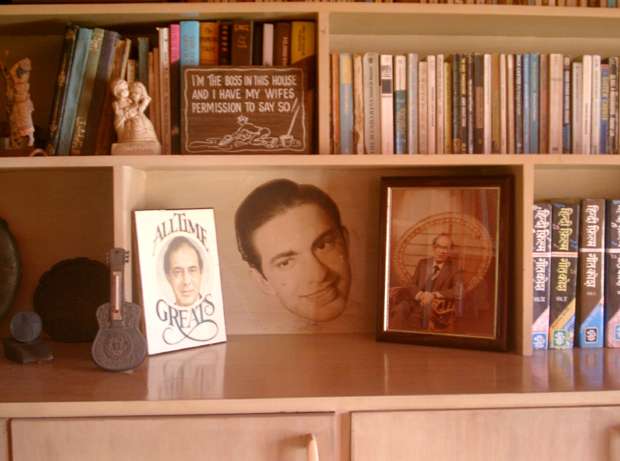 SOME CURIOS CAN BE SEEN WHICH TALAT PICKED UP ON HIS FOREIGN TOURS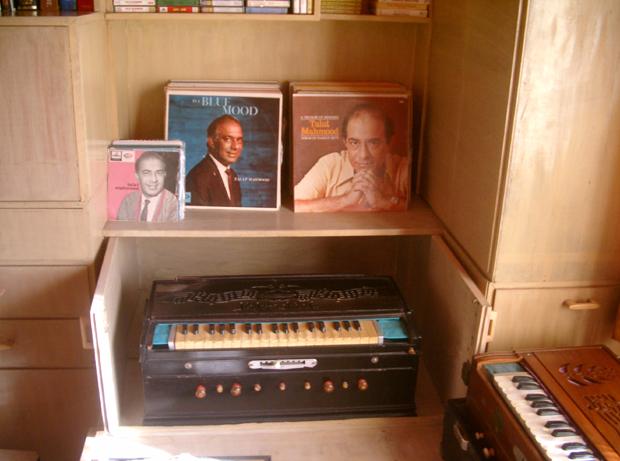 TALAT USED THE HARMONIUM ON THE LEFT WHEN DOING HIS 'RIYAZ' OR SINGING
PRACTICE AT HOME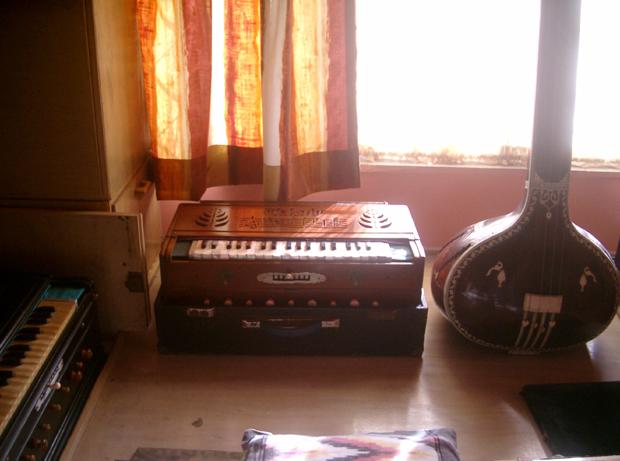 THIS WAS TALAT'S FAVORITE CONCERT HARMONIUM AND HAS TRAVELLED THE
WORLD WITH HIM. IT'S A FOLDING HARMONIUM AND CAN BE FOLDED AND CLOSED
LIKE A SUITCASE. NEXT TO IT IS TALAT'S 'TANPURA'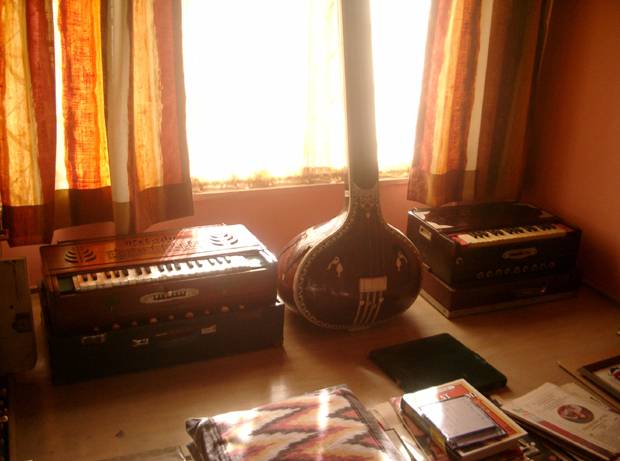 TALAT'S MAIN CONCERT HARMONIUM IS ON THE LEFT AND ON THE RIGHT IS THE
BACK-UP HARMONIUM WHICH WENT ALONG ON EVERY CONCERT TRIP IN CASE THE
MAIN HARMONIUM DEVELOPED ANY PROBLEMS. BOTH ARE THE FOLDING TYPE AND
CAN CLOSE INTO A TRAVEL SUITCASE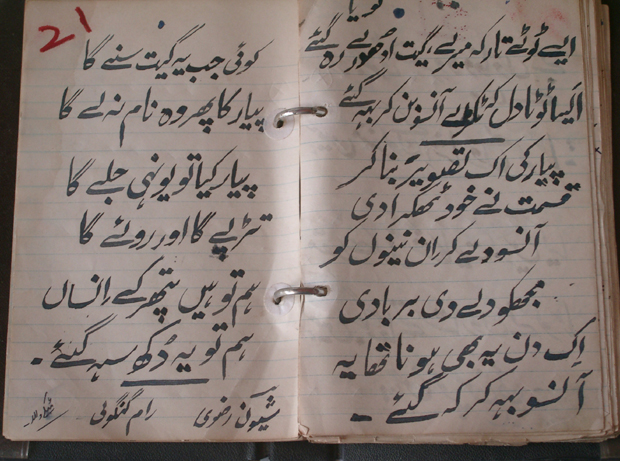 THIS IS TALAT'S CONCERT SONG BOOK WHICH HE CARRIED WITH HIM TO ALL
HIS CONCERTS. WHAT YOU ARE SEEING IS THE SONG "AISE TOOTE TAAR KE MERE
GEET ADHURE REH GAYE" FROM THE FILM 'GAWAYYA' IN TALAT'S OWN HANDWRITING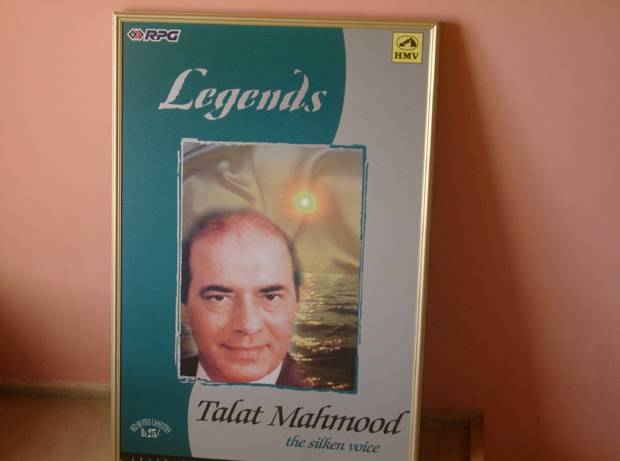 A SINGING GENIUS AND A TRUE LEGEND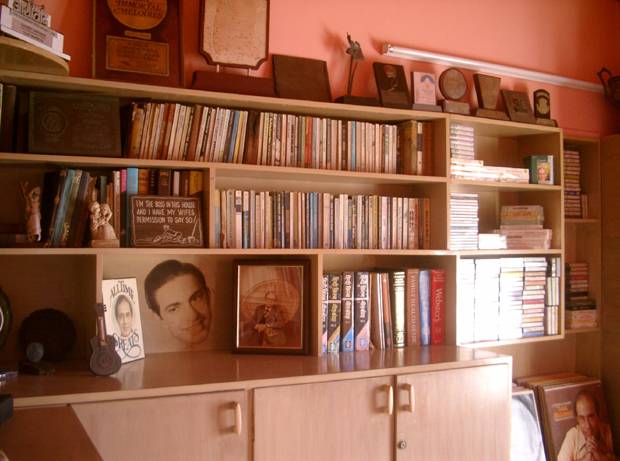 A VIEW OF TALAT'S MUSIC ROOM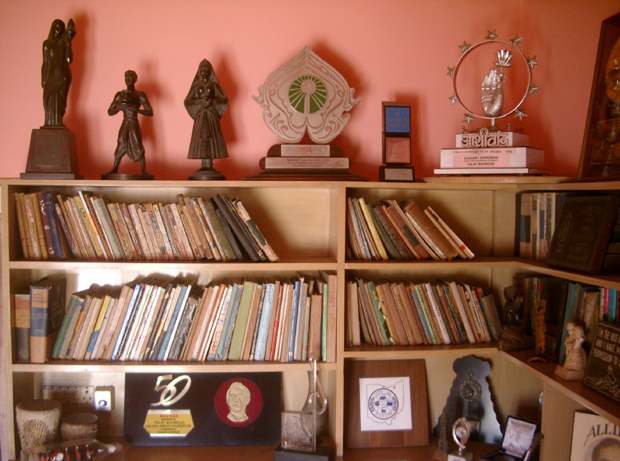 NOTICE THE BLACK TROPHY AWARDED TO TALAT ON HIS COMPLETION OF 50 YEARS
IN THE MUSIC WORLD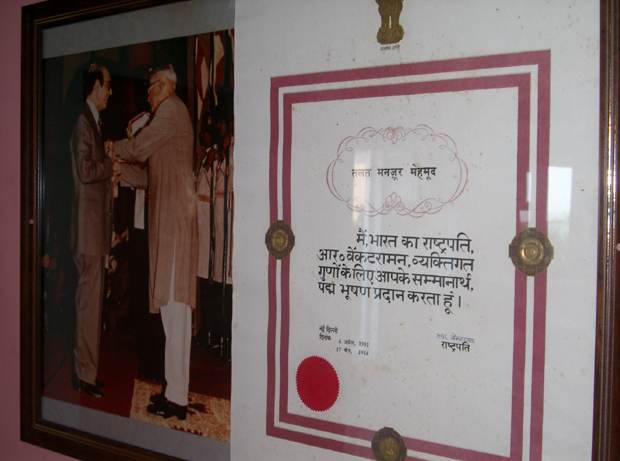 THE MUCH REVERED AND RESPECTED 'PADMABHUSHAN AWARD' PRESENTED BY
THE PRESIDENT OF INDIA


THIS PHOTO SHOWS LEFT TO RIGHT:
THE ORNATE BELL PRESENTED TO TALAT BY KING OF NEPAL
THE WHITE STATUETE PRESENTED BY MAHARANI OF RAJPIPLA
AN ORNATE DAGGER PRESENTED BY THE CATHAY PACIFIC AIRLINE IN DUBAI
THE LOVELY CARPET PRESENTED BY KING ZAHIR SHAH OF AFGHANISTAN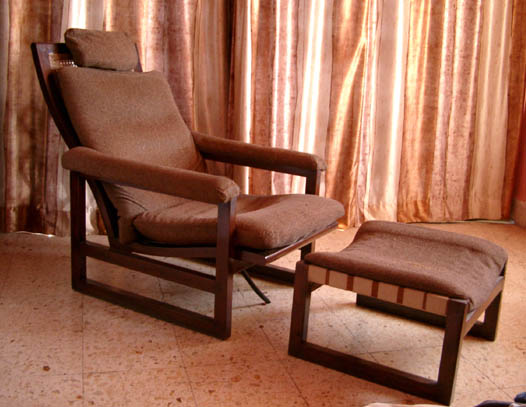 TALAT'S FAVORITE ARMCHAIR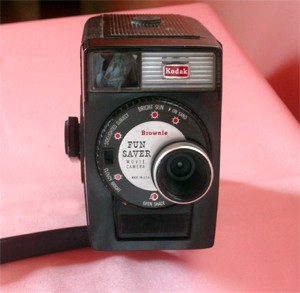 THE HOME MOVIE CAMERA TALAT BOUGHT IN 1968 ON HIS USA CONCERT TOUR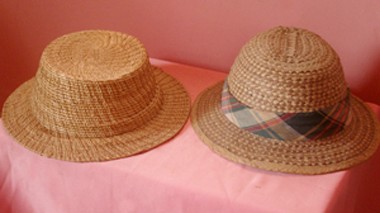 THE HATS TALAT USED IN HIS PUBLICITY PHOTO'S FOR HIS WEST INDIES CONCERT TOUR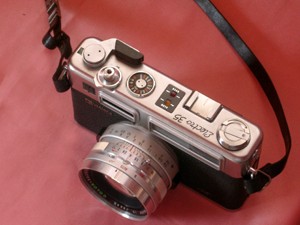 TALAT WAS AN AVID PHOTOGRAPHER AND THIS IS HIS YASHICA ELECTRO 35 WHICH DURING IT'S TIME OF RELEASE WAS THE MOST ADVANCED CAMERA OF IT'S TIME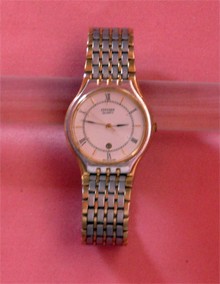 TALAT'S SENTIMENTAL FAVOURITE !

This watch was gifted to Talat in 1990 by his son Khalid after Khalid returned from England to celebrate the stupendously successful release of his music album "King Of Hearts". It was a very tiny gesture of "Thanks" from a grateful son to his ever loving father, whose blessings had helped him immeasurably in achieving this level of success. For Talat, it was a very emotional and sentimental moment to see his son record this success on his own in life. Ever since then, inspite of having a huge stock of some of the worlds best watches, Talat only wore this watch till his death in 1998. Not only was Talat a great singer, he was also a great father and a greater human being.


KHALID MAHMOOD SINGS!
TALAT FANS PACKED THE HALLS TO LISTEN TO KHALID MAHMOOD SING HIS LEGENDARY FATHER'S HITS IN 'EK SHAAM TALAT MAHMOOD KE NAAM' CONCERTS AROUND THE WORLD!!!

SEE THE 2 ALL-NEW FULL LENGTH VIDEOS BELOW!!!


'EK SHAAM TALAT MAHMOOD KE NAAM'
BOSTON, USA




'EK SHAAM TALAT MAHMOOD KE NAAM'
HYDERABAD


CLICK HERE TO GO TO VIDEO PAGE !!!