FAMILY ALBUM - 3

From the family album are Press photo's of Talat Mahmood's party to celebrate his son Khalid's 4th birthday. His family, friends and well-wishers make it an evening to remember !

Talat with young Khalid
Little Khalid gets a helping hand from Dad and Mom !

Khalid gets pampered by the likes of
Dilip Kumar, Mala Sinha and Baby Naaz !

| | |
| --- | --- |
| | In this photograph Khalid 'swings' with (from left) Dilip Kumar's sister Farida, actress Kamini Kaushal, and Talat's sister Khalida ! |
| | Silver screens greatest star Nargis (Sanjay Dutt's mother), trying to coax little Khalid to come to her ! |
Close friends ! Famous film comedienne Agha, Dilip Kumar, Mrs. Agha,
Mrs. Talat and Talat Mahmood having an enjoyable time !
Talat welcomes long-time friend and close buddy
music director Madan Mohan to the party !
---

---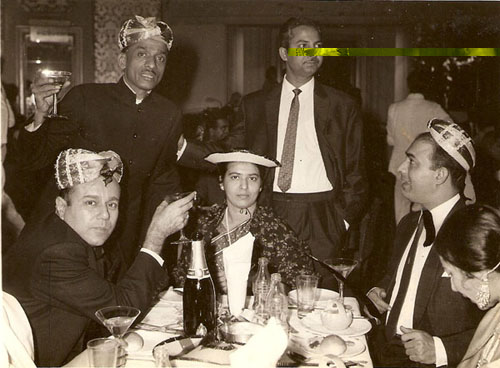 Talat seen with his best buddies at a Calcutta party !
From left: Mohan Saraiya, Shyam Sunder Khaitan, Ranjit Sinha and Talat party the night away!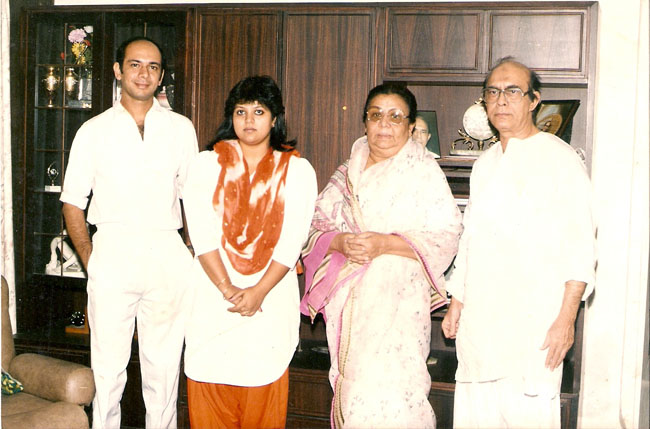 Talat relaxing at home with son Khalid, daughter-in-law Reena, his wife Nasreen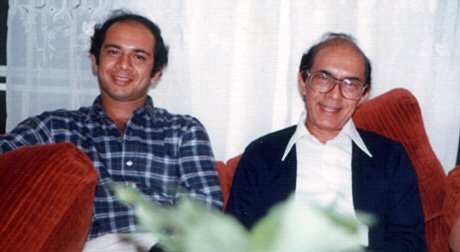 Khalid and Talat photographed in Philadelphia, USA

Talat was on a photo shoot for his new album at Hanging Gardens, Mumbai, and who should he bump into ?
None other than old friend and singing colleague Mukesh, out for a morning walk there !
Seen in this photo from left are Khalid, Talat, Mukesh and music director C.K.Chauhan, who has composed quite a few
non film songs for Talat Mahmood and for whose album Talat was featuring in for the photo shoot
arranged by HMV-EMI music company.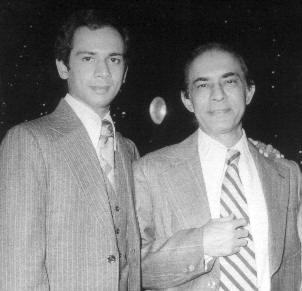 Khalid with his father Talat Mahmood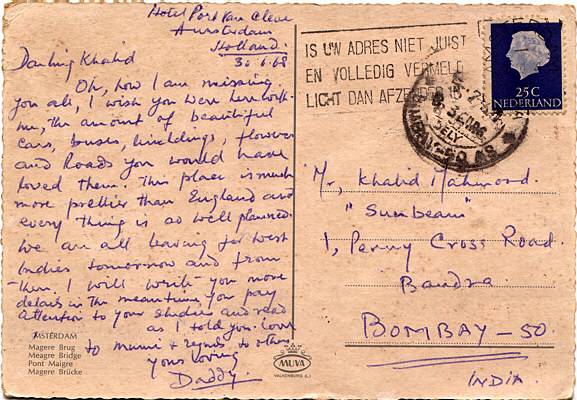 A loving and caring father's letter to a son.... a picture-postcard sent by Talat to
Khalid whilst on concert tour of Europe in '68, telling him how much he is
missing his family and reminding his son not to miss his studies !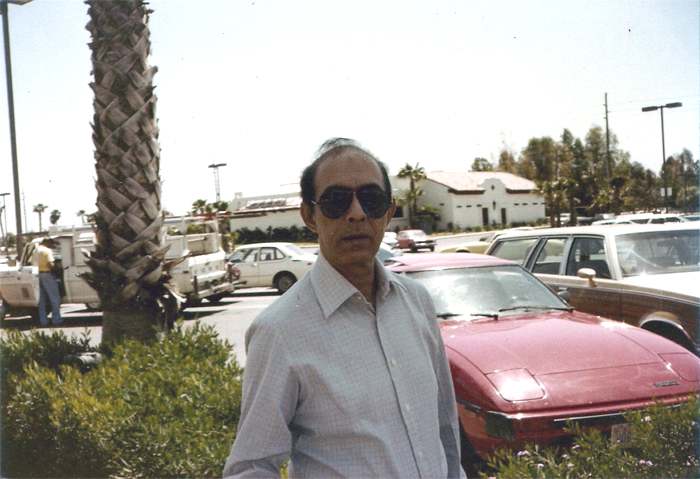 Talat Mahmood goes shopping in Pheonix, Arizona
TALAT MAHMOOD
PHOTOGRAPHED IN HOLLAND
HIS MUSICAL LEGACY AND MEMORIES WILL LIVE ON IN OUR HEARTS FOREVER !
KHALID MAHMOOD SINGS!
TALAT FANS PACKED THE HALLS TO LISTEN TO KHALID MAHMOOD SING HIS LEGENDARY FATHER'S HITS IN 'EK SHAAM TALAT MAHMOOD KE NAAM' CONCERTS AROUND THE WORLD!!!

SEE THE 2 ALL-NEW FULL LENGTH VIDEOS BELOW!!!


'EK SHAAM TALAT MAHMOOD KE NAAM'
BOSTON, USA




'EK SHAAM TALAT MAHMOOD KE NAAM'
HYDERABAD


CLICK HERE TO GO TO VIDEO PAGE !!!